3 Stocks with Better Dividends Than AT&T, Inc.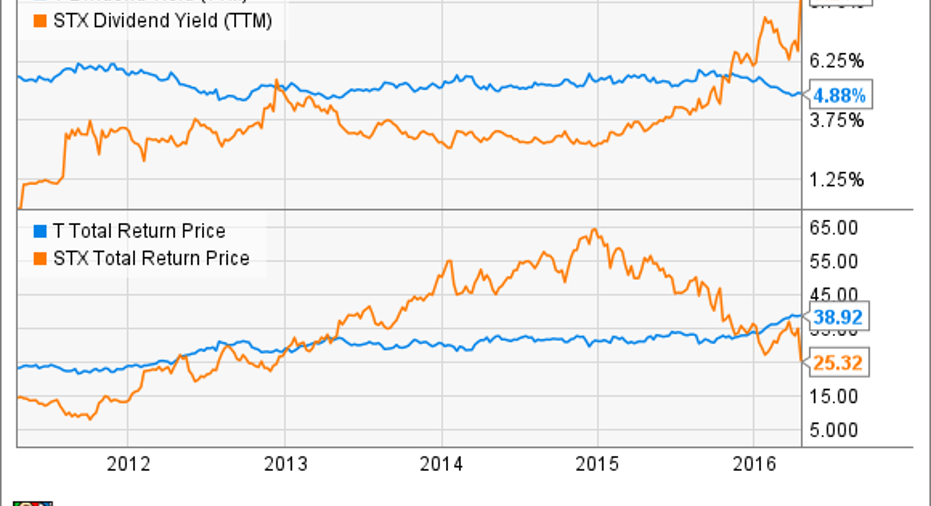 On its own merits, AT&T sure looks like a mighty fine dividend stock. The current dividend yield stands at a generous 5%, at the tail end of 31 consecutive years of annual payout boosts. It's a bona fide dividend aristocrat, backed by a well-known brand and a $240 billion market cap.
What's not to love?
As it turns out, there are many ways to improve on AT&T as a dividend play. Let me show you why I would rather own 3M , American Tower , or Seagate Technology in a dividend-focused portfolio today -- all for very different reasons.
Bigger isn't always better Let's start with industrial innovator 3M. Like AT&T, this is another giant of American industry -- a familiar name in any household. But their long-term dividend strategies are extremely different.
At first glance, it's easy to get stuck on the current dividend yields. There, Ma Bell easily takes the crown with a solid 4.9% yield versus 3M's more average 2.5%. No need to dig any deeper, because this fight is already over. Right?
Not so fast. Have you seen this chart?
T Dividend data by YCharts
In plain English, this is 3M putting a lead foot on its dividend accelerator in recent years. Since 2013, management has committed to returning a lot of cash to shareholders -- mostly via generous dividend increases and share buyback programs.
If you thought that AT&T's 31-year history of modest dividend increases was impressive, 3M's streak is nearly twice as long, And at least in recent years, 3M's payout boosts have been far more generous.
Moreover, AT&T's management is currently focused on using spare cash to pay down debt rather than raise dividends. In contrast, 3M is using its superior credit rating to add more debt to bolster its balance sheet -- leaving lots of room for large dividend increases.
In the eyes of many income investors, consistent and lavish dividend growth trumps rich yields paired with stagnant growth. That's how the comparison between 3M and AT&T works out, and it's in 3M's favor.
Short but sweet Moving on to wireless tower operator American Tower, that company does not come with decades of dividend history. This dividend policy is only four years old, but investors have enjoyed some massive increases over that short span:
T Dividend data by YCharts
Granted, American Tower's yield stops far below AT&T's huge payout. Today, the ratio stands at just 1.8%.
As a real estate investment trust, generous dividends are absolutely required. REITs must funnel at least 90% of their pre-tax profits into dividend payments, or else lose the tax benefits of being a REIT.
In other words, these payouts will continue to rise at least as quickly as American Tower's bottom-line profits. The company is even going beyond the call of duty, as dividend payouts are soaring much faster than either EBIT profits or free cash flows.
American Tower may not be a household name of the same caliber as AT&T or 3M, but its services are nonetheless vital to running a functional wireless network in North America and beyond. The company is likely to stay relevant and healthy at least ass long as smartphones need a tower-based data network. In the long run, American Tower stands a good chance of joining those snooty dividend aristocrats. Just keep in mind that I'm building that conclusion on a fairly short dividend history, augmented by what we know about REIT stocks in general.
The best of both worlds? And that brings us to our last stop today, hard drive builder Seagate Technology.
Here's a dominant force in the hard drive business, with only one serious rival to speak of. Seagate's dividends per share have more than tripled over the last five years while AT&T's only increased by 11.6%. And unlike American Tower and 3M, whose stock charts have been robust, Seagate is going through a trough in a very cyclical market, driving dividend yields higher as share prices fall. Today, Seagate's yield is almost twice as rich as AT&T's:
T Dividend Yield (TTM) data by YCharts
It is understood that this stock comes with a heaping dose of risk. That's already baked into the stock price, of course. Shares took another dive last week, when management lowered its revenue guidance for the current quarter.
But we're talking about a fantastic history of dividend increases, on top of the option to lock in downright drool-inducing dividend yields at today's low share prices. Unless you think that hard drives and bulk data storage are going the way of the dodo, it's hard not to get enthusiastic about Seagate as a dividend stock.
There you have it. 3M beats AT&T in terms of dividend history and commitment to raising its payouts. American Tower is a hot newcomer to the dividend game, but what a start! And Seagate combines massive dividend growth with a nearly double-digit starting yield.
In short, it's not hard at all to find better dividend stocks than AT&T.
The article 3 Stocks with Better Dividends Than AT&T, Inc. originally appeared on Fool.com.
Anders Bylund owns shares of American Tower. The Motley Fool owns shares of and recommends American Tower. The Motley Fool has the following options: short April 2016 $105 calls on American Tower and long January 2017 $80 calls on American Tower. Try any of our Foolish newsletter services free for 30 days. We Fools may not all hold the same opinions, but we all believe that considering a diverse range of insights makes us better investors. The Motley Fool has a disclosure policy.
Copyright 1995 - 2016 The Motley Fool, LLC. All rights reserved. The Motley Fool has a disclosure policy.