3 Stocks to Buy Near 52-Week Lows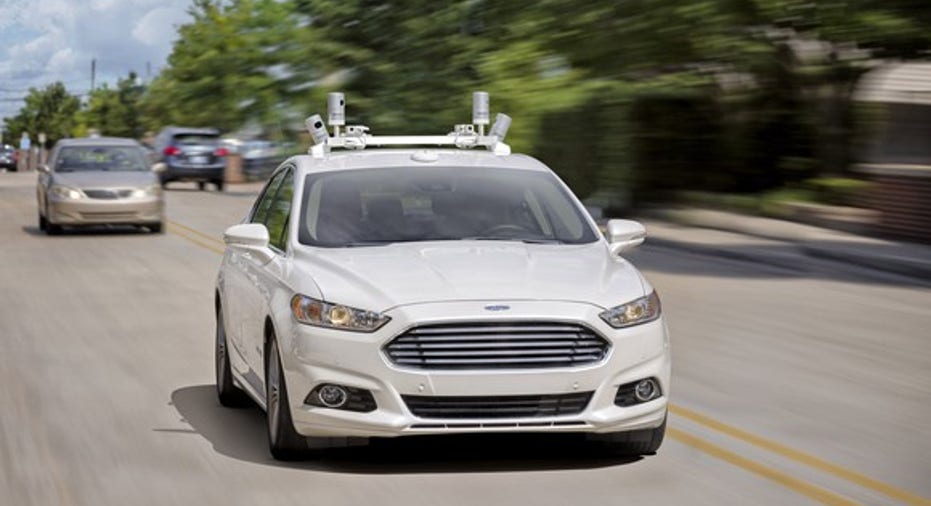 Are there any investors who don't love a bargain-priced stock?
The trick, of course, comes in separating the stocks that are cheap for legitimate (bad) reasons from the ones that are cheap because the market has overlooked something good. We asked three of our Fool contributors to name their favorite cheap-because-they're-overlooked stocks now. Here's why they likeFord Motor Company (NYSE: F),Gilead Sciences(NASDAQ: GILD), and Genuine Parts Company(NYSE: GPC)at recent prices.
Its advanced autonomous-vehicle program is just one of several reasons to like Ford's stock now. Image source: Ford Motor Company.
A fatdividend and surprising growthpotential
John Rosevear (Ford Motor Company): As I write this, Ford is trading at about 3% above its 52-week low. As near as I can tell, value-minded investors have passed on the Blue Oval recently for three reasons:
Even though it's near its 52-week low, Ford is still trading at 9.9 times its 2016 net earnings, which seems like full value for an automaker.
Ford's earnings are projected to decline in 2017 versus 2016.
Ford, like other big automakers, is at risk of "disruption" from tech upstarts.
But I think if we look a little deeper, we'll see that Ford is an intriguing buy at current prices. Let's take each of those reasons in turn:
Ford's 2016 net income was pushed down by a $3 billion one-time charge related to its pension accounting, not an actual cash loss. Strip that out, and Ford's trading at just 6.5 times its (adjusted) 2016 earnings. That'spretty cheap.
Ford's adjusted pre-tax profit is in fact projected to decline a bit from 2016 levels, in part because Ford is ramping up its investments in future technologies like autonomous vehicles and electric drivetrains. But assuming that the U.S. new-car market stays reasonably steady, Ford expects its profit to jump back up in 2018.
Like all big automakers, Ford is at risk of disruption! But CEO Mark Fields recognized that a while back, and is well into the process of transforming Ford into an "auto and mobility company" that will be both relevant and profitable in the self-driving future. That transformation isn't just talk -- it's a genuine sea change in Ford's century-old business. (You can learnmuchmore about it here.)
Not all of the big automakers will survive and thrive in the new world of tech-enabled personal mobility. But Ford, more than most, seems to have grasped the potential of the coming wave of transformation and is taking smart steps now to ensure that it has a big place in that new world. You may have to be patient, but substantial bottom-line growth is very possible over the next several years.
There's one more big reason to like Ford as an investment now: Its low stock price plus a rock-solid dividend means that Ford's dividend yield is a whopping 5.2% right now. Reinvest that while you wait for Ford's mobility investments to pay off, and you may be very happy with the results in time.
Time to be greedy with this big biotech stock
Keith Speights(Gilead Sciences): It makes sense that Gilead Sciences' stock has been beaten down over the past year. The company's top-selling hepatitis C franchise is running out of patients and simultaneously facing stiffer competition. But is Gilead a stock for which investors should consider taking Warren Buffett's classic advice: "Be fearful when others are greedy and greedy when others are fearful"? I think so.
Don't sugarcoat Gilead Sciences' challenges, though. The best the company can hope for with its hepatitis C franchise is for sales not to tank too much more in too quick of a time frame. A slow and prolonged misery would work better for the biotech.
Gilead's HIV drugs are still going strong, but their sales growth won't be enough to offset the lower hepatitis C franchise sales. The biotech can't count on tremendous assistance from its pipeline, either, because several of its candidates are still several years away from potential regulatory approval.
So why buy Gilead? The company has the desire and the means to change its story. Gilead's management team has been clear that making strategic acquisitions is a top priority. Funding such acquisitions won't be a problem: Gilead has more than $32 billion in cash, cash equivalents, and marketable securities. Plus, the biotech's cash flow continues to be exceptionally strong even with slumping hepatitis C revenue.
I wouldn't go as far as to say that a buyout or two would magically solve all of Gilead's problems. However, it would buy the company some time for its pipeline to deliver. And the right deals could potentially even get Gilead back on track for earnings growth. It's time to be greedy with Gilead.
More than the sum of its parts
Reuben Gregg Brewer(Genuine Parts Company): Parts and logistics are what make Genuine Parts Companystand out. The two biggest contributors to the company's business are auto parts (the NAPA brand) and industrial parts, which together contribute a little over 80% of revenue. Having a broad catalog of parts that can be delivered quickly enough to limit customer downtime is vital -- and Genuine Parts does both well. It also sells office products and electrical products (a little under 20% of revenue combined). The company has the No. 1 or 2 position in all four businesses.
Which goes a long way to explaining why it's been able to increase its dividend for more than 60 consecutive years. With the stock price currently trading near a 52-week low, the yield is hovering around 3%, which appears to be a decent entry point for income investors based on Genuine Parts' historical yield trends.
Weakness in end markets like oil and gas and office supplies is the headwind that's worrying investors, leaving top- and bottom-line results relatively flat the last couple of years. But Genuine Parts has increased sales in 84 of the last 89 years, and earnings have gone up in 73 of those years. It knows how to handle the inevitable ups and downs in the market. And with modest market shares within each business, it has plenty of room to get back on the growth track. Genuine Parts is a tortoise, not a hare, but it looks like it's a good time to do a deep dive on this slow-and-steady-wins-the-race investment.
Find out why Gilead Sciences is one of the 10 best stocks to buy now
Motley Fool co-founders Tom and David Gardner have spent more than a decade beating the market. (In fact, the newsletter they run, Motley Fool Stock Advisor, has tripled the market!*)
Tom and David just revealed their ten top stock picks for investors to buy right now. Gilead Sciences is on the list -- but there are nine others you may be overlooking.
Click here to get access to the full list!
*Stock Advisor returns as of April 3, 2017
John Rosevear owns shares of Ford. Keith Speights owns shares of Gilead Sciences. Reuben Brewer has no position in any stocks mentioned. The Motley Fool owns shares of and recommends Ford and Gilead Sciences. The Motley Fool has the following options: short June 2017 $70 calls on Gilead Sciences. The Motley Fool has a disclosure policy.