3 Stocks to Buy and Never Sell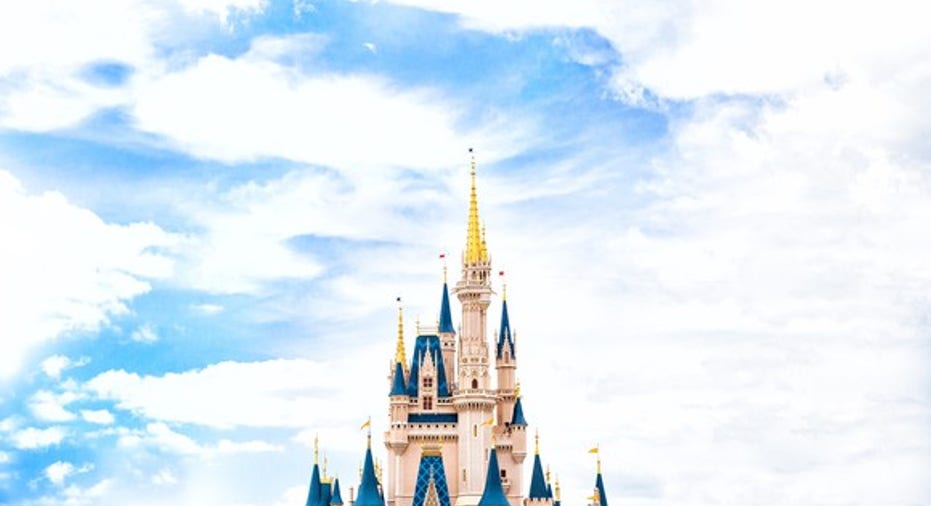 One of the best ways to succeed in the stock market over time is to own companies with strong brands. While no company is completely risk-free, there's not much that can derail the growth story built on a great brand. When customers identify a good experience with a certain brand, it keeps them returning long into the future.
Below are three stocks with strong brands in their respective markets.Walt Disney (NYSE: DIS) is a timeless brand with family friendly entertainment content, Amazon.com (NASDAQ: AMZN) is a top brand in e-commerce, and Activision Blizzard (NASDAQ: ATVI) has built a strong portfolio of branded games in the $100 billion video game industry.
Walt Disney
Disney's Parks and Resorts segment generates $17 billion in annual revenue. IMAGE SOURCE: PIXABAY
Disney is coming off a record year with $7.5 billion at the global box office, setting an industry record, and 2017 is on pace to be another strong year. The live action version of Beauty and the Beast released in March generated nearly $1 billion at the box office less than four weeks after release.
And, there's more to come. In December, Star Wars: The Last Jedi (also known as Episode VIII for Star Wars fans) will release with high anticipation following the hugely successful Star Wars: The Force Awakens (Episode VII) in 2015. The company's Marvel Studio has two releases coming up with Guardians of the Galaxy Volume 2 in May and a new Thor movie in November. Disney's Pixar animated studio will also be releasing Cars 3 and Coco, an original new story.
These movies will no doubt drive strong sales of licensed toys for Disney's Consumer Products segment and also stir interest in Disney's theme parks across the world. As management deals with weakness at its media networks from cord-cutting, Disney's Parks and Resorts, movie studios, and licensed content offers the company plenty of diversified revenue sources.
Disney is truly a multi-generational entertainment brand with a deep content library that has been pieced together over nearly a century. The same characters and stories that appealed to children more than 70 years ago still have appeal in 2017 -- which is a sign of a timeless brand.
Amazon.com
Amazon's customer-centric business philosophy has earned it millions of loyal shoppers. The company is dominating online retail by offering an extremely wide selection of goods at competitive prices and outstanding customer service.
Its popular Prime membership service gives customers free two-day shipping, select popular movies and TV shows available for online viewing, and other perks for $99 per year. Its estimated there are nearly 70 million subscribers to Amazon Prime, which has grown from about 10 million in 2012.
In total, the online retail juggernaut generated $136 billion in revenue in 2016, an increase of 27% over 2015. And Amazon is still in the early stages of its potential given that worldwide retail sales are estimated to reach $27 trillion by 2020, according to market researcher eMarketer.
But Amazon still has plenty of customers to reach in the U.S as well. E-commerce sales in the U.S. alone represent less than 10% of total retail sales. Amazon generated nearly half of total online retail sales in the U.S. in 2016, which shows how dominant the company really is in e-commerce.
Amazon is still mapping the U.S. with massive fulfillment centers in order to get closer to customers. The company has been gradually rolling out same-day delivery in major cities, and it has even been experimenting with drone delivery to reach customers who live in rural areas.
Management has also successfully applied its customer-centric approach at selling goods to other areas like creating original content in movies and TV shows for Prime subscribers, as well as offering other companies a compelling cloud storage solution through Amazon Web Services.
Don't let Amazon's large size keep you away from buying shares in the stock. Amazon is not even close to reaching its potential around the world.
Activision Blizzard
Activision Blizzard generated $6.6 billion in revenue in 2016. IMAGE SOURCE: PIXABAY
The video game industry is one of the largest forms of entertainment in the world with annual revenue of $100 billion and growing.Activision Blizzard is my favorite choice among video game companies. Ithas some of the best-selling game brands across PC, console, and mobile platforms.
The game publisher has seven game franchises that have generated at least $1 billion in revenue. One is Call of Duty, which was first released in 2003. The game publisher has released a new version every year since then, and it never fails to be among the top selling games of the year. Call of Duty is just one among several hits the company regularly produces.
In 2016, players spent about 43 billion hours across the company's entire game portfolio. This level of engagement is on par with more than 45 billion hours subscribers spent streaming content on Netflix.
The popularity of its games is also opening up new business models. Activision Blizzard recently setup a Consumer Products division to more aggressively monetize characters and other content from its games. Also, the company will be starting a professional e-sports league for its hit game Overwatch, which has 25 million registered players balanced across the world.
The future for gaming has never looked stronger, and Activision Blizzard is a great choice to invest in the industry with its broad portfolio of top selling games across all gaming platforms.
10 stocks we like better than Walt DisneyWhen investing geniuses David and Tom Gardner have a stock tip, it can pay to listen. After all, the newsletter they have run for over a decade, Motley Fool Stock Advisor, has tripled the market.*
David and Tom just revealed what they believe are the 10 best stocks for investors to buy right now... and Walt Disney wasn't one of them! That's right -- they think these 10 stocks are even better buys.
Click here to learn about these picks!
*Stock Advisor returns as of April 3, 2017
John Ballard owns shares of Activision Blizzard. The Motley Fool owns shares of and recommends Activision Blizzard, Amazon, and Walt Disney. The Motley Fool has a disclosure policy.