3 Stocks That Could Double Because of President Trump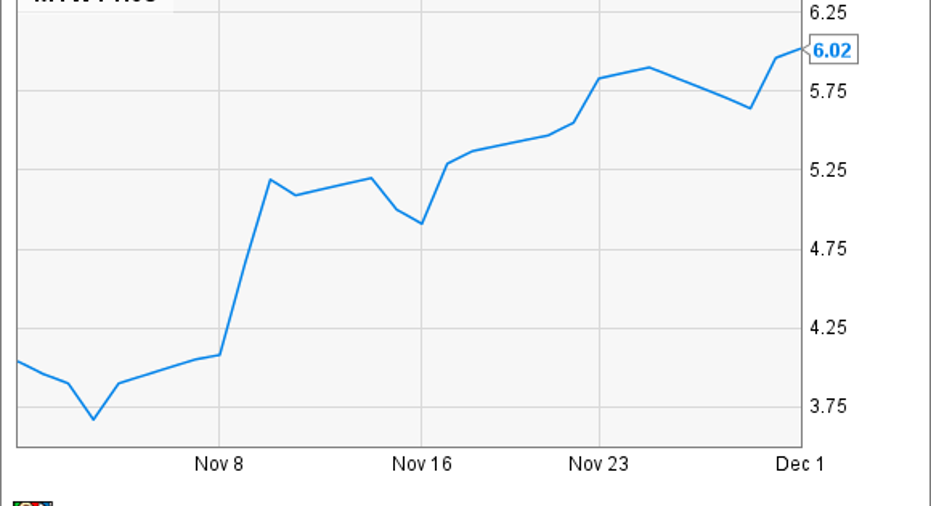 President-elect Donald Trump ran for the White House on promises of massive infrastructure spending to rebuild America's roads, bridges, and water systems. Although he may face obstacles in getting his more than $500 billion spending program through Congress, I wouldn't bet against rising infrastructure spending during his term. If I'm correct, then increasing spending on infrastructure projects could lead to a doubling in the shares of crane company Manitowoc (NYSE: MTW), pipe company Northwest Pipe Co. (NASDAQ: NWPX), and iron ore giant Cliffs Natural Resources (NYSE: CLF).
Image source: DonaldJTrump.com.
Infrastructure's heavy lifting
Trump's infrastructure goals include major investments in roads, bridges, and ports, and if he follows through with his plans, then 114-year-old Manitowoc's cranes will be responsible for moving a lot of the materials necessary around the country's job sites.
Optimism thatManitowoc's cranes will be put to work building energy, utility, industrial, and infrastructure projects has already sent shares soaring 46% since Nov. 8, but I think there's more gas left in the tank.
Despite this big run-up, Manitowoc shares are still trading significantly lower than they've been in the past because of struggling sales and profit this past year. Anemic GDP growth has caused the company's crane revenue to tumble to $349.8 million in the third quarter from $438.2 million last year, and as a result,non-GAAP losses hit $0.28 per share last quarter.
Those discouraging financials have kept a lid on Manitowoc's valuation, but if Trump-inspired demand kicks in, then sales and profit could rebound sharply, taking shares higher in the process.
In August, Manitowoc announced a restructuring that will produce $25 million or more in annual pre-tax savings, and more recently, Manitowoc's C-suite has set a target for double-digit operating margins by 2020. Those "get-lean" initiatives should help more money flow from sales to profit over time.
Admittedly, it's anyone's guess what Manitowoc's revenue and earnings will look like over the next four years, but for perspective, it generated annual sales and earnings of roughly $2.3 billion and $164 million, respectively, from its crane business in 2014.If Manitowoc can get anywhere near those levels again, it wouldn't shock me if shares are nicely higher than they are now at the end of Trump's term.
Image source: Northwest Pipe Co.
Piping up profits
America's water systems are in need of major improvement, and if infrastructure dollars get earmarked for drinking and wastewater projects, then Northwest Pipe's position as the nation's biggest manufacturer of steel-pipe water systems makes it a go-to winner.
How big is the problem facing America's water infrastructure? According to theAmerican Society of Civil Engineers (ASCE), it's substantial.In 1988, ASCE gave the nation's drinking water infrastructure a B-minus rating. However, they gave it a D in their most recent national infrastructure review in 2013. Wastewater infrastructure has fared even worse. ASCE gave wastewater infrastructure a C in 1988 and a D in 2013.
According to the EPA, 60% of drinking water infrastructure needs and 28% of wastewater infrastructure needs are pipe-related, and overall, ASCE estimates that the gap between current spending and necessary spending for water infrastructure projects will total $84 billion in 2020.
An outlook like that suggests that demand for Northwest Pipe's pipes is going to climb, not fall, under Trump. If so, a restructuring that's eliminated 31% of the company's SG&A costs since 2014 should provide investors with plenty of earnings leverage.Given that Northwest Pipe's stock was trading in the mid-$30s in 2014 and as high as $55 prior to the Great Recession, I think a significant rally in this company's shares could be on tap.
Image source: Cliffs Natural Resources.
Forging ahead
One thing that a lot of infrastructure projects have in common is their need for steel, and surging steel demand could mean spiking iron ore prices that pads Cliffs Natural Resources' profit.
Cliffs Natural Resources is the largest producer of iron ore pellets used in steel production in the United States, and since Trump has supported the use of U.S. steel in domestic infrastructure projects, it stands that Cliffs Natural Resources revenue is about to increase.
An uptick in sales would be welcome news because over the past few years, Cliffs Natural Resources' share price has been weighed down by tepid GDP growth and hefty interest payments on its debt. Lately, the company has embraced a debt reduction plan that's cutits debt by $500 million to $2 billion, and that means that its financials are improving.
A lower cost structure, coupled with the potential for Trump-driven sales growth, has already boostedCliffs Natural Resources' shares by 43% since the election, but I think there's still significantly more upside. A recent increase in iron orespot prices has already led analysts to bump up their earnings outlooks for next year to $0.55 per share from $0.44 per share in the past 30 days. Also, given that its EPS was north of $11 only five short years ago, there appears to be plenty of runway. Exactly how much of that runway Cliffs Natural Resources can capitalize on, however, will depend on whether Trump succeeds in getting his infrastructure plans green-lighted in Washington. Personally, I think there's a better shot than not that Trump gets his way.
10 stocks we like better than Cliffs Natural Resources When investing geniuses David and Tom Gardner have a stock tip, it can pay to listen. After all, the newsletter they have run for over a decade, Motley Fool Stock Advisor, has tripled the market.*
David and Tom just revealed what they believe are the 10 best stocks for investors to buy right now... and Cliffs Natural Resources wasn't one of them! That's right -- they think these 10 stocks are even better buys.
Click here to learn about these picks!
*Stock Advisor returns as of November 7, 2016
Todd Campbell owns shares of Cliffs Natural Resources and Northwest Pipe Co. Todd owns E.B. Capital Markets, LLC. E.B. Capital's clients may have positions in the companies mentioned.Like this article? Follow him onTwitter where he goes by the handle@ebcapitalto see more articles like this.
The Motley Fool owns shares of Cliffs Natural Resources. Try any of our Foolish newsletter services free for 30 days. We Fools may not all hold the same opinions, but we all believe that considering a diverse range of insights makes us better investors. The Motley Fool has a disclosure policy.