3 Stocks Set to Profit From the Rise of China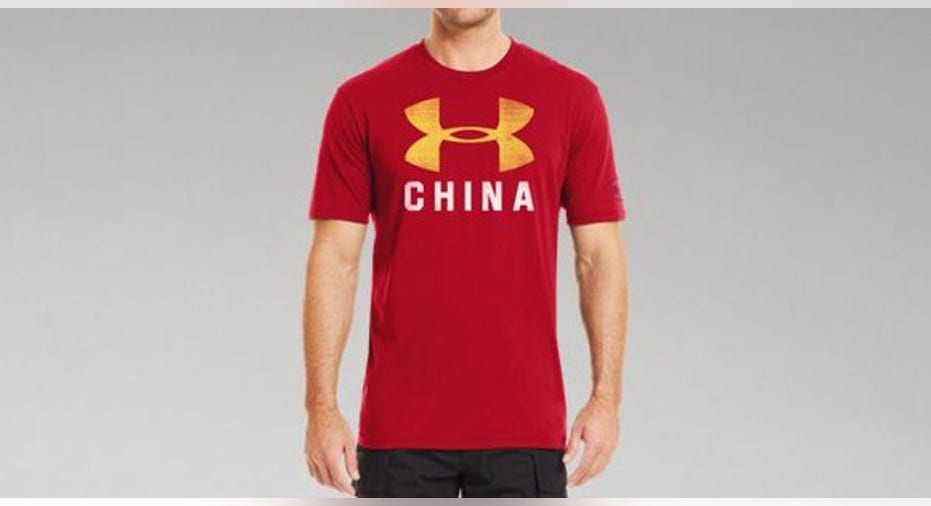 China's middle class is growing incredibly fast. According to most expectations, China's middle class is on track to number more than 600 million people by the end of the decade. That's a huge number of new consumers who will be spending money and driving economic productivity.
While China has burned many investors, there's still wonderful opportunity in the Middle Kingdom, and savvy investors who make the right investments could do incredibly well on the rise of China in coming decades. Below, three of our contributors offer up companies they think are best-positioned to profit from increasing wealth in China: two are just getting started there, athletic apparel and footwear upstartUnder Armour Inc(NYSE: UA)(NYSE: UAA)and genetic sequencing expertIllumina, Inc.(NASDAQ: ILMN), and one company has been feeding Chinese diners for years, though it's a new ticker on the public markets, Yum China Holdings Inc(NYSE: YUMC).
China's middle class will be double the U.S. total population in less than a decade. Image source: Getty Images.
China could become Under Armour's biggest market
Jason Hall (Under Armour): Investors in fast-growing athletic apparel and footwear company Under Armour have had a tough year-plus, with shares down more than half at this writing over that period. In some ways, this isn't unexpected. While still growing at a fast pace, the company's revenue isn't increasing as quickly as it has in the past, and management has had to back down on some of its projections for income growth.
There has also been more competitive pressure and weaker-than-anticipated demand in North America, the company's most important market. Under Armour's North American sales only increased 6% last quarter after years of steady double-digit growth.
The company has also seen its gross margin get squeezed. Gross margin was 46.5% in 2016, down from 48.1% in 2015. In the fourth quarter, gross margin was 44.8%, well down from 48% in the year-before period. Factor in more spending to expand the business, and profits and operating income both fell last quarter.
With all that happening, it's easy to lose track of the (much) bigger picture. As important as North America is and will likely be for decades to come, it's probably not going to be Under Armour's biggest market in 20 years, while China very well could be the one to displace it.
Image source: Under Armour.
Under Armour's North American sales only grew 6% last quarter, while international revenue was up a whopping 55%. For the full year, international sales increased 63% (69% on a currency-neutral basis). Yet even with that astounding rate of growth, international sales only accounted for 15% of Under Armour's sales.
From a profit perspective, the company's investments in international growth are paying off. International operating income was up 294% last quarter and up 416% for the year.
China is the most important cog in Under Armour's international growth. Last year, CEO Kevin Plank highlighted this on the company's Q1 earnings call when he pointed out that sales in China had tripled year over year, making that country the company's largest international market. And when one considers how large China's middle class is on track to become, it should be readily apparent that very few companies are positioned to benefit from this as much as Under Armour.
It's in the DNA
Keith Speights(Illumina):China intends to be the leading superpower in precision medicine -- treatment and prevention of disease that takes individual genetic factors into account. The country announced plans in March 2016 for a 15-year precision medicine initiative and U.S.-based genomic-sequencing company Illumina stands to be a big winner from China's multibillion-dollar effort.
Image source: Illumina.
While China gets the ball rolling with its precision-medicine initiative, Illumina is already generating revenue by selling itsNextSeq desktop-sequencing system to Chinese customers for non-invasive prenatal testing (NIPT). Chinese organizations are also buying the company's sequencing systems for oncology research.
Illumina already profits tremendously from its operations in China. While the company's fourth-quarter sales in the Americas fell year over year, sales in China soared 50%. The country provided Illumina's largest sales growth of any geographical region.
A new high-throughput sequencing platform recently introduced by Illumina called NovaSeq should give the company an even larger competitive advantage over rivals. I look for China to be a significant market for this new system and an increasingly important driver of Illumina's continued success.
Finger-licking good
Rich Duprey (Yum China): It probably goes without saying that a company in China selling to the Chinese people ought to do well from a China that's ascendant, but Yum China has special reasons why it, in particular, should profit.
Spun off from Yum! Brands (NYSE: YUM) late last year at the behest of activist investors spooked by a series of tainted-food crises in the country, the fast-food chain's China division has over 7,300 restaurants consisting of about 5,000 KFCs and 1,600 Pizza Huts, far outstripping in size their nearest Western competitors.
Yum China is already one of the biggest restaurant companies in the country. Image source: Yum China.
They accounted for more than half of Yum's total revenues and almost 40% of its operating profits before the separation, and until the foodborne illness scandals, had operated for decades largely without issue. (It was the first fast-food chain to open in China in 1987.) It will likely continue to operate just as well for decades to come.
Of all the fast-food companies out there, only two have been able to successfully make a go of it in China: Yum and McDonald's.Wendy's has no presence there, and Burger King parent Restaurant Brands Internationalhas just several hundred stores, though it does have plans to expand.
That speaks to not only how well Yum has been run, but how difficult it is to crack the Chinese market, giving Yum China something of a competitive moat. There are some challenges before it, such as a value-added tax implemented last year that fluctuates month to month, as well as China's aggression in the South China Sea, which has led to protests and boycotts -- not to mention a more recent war of words with President Trump that hurt same-store sales by 400 to 500 basis points last quarter.Still, Yum China should do well from a rising China.
10 stocks we like better than Yum China Holdings, Inc.When investing geniuses David and Tom Gardner have a stock tip, it can pay to listen. After all, the newsletter they have run for over a decade, Motley Fool Stock Advisor, has tripled the market.*
David and Tom just revealed what they believe are the 10 best stocks for investors to buy right now... and Yum China Holdings, Inc. wasn't one of them! That's right -- they think these 10 stocks are even better buys.
Click here to learn about these picks!
*Stock Advisor returns as of February 6, 2017
Jason Hall owns shares of Under Armour (A Shares) and Under Armour (C Shares). Keith Speights has no position in any stocks mentioned. Rich Duprey has no position in any stocks mentioned. The Motley Fool owns shares of and recommends Illumina, Under Armour (A Shares), and Under Armour (C Shares). The Motley Fool has a disclosure policy.