3 Stocks Left Behind in the Trump Healthcare Rally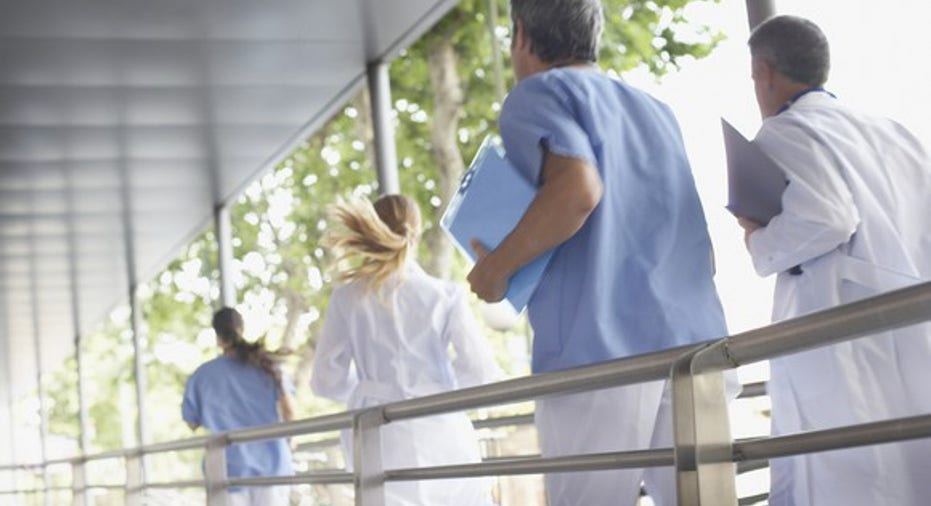 While U.S. healthcare stocks across the board have risen following Donald Trump's victory, shares of Community Health Systems (NYSE: CYH), Tenet Healthcare (NYSE: THC), and Centene (NYSE: CNC) are getting hammered. This is largely due to one policy stance during Donald Trump's candidacy that was clear and consistent: a desire to repeal the Affordable Care Act, also known as Obamacare.
Image source: Getty Images.
Despite its flaws, Obamacare provided access to healthcare services for tens of millions of Americans who previously lacked coverage, boosting revenue for these three companies in the process. Last year, Congress passed a reconciliation bill to cutthe ACA's funding for Medicaid coverage of Americans near or below the poverty line and end subsidies to help middle-income Americans buy their own insurance on the healthcare exchanges.
President Obama vetoed the reconciliation bill, allowing the ACA to continue, but a Republican-controlled Congress will probably dust it off and pass it again. This time, though, President-elect Trump will most likely sign it. Here's why this is a nightmare scenario for these four healthcare providers.
1. Community Health Systems
According to the Congressional Budget Office, the vetoed reconciliation bill would have caused about 22 million people to lose health insurance coverage.The likely passage of a similar bill would probably have a similar effect in the years following its passage, and that's bad news for Community Health Systems.
The company operates for-profit hospitals in five of 10 states that experienced the largest reductions in uninsured rates among adults between 2013 and 2015, following Obamacare's Medicaid expansion. It also benefits from individual plans purchased on the Obamacare exchanges, with all of its hospitals participating in at least one health-insurance exchange agreement.
Unfortunately, these advantages haven't helped the company become more profitable. Big acquisitions that haven't quite worked out have led to asset value writedowns that have hammered the bottom line deep into the red.
Also troubling is a debt load of about $15.08 billion at the end of September. It spent $767 million servicing those debts in the first nine months of the year but generated just $249 million in free cash flow during the same period.
Perhaps it can lower its debt level by divesting more assets, but the likely disintegration of Obamacare and the subsequent loss of customers with healthcare coverage suggests things will get a lot worse before they get better. It's no wonder the stock tanked about 21.9% following Trump's shocking election win.
2. Tenet Healthcare
Tenet Healthcare's stock was hit even harder, sinking 25% on Wednesday following the election. It operates hospitals in six states that expanded their Medicaid programs under Obamacare. On the whole, Medicaid comprised about about 6.4% of the company's net operating revenue before provisions for doubtful accounts.
Tenet's done well at reducing doubtful accounts, provisions for which have fallen from about 8.1% of net operating revenue in 2013 to just 6.1% in the first nine months this year.It's unclear how much the doubtful account reduction can be attributed to Obamacare's vast reduction of uninsured patients. Given the stock's post-election nose dive, though, it looks as if the market assumes it's plenty.
Tenet Healthcare's operations are more diverse than Community Health's, but it shares some upsetting similarities. It's bottom line headed south despite a larger insured patient base, and it's making hefty interest payments. At the end of September, Tenet recorded $14.3 billion in long-term debt. It spent $730 million servicing that debt during the first nine months of the year while generating just $237 million in free cash flow.
If millions lose their Obamacare coverage, climbing out from under such a big debt pile and returning to profitability could prove troublesome.
3. Centene
Unlike Tenet and Community Health, government healthcare service provider Centene has grown profits by leaps and bounds since the Obamacare rollout. Its members in Medicaid expansion programs exploded from just 201,300 in six states at the end of 2014to 1.05 million at the end of September.
Revenue and profit have also been blowing up over the past few years, but growth going forward might be elusive. In addition to Medicaid expansion, it collects premiums from 582,600 Obamacare health insurance exchange members. When it last reported, exchanges and Medicaid expansion comprised about 14.3% of its total members.
If Trump signs a reconciliation bill into law, all those members could soon evaporate. It's no wonder the stock took an 18.6% hit following the election. Luckily, Centene's financial health is in better shape than these two hospital operators. Net income of $297 million recorded in the first nine months of the year was enough to cover interest payments 3.7 times over.
Although Tenet Healthcare and Community Health Systems are clearly toxic, Centene will probably remain profitable even if Republicans swiftly cut funding for Obamacare. That said, I wouldn't try to catch this falling knife just yet.The stock might have tanked following the election, but it still finished Wednesday at around 21 times trailing earnings. That seems pretty expensive fora company that might lose a double-digit percentage of its customers in a few years.
10 stocks we like better than Centene When investing geniuses David and Tom Gardner have a stock tip, it can pay to listen. After all, the newsletter they have run for over a decade, Motley Fool Stock Advisor, has tripled the market.*
David and Tom just revealed what they believe are the ten best stocks for investors to buy right now... and Centene wasn't one of them! That's right -- they think these 10 stocks are even better buys.
Click here to learn about these picks!
*Stock Advisor returns as of November 7, 2016
Cory Renauer has no position in any stocks mentioned. You can follow Cory on Twitter, @TMFang4apples, or LinkedIn for more healthcare industry insight.
The Motley Fool has no position in any of the stocks mentioned. Try any of our Foolish newsletter services free for 30 days. We Fools may not all hold the same opinions, but we all believe that considering a diverse range of insights makes us better investors. The Motley Fool has a disclosure policy.