3 Stocks Expected to More Than Double Their Earnings in 2017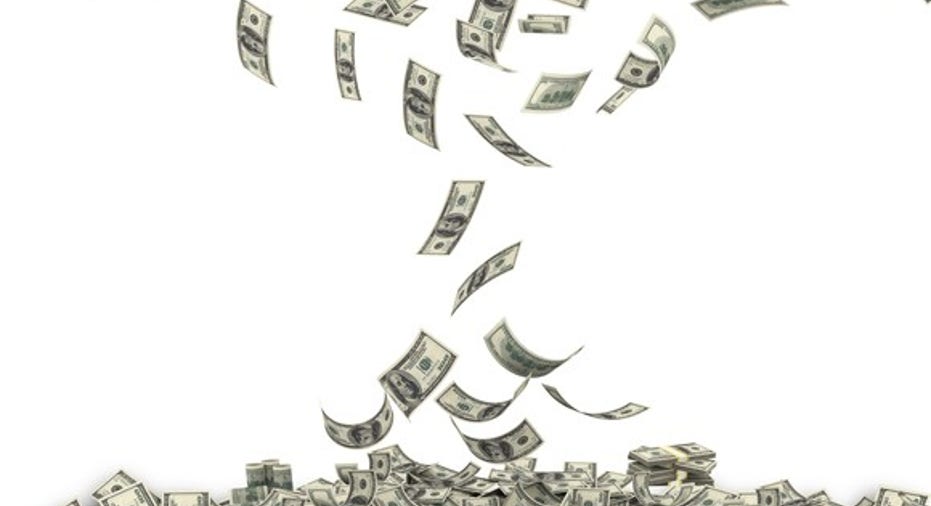 Most investors' idea of impressive earnings growth is, say, 20% or more per year. So what does that say about companies that grow their earnings by more than 100% in a year? That's what Wall Street expects three biotechs to achieve over the next year. Here's how Corcept Therapeutics (NASDAQ: CORT), Incyte (NASDAQ: INCY), and Exelixis (NASDAQ: EXEL) just might double their earnings in 2017.
Image source: Getty Images
Corcept: A low starting point helps
Wall Street analysts expect Corcept Therapeutics to grow earnings by a whopping 500% in 2017. That would be a tremendous feat, but there's one minor detail to note: Corcept's earnings for last year will probably only be around $5 million, making 2016 the company's first profitable year ever. A low starting point helps make growth look a lot better on paper.
Nonetheless, there's no doubt that Corcept is on a roll. The biotech has one product on the market, Korlym. The U.S. Food and Drug Administration (FDA) approved Korlym in 2012 for treatingCushing's syndrome, a conditioncaused by prolonged exposure of the body's tissues to high levels of the hormone cortisol. There are around 20,000 patients in the U.S. with Cushing's syndrome.
Korlym will continue to be Corcept's primary growth-driver for a while. Corcept recently announced positive results from a phase 1/2 study of the drug in combination with Halaven in treating triple-negative breast cancer. The company also has one other clinical candidate in its pipeline: CORT125134. Enrollment is under way for a phase 2 study evaluating theselective cortisol modulator in treating Cushing's syndrome and another phase 1/2 study of the drug in treating solid tumors.
Incyte: All "JAKked" up
Incyte has a couple of things in common with Corcept. The biotech was unprofitable until recently, and it makes most of its money from one drug, JAK inhibitor Jakafi. Analysts project that Jakafi will power earnings growth of 129% this year.
Jakafi generated revenue of more than $675 million in 2015, including royalties received from sales outside of the U.S. by the biotech's partner Novartis. In just the first three quarters of 2016, revenue for the drug topped $709 million. Peak annual sales for Jakafi are expected to reach around $1.5 billion.
Incyte has more than just Jakafi going for it, though. The biotech has another product on the market in Europe, cancer drug Iclusig, which Incyte licensed from Ariad Pharmaceuticals. Incyte also licensed JAK inhibitor baracitinib to Lilly in 2009. Lilly expects an approval decision by the FDA this month for baracitinib in treating rheumatoid arthritis.
The company's pipeline includes several other experimental cancer drugs. Epacadostat is furthest along in development. Theselective inhibitor of the enzyme IDO1 is being evaluated in multiple clinical trials, including a pivotal late-stage study in combination with Merck's Keytruda in treating melanoma.
Exelixis: Soaring even higher
Thanks tokinase inhibitor cabozantinib, Exelixis ranked as one of the best biotech stocks of 2016. Exelixis markets the drug under two brand names, Cometriq and Cabometyx. Wall Street expects the biotech's earnings to increase over 110% during the next year, primarily on the growth prospects from Cabometyx.
Cometriq hit the market first, winning regulatory approval in late 2012 to treatmedullary thyroid cancer. Exelixis really hit its stride, though, with the launch of Cabometyx this year as a treatment for kidney cancer. In a short time, Cabometyx has gainedaround 20% market share as a second-line treatment for kidney cancer and 35% as a third-line treatment.
The biggest opportunity for Cabometyx still awaits. A late-stage study found that the drug outperformed the current leader, Sutent, as a first-line treatment of kidney cancer. Exelixis is moving forward with the regulatory approval process for the additional indication. There's also the potential for Cabometyx to be used in combination with other drugs.
Double in price?
With expectations for doubling earnings in the coming year, are all three of these stocks on their way to doubling also? Probably not. The market is always looking ahead. Significant earnings growth is already baked into the price of all three stocks.
However, I think each of these biotech stocks should still perform well in 2017. My view is that Exelixis, in particular, still has room to move higher. I also think the company could become an acquisition target down the road. So could Corcept and Incyte, for that matter. Impressive earnings growth tends to attract a lot of attention.
10 stocks we like better than Exelixis When investing geniuses David and Tom Gardner have a stock tip, it can pay to listen. After all, the newsletter they have run for over a decade, Motley Fool Stock Advisor, has tripled the market.*
David and Tom just revealed what they believe are the 10 best stocks for investors to buy right now... and Exelixis wasn't one of them! That's right -- they think these 10 stocks are even better buys.
Click here to learn about these picks!
*Stock Advisor returns as of January 4, 2017
Keith Speights has no position in any stocks mentioned. The Motley Fool owns shares of and recommends Exelixis. The Motley Fool has a disclosure policy.