3 Solar Stocks You May Be Overlooking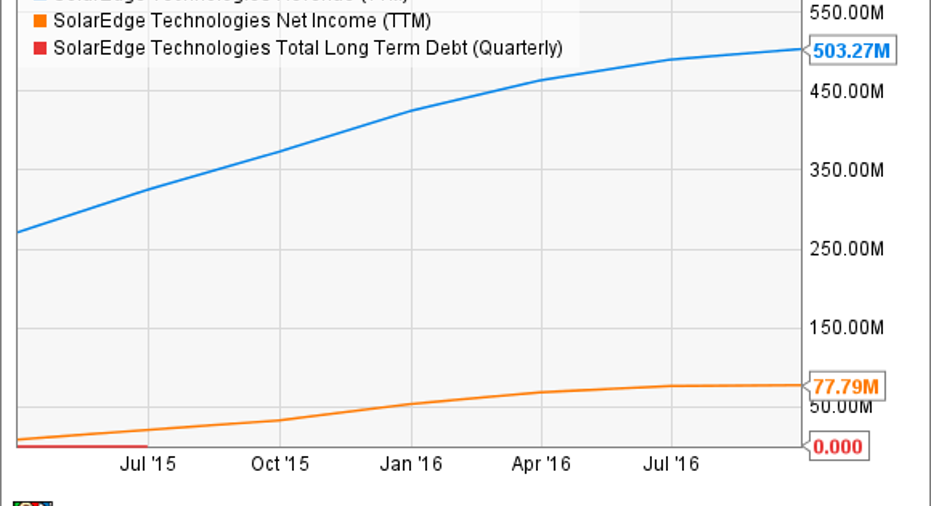 The solar industry has a bright future, but it hasn't been a great place for investors' dollars over the past few years. Many well-known companies have gone out of businesses, and even the ones that survived have seen their stock prices hammered on the market.
But there are still some good companies that have strong market positions today. Hannon Armstrong Sustainable Infrastructure (NYSE: HASI), SolarEdge Technologies (NASDAQ: SEDG), and Vivint Solar (NYSE: VSLR) are three stocks in the industry that you may be overlooking.
Image source: Getty Images.
The yieldco for all types of energy
Hannon Armstrong was a renewable energy yieldco before it was cool to be a renewable energy yieldco. The company essentially plays in all parts of the clean energy space, from efficiency to owning wind and solar assets. What's consistent about all of its varied projects is that they all have predictable cash flows attached, and therefore produce a dividend for investors.
The dividend yield right now stands at 7.2%, which gives the stock a much better payout than most other energy stocks, but is also low enough it can still finance acquisitions by issuing shares. Investors want yieldcos to have reasonably low dividends so they can use debt and equity to fund new purchases, so having keeping its yield in check is actually a benefit to the company and its shareholders.
One big advantage Hannon Armstrong has is that it's flexible about what it invests in. That will allow it to buy projects that other yieldcos might not bid on as they come available. And long term, having a flexible business model should pay off.
The solar equipment supplier
SolarEdge Technologies became successful as a supplier of solar optimizers to the residential solar market. Since then, it's moved into inverters, and now energy storage in an effort to broaden its base and increase value to customers.
What's unique about the company today is its profitability and lack of debt. In the third quarter of 2016, it reported $15.6 million in net income and had $91 million in cash and $54 million in marketable securities -- and no debt. This gives it the flexibility to spend on growth projects or acquire competitors with products that could augment its business.
SEDG Revenue (TTM) data by YCharts
The equipment business hasn't been kind to most suppliers recently, but SolarEdge has become a leader in optimizers and is making a good strategic move to expand into the energy storage market. If it's successful, this stock could be a big winner long term.
A forgotten residential solar company
Vivint Solar was once one of the hottest residential solar companies in the world. But that was before SunEdison proposed to buy it. Since that deal fell apart, the stock has hovered near its 52-week lows -- but the market may be missing the story.
Vivint Solar still has among the lowest installation costs in the residential solar industry ($2.85 per watt), and competitors around it are struggling to survive (see Sungevity). What the company has done well recently is focus on more profitable customers and cut operating costs that were once used to drive growth. The result has been impressive, with net income coming in at $16.7 million in the last quarter alone.
From a balance-sheet standpoint, Vivint Solar has a number of options as well. It could sell some assets, finance them for upfront cash, or just hold onto them for a steady stream of cash flow.
Residential solar has taken a lot of lumps over the past few years, but it's still a solid business segment, and companies like Vivint Solar are beginning to learn how to make money in it. This is a solar stock that should no longer be overlooked.
10 stocks we like better thanWal-MartWhen investing geniuses David and TomGardner have a stock tip, it can pay to listen. After all, the newsletter theyhave run for over a decade, the Motley Fool Stock Advisor, has tripled the market.*
David and Tomjust revealed what they believe are theten best stocksfor investors to buy right now... and Wal-Mart wasn't one of them! That's right -- theythink these 10 stocks are even better buys.
Click hereto learn about these picks!
*StockAdvisor returns as of December 12, 2016The author(s) may have a position in any stocks mentioned.
Travis Hoium has no position in any stocks mentioned. The Motley Fool has no position in any of the stocks mentioned. The Motley Fool has a disclosure policy.