3 Simple Reasons Qualcomm Inc Should Buy Ambarella Inc.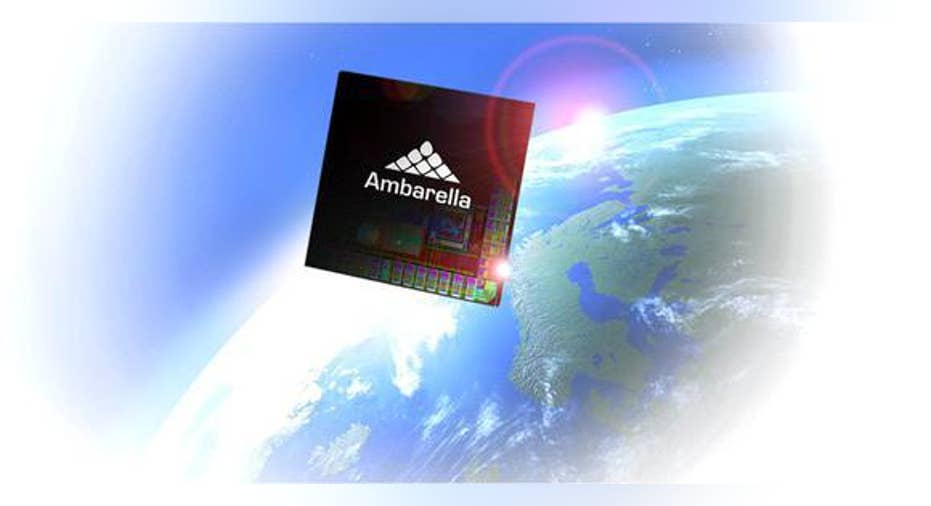 2015 was a brutal year for Qualcomm , the top mobile chipmaker in the world. Samsung , one of its top customers, dropped its Snapdragon chips from its latest flagship devices, and its top rival MediaTek started gaining ground in the low to mid-range markets. Meanwhile, Chinese OEMs kept underreporting shipments to pay Qualcomm lower CDMA licensing fees, and the year ended with fresh antitrust probes in South Korea, Taiwan, and Europe. Therefore, it isn't surprising that the stock has fallen more than 30% over the past year.
Amid all that bad news, it's easy to overlook the promising moves Qualcomm has made into new markets, like connected cameras and drones. That market is currently dominated by Ambarella , a smaller chipmaker which makes image application processors for action camera leader GoPro and drone maker DJI Innovations. When Qualcomm first revealed that it was planning to enter the drone SoC market earlier this year, Ambarella shares plunged.
Qualcomm's Snapdragon Flight board. Source: Qualcomm.
But instead of competing against Ambarella, I think it makes more sense for Qualcomm to simply buy the chipmaker, which has a market cap of just $1.7 billion. Let's discuss three simple reasons Qualcomm should try to buy Ambarella.
1. Closing the technological gapQualcomm has made solid progress in connected cameras with design wins for 4G-enabled action cameras like the 4GEE Action Cam and Benq's QC1. In the drone market, Qualcomm is promoting Snapdragon Flight, an all-in-one reference design for drones which combines its Snapdragon 801 chip with a depth-sensing camera, to drone makers. Yuneec Electric Aviation, one of DJI's Chinese rivals, has already signed on with Qualcomm.
But despite that promising progress, Qualcomm's mobile-based SoCs are still considered less power efficient and cost-effective than Ambarella's SoCs. Back in June, Morgan Stanley analysts predicted that those weaknesses would prevent Qualcomm from becoming a major threat to Ambarella in the near future. In August, Stifel Nicolaus analyst Kevin Cassidy predictedthat Qualcomm's SoC will replace "the 4 to 5 microcontrollers used in controlling drones rather than Ambarella's video processor."
It's unclear if Qualcomm plans to compete head-to-head against Ambarella, but buying Ambarella would enable the company to dominate the entire range of SoCs for action cameras, drones, and other connected cameras. That could diversify its chipmaking business -- which reported a 25% annual decline in revenue and a 73% plunge in operating profit last quarter -- away from smartphones and tablets.
2. Ambarella is fundamentally cheapShares of Ambarella have plunged nearly 50% over the past six months due to ongoing concerns about Qualcomm and the sluggish growth of the action camera market. GoPro's dismal third quarter earnings and fourth quarter guidance further weighed down Ambarella, since the chipmaker relies on GoPro for abouta third of its revenues.
Source: Ambarella.
Nonetheless, Ambarella's top and bottom line growth are impressive. Last quarter, its revenue rose 42% annually to $93.2 million andbeat expectations by $3.3 million. Non-GAAP net income surged 66% to $36.6 million, or $1.08 per share, which beat estimates by $0.22. Looking ahead, analysts expect its earnings to grow at an average of 20% per year over the next five years.
Based on those estimates, Ambarella currently trades at just 17 times forward earnings with a 5-year PEG ratio of 0.9. Since a PEG ratio under 1 is considered undervalued, Ambarella stock is cheap compared to its projected long-term growth. Assuming that Qualcomm pays a 30% premium for Ambarella (about $2.2 billion), it would be a reasonable price tag for a profitable chipmaker which is expected to generate $315 million in revenues thisfiscal year.
3. Buyouts are better than buybacksOver the past 12 months, Qualcomm has spent $10.5 billion in debt-financed buybacks. However, Qualcomm bought back those shares as its stock plunged, meaning that it simply caught its own falling knife.
In a previous article, I also mentioned how those buybacks were being used to artificially inflate Qualcomm's earnings, enrich executives, and offset dilution from stock-based compensation. Spending just a fraction of that cash to buy Ambarella makes more sense than buying back more shares.
The key takeawayBack in May, Pacific Crest Securities analyst Brad Erickson stated that it was "plausible" for Qualcomm to buy Ambarella. In my opinion, it's not just plausible, but strategically necessary to strengthen its position in non-mobile chip categories. If Qualcomm doesn't step in when Ambarella stock is cheap, it could end up paying a much higher price tag for it in the future.
The article 3 Simple Reasons Qualcomm Inc Should Buy Ambarella Inc. originally appeared on Fool.com.
Leo Sun owns shares of GoPro and Qualcomm. The Motley Fool owns shares of and recommends Ambarella, GoPro, and Qualcomm. Try any of our Foolish newsletter services free for 30 days. We Fools may not all hold the same opinions, but we all believe that considering a diverse range of insights makes us better investors. The Motley Fool has a disclosure policy.
Copyright 1995 - 2015 The Motley Fool, LLC. All rights reserved. The Motley Fool has a disclosure policy.