3 Scorching Hot Biotech Stocks -- Are They Buys?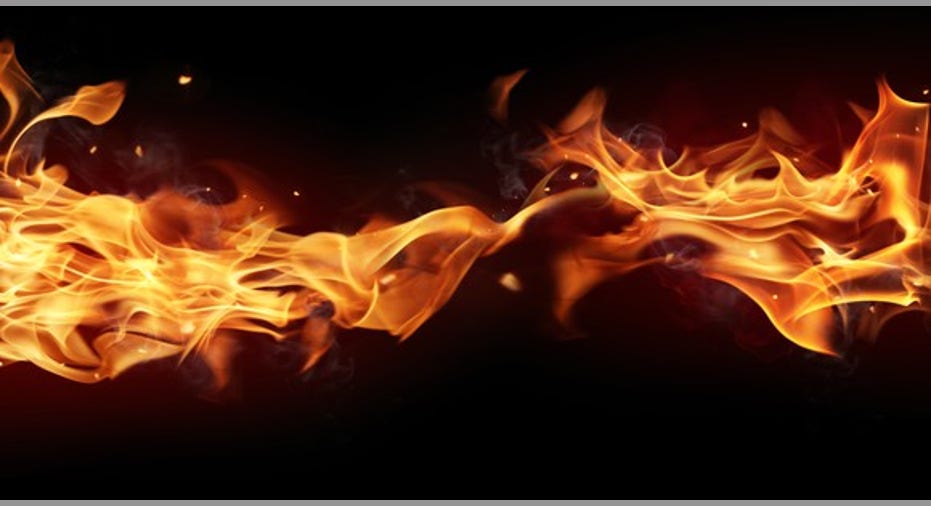 Making a 70% return in only three months sounds pretty good. Three biotech stocks have done just that and more. Shares of Clovis Oncology (NASDAQ: CLVS) soared over 120% during the last three months. Bluebird bio's (NASDAQ: BLUE) stock jumped more than 80% during the period, while shares of Exelixis (NASDAQ: EXEL) are up over 70%.
Is it a case of too much too fast for Clovis, Bluebird, and Exelixis? Or are these three scorching hot biotech stocks still buys?
Image source: Getty Images.
Clovis Oncology: Running with Rubraca
Clovis Oncology received the best news in the company's history in December when the U.S. Food and Drug Administration (FDA) approved Rubraca as a third-line treatment for advanced ovarian cancer. The biotech is waiting on possible European approval after submitting a marketing authorization application (MAA) in the fourth quarter of last year.
After the FDA granted an accelerated approval to Rubraca, Clovis hit the ground running with a commercial launch. The company has already built its national sales team of 85 sales representatives. Contacts to healthcare professionals about Rubraca's approval began immediately.
Clovis is still a stock for investors to consider for several reasons. Solid early sales results for Rubraca could be a potential catalyst this year. The biotech expects to announce top-line results from a late-stage study evaluating Rubraca as a maintenance therapy for ovarian cancer in mid-2017. More studies are in progress exploring the potential for the drug to treat other types of cancer, including prostate cancer, breast cancer, and gastroesophageal cancer.
Bluebird bio: Flying high after flying low
It's true that Bluebird's stock has soared over the last three months. However, it's also true that shares dropped like a brick just a month earlier. Bluebird hosted its Gene Therapy Day on Oct. 13, 2016. The biotech reported good news, but many investors sold off the stock afterward with no additional near-term catalysts in sight.
Bluebird claims two keylentiviral-based gene therapyproducts in development. Lenti-D targetstreatment ofcerebral adrenoleukodystrophy (CALD), a rare genetic neurological disorder. Lentiglobin is being evaluated fortreatment of transfusion-dependent beta-thalassemia (TDT), a rare genetic blood disorder. The drug is also being tested as a potential treatment for sickle cell disease.The biotech's pipeline also includes bb2121, a cancer immunotherapy in early stage testing for which Celgene has licensed exclusive marketing rights.
Investors should hold off on buying Bluebird for now. Bluebird has plenty of potential, but that potential won't be realized in the near term. In the meantime, there are other biotech stocks with more catalysts that could drive shares higher.
Exelixis: Cabometyx cranking up
Exelixis enjoyed plenty of good news last year that sent its stock into the stratosphere. In April, the biotech won FDA approval forCabometyx -- a drug for treating patients with advanced kidney cancer who have received prior therapy for inhibiting growth of new blood vessels associated with tumors. Exelixis announced great results from a phase 2 study of the drugas a first-line treatment of kidney cancer.
It's those latest results that could be a game-changer for Exelixis. Cabometyx already claimsaround 20% market share as a second-line treatment for kidney cancer and 35% as a third-line treatment. Based on the positive phase 2 results, the biotech is moving forward with submission for FDA approval in the much more lucrative first-line indication.
I don't expect Exelixis' stock to nearly triple in 2017 like it did last year. There still appears to be some upside potential, though. Exelixis has a couple of other products with room for growth -- Cotellic and Cometriq.
Best pick
Out of these three hot biotech stocks, Clovis Oncology is the best pick. Clovis has more potential catalysts coming up than Bluebird does. Its stock should have more opportunity for gains than Exelixis in the months ahead -- simply because Exelixis has already shot up so much.
Any of these biotech stocks could also be potential acquisition targets. Clovis could be especially attractive to larger organizations because it owns all the rights to Rubraca. Clovis Oncology is a scorching hot biotech stock that could get even hotter.
10 stocks we like better than Clovis OncologyWhen investing geniuses David and Tom Gardner have a stock tip, it can pay to listen. After all, the newsletter they have run for over a decade, Motley Fool Stock Advisor, has tripled the market.*
David and Tom just revealed what they believe are the 10 best stocks for investors to buy right now... and Clovis Oncology wasn't one of them! That's right -- they think these 10 stocks are even better buys.
Click here to learn about these picks!
*Stock Advisor returns as of February 6, 2017
Keith Speights owns shares of Celgene. The Motley Fool owns shares of and recommends Celgene and Exelixis. The Motley Fool recommends Bluebird Bio. The Motley Fool has a disclosure policy.