3 Rock-Solid Dividend Plays in the Waste Management Sector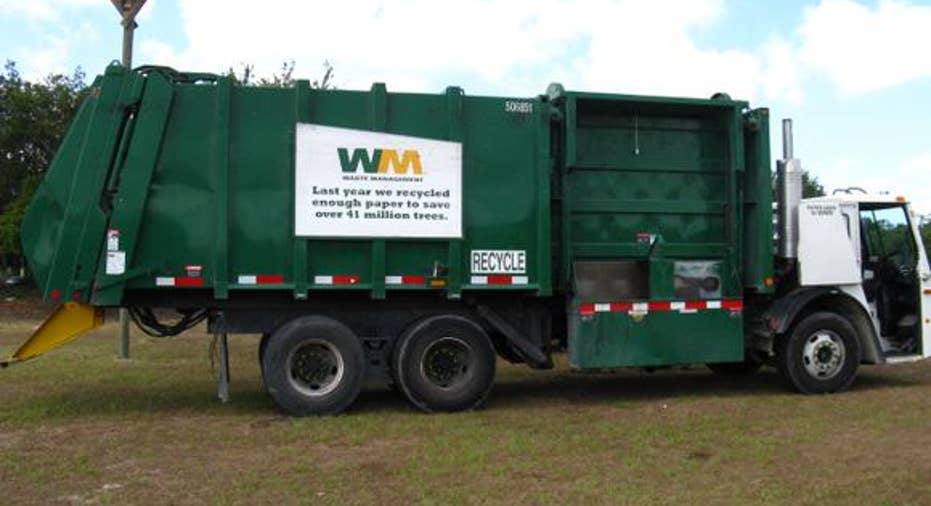 Image Source: Clyde Robinson viaFlickr.com
Buying waste management stocks won't help investors get rich fast. Because demand for waste services is for the most part saturated, the sector will grow only as fast as the population grows in the long run. The sector's slow growth potential generally precludes any speculative manias that might send waste management stocks surging far above their fundamental values.
What buying waste management stocks will help investors do, though, is retain their wealth and steadily add to it.. Unlike demand for cyclical or luxury goods, waste services are a basic need, and don't change very much when the economy declines or expands. The stability of waste management stocks and their consistent earnings power in good times and bad make them great dividend candidates. With that in mind, let's take a closer look at the three best dividend plays in the waste management sector.
1. The undisputed leader in the industry
Image source: Waste Management investor relations.
Waste Management(NYSE: WM)is the industry's biggest firm. The company services over21 million customers across the United States and Canada and has long-standing relationships with many of its contracted businesses. Because it is so big, Waste Management realizes more economies of scale than its competitors, andleads the industry in return on invested capital. In 2014, Waste Management realized a ROIC of 11%, or almost double the ROIC ofWaste Connections and Republic Services.
Because it earns a great return on capital, Waste Management has raised its dividend for 13 straight years and now pays a dividend of $0.41 per share every quarter, giving it a yield of 2.79%. With analysts predicting that Waste Management will make $2.78 per share in profit in 2016, the company will likely raise its dividend for the 14th straight year, too.
2. Another market leaderAs the second largest company in the industry, Republic Services(NYSE: RSG)has several strengths, including having a national vertically integrated solid waste and recycling platform and a high quality asset base that improves efficiency.Given that multi-year contracts account for a significant part of its business, Republic Services also has excellent revenue and earnings visibility that make management's predictions more likely to come true.
Republic Services' shares have done very well, rising 17% in the last 12 months. A big reason for the strong performance is solid guidance. For 2016, management expects the company's revenue to increase by 2.5% to 3%, and earnings per share to rise to $2.13 to $2.17 from $2.06 in 2015. If Republic Services' EPS rises by 5%, itsquarterly dividend of $0.30 will likely rise as well, giving the stock a dividend yield of over 2.5%.
3. A fast dividend growerAlthough the company's dividend yield of 0.88% isn't much, Waste Connections'(NYSE: WCN)dividend payout has grown quickly. In April 2014, Waste Connections' quarterly dividend was just $0.115 per share. In October 2014, management raised the dividend 13% to $0.13 per share.In November 2015, management raised the dividend again, this time by 11% to $0.145 per share.
Given that analysts expect Waste Connections to increase its earnings per share by an average of 8.57% each year for the next five years, the company's dividend could continue increasing by double-digit percentage rates for the foreseeable future. Waste Connections has considerable earnings growth ahead because of its planned merger withProgressive Waste Solutions(NYSE: BIN) announced in January.Management estimates that the merger will provide over 20% accretion in year 1 adjusted free cash flow per share and generate around $50 million in annual SG&A cost savings.
Waste Connections' earnings will also grow because of the company's strategy. Because it avoids intense competition when it can and focuses onsecondary and exclusive markets, Waste Connections has substantial pricing power. The pricing power gives Waste Connections sector-leading free cash flow and EBITDA margins. Waste Connections, in turn, uses its free cash flow to expand organically.
Stable stocks that will likely remain profitable in good times and badAlthough waste services companies won't wow on the top or bottom line, they are very stable. Industry leaderWaste Management has been around since 1968, whileWaste ConnectionsandRepublic Services have both existed for around 19 years.All three companies were profitable during the Great Recession. Waste Management earned$2.19 per share in 2008 and $2.01 per share in 2009.Republic Services earned $0.56 per share in 2008 and $1.30 per share in 2009. Waste Connections reported profits of $0.95 per share in 2008 and $0.91 per share in 2009. Because the sector doesn't change much, waste services companies aren't in danger of being disrupted like banks, vehicle manufacturers, and insurance companies. Because consumers have few alternatives, the companies will remain profitable even if the U.S. economy worsens.
Investor takeawayGiven their consistent growth over the years, Waste Management and Republic Services trade at reasonable valuations of between 20 and 21 times forward earnings estimates and pay attractive dividend yields. Waste Connections has substantial future earnings growth given its potential synergies from its merger with Progressive Waste Solutions.Each of the three stocks would be a great addition to any dividend portfolio.
The article 3 Rock-Solid Dividend Plays in the Waste Management Sector originally appeared on Fool.com.
TMFJay22 has no position in any stocks mentioned. The Motley Fool owns shares of Waste Management. The Motley Fool recommends Republic Services. Try any of our Foolish newsletter services free for 30 days. We Fools may not all hold the same opinions, but we all believe that considering a diverse range of insights makes us better investors. The Motley Fool has a disclosure policy.
Copyright 1995 - 2016 The Motley Fool, LLC. All rights reserved. The Motley Fool has a disclosure policy.