3 Retailers Hillary Clinton Would Love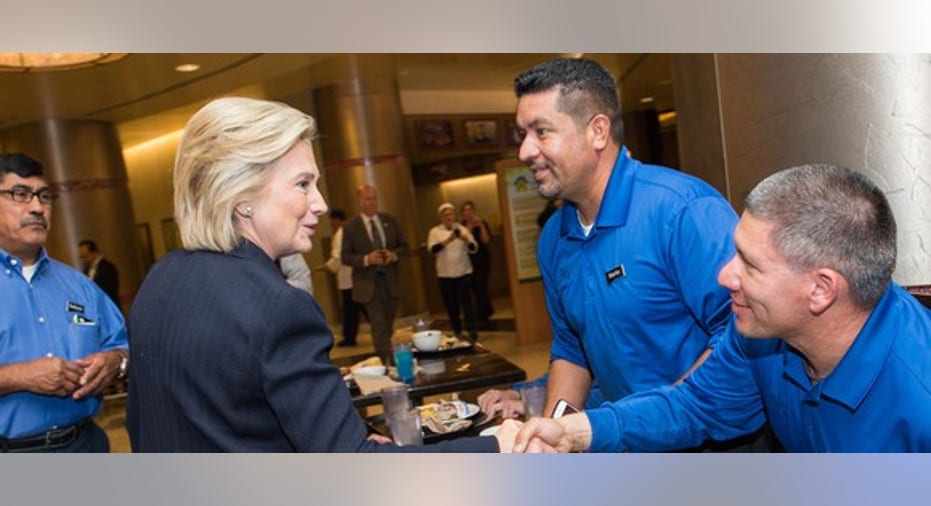 Source: HillaryClinton.com
The presidential campaign is finally entering its home stretch, and in less than two weeks we'll know who our next president will be.While the outcome isn't certain, most polls show Hillary Clinton leading the race, making it most likely that she will be president come January.
Clinton has called for raising the minimum wage to a living wage, and has promised to work to lift base hourly pay to $15/hour over time. She has also said she would encourage companies to invest in workers by rewarding companies that share profits and make investments in their employees.
Raising the minimum wage has long been controversial among businesses and political interests, who claim that such a policy would actually force layoffs by incentivizing automation and raising prices on customers. While the consequences of such a policy are debatable, there are several companies that have found success by paying above-average wages and investing in their employees. Here are three of them.
1. Costco Wholesale(NASDAQ: COST)
Best known for its rock-bottom prices on bulk goods, Costco also pays its employees surprisingly high wages. Earlier this year, the warehouse retailer said it would bump up its base pay rate by $1.50 to $13-$13.50/hour.The average Costco worker now earns more than $20/hour, much better than last year's median wage of $10.47/hour.
Costco has long had an employee-friendly compensation policy, as it believes that reducing turnover and keeping employees within its ranks saves money in training and hiring costs over the long run. The high wages also mean the company avoids much of the bad press that has sullied rivals likeWal-Mart(NYSE: WMT) over the years. Wal-Mart's employees have demanded higher wages, and interest groups have assailed it for poor labor practices.
Costco's business model enables it to pay higher wages than Wal-Mart because its revenue per employee is nearly three times as high as Wal-Mart's, meaning wages are a lower percentage of its costs. Wal-Mart, however, seems to be borrowing from Costco's strategy, as it's noticed an improvement in store performance and customer satisfaction since it lifted wages to $10/hour.
2. Starbucks(NASDAQ: SBUX)
Like Costco Co-Founder and former CEO Jim Sinegal, Starbucks CEO Howard Schultz has often led with an employee-first mindset. Schultz has taken steps to provide unique benefits for frontline employees, including offering tuition reimbursement for all full-time and part-time benefits-eligible employees who wish to pursue their BAs online through Arizona State University.
Employees are also eligible for stock grants after one year of employment with the company. Starbucks offers new hires restricted units it calls bean stock, with employees becoming eligible to receive 50% of shares after their first year and the remaining after the second. Introduced in 1991, it was the first such program of its kind in retail.
The coffee giant has also been consistently ahead of the curve in providing healthcare coverage to its employees. Even before the Affordable Care Act, it offered insurance to part-time employees, a rare benefit in the restaurant industry, and today the company covers about 70% of premium costs and 100% of preventative care costs.
3. Shake Shack(NYSE: SHAK)
Founder Danny Meyer refers to his booming burger chain as not fast food or even fast casual, but as fine casual. That attitude seems to be reflected in the way the company treats its employees. Shake Shack has a policy of paying workers a premium above the minimum wage, and according toGlassdoor, it pays more than $2.50 above the prevailing fast-food wage.Meyer and his company see that as the price for attracting and retaining a higher-quality workforce. As Costco has found, doing so reduces turnover and helps the burger chain fill managerial roles as the company expands.
As far as benefits, Shake Shack also offers a 401(k) matching program, comprehensive healthcare after 90 days, and a monthly bonus program based on store sales and other metrics. CEO Randy Garutti summed up the company's employment philosophy, tellingThe New York Times, "The No. 1 reason we pay our team well above the minimum wage is we believe that if we take care, they will take care of our customers."
Notably, all three of these companies have outperformed their peers by wide margins. Shake Shack and Starbucks continue to thrive at a time when many fast-food chains are suffering from the so-called restaurant recession, and Costco has been one of the few mass-merchandise retailers that has been able to consistently grow despite the threat ofAmazonand e-commerce. As Hillary Clinton hopes, perhaps more companies will soon take notice that such policies can reward employees and investors.
A secret billion-dollar stock opportunity The world's biggest tech company forgot to show you something, but a few Wall Street analysts and the Fool didn't miss a beat: There's a small company that's powering their brand-new gadgets and the coming revolution in technology. And we think its stock price has nearly unlimited room to run for early in-the-know investors! To be one of them, just click here.
Jeremy Bowman owns shares of Shake Shack and Starbucks. The Motley Fool owns shares of and recommends Amazon.com, Costco Wholesale, and Starbucks. Try any of our Foolish newsletter services free for 30 days. We Fools may not all hold the same opinions, but we all believe that considering a diverse range of insights makes us better investors. The Motley Fool has a disclosure policy.