3 Reasons Proto Labs, Inc. Is Crushing 3D Systems and Stratasys in 2015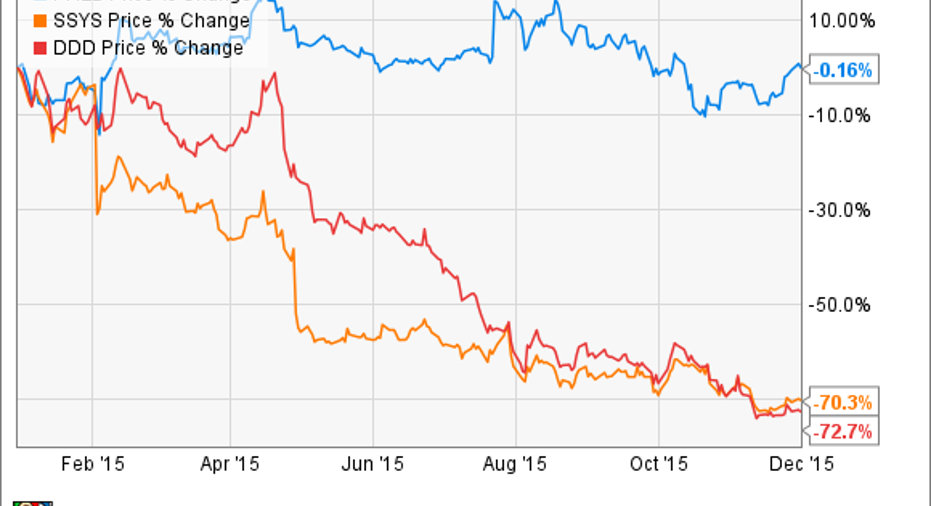 Since the start of 2015, the two largest 3D printing stocks by revenue -- Stratasys and 3D Systems -- have lost about 70% of their value. During the same time, shares of rapid manufacturer and 3D printing service provider Proto Labs are about flat.
Overall, there are three major reasons why Proto Labs is outshining 3D Systems and Stratasys in 2015.
No hardware headwinds In the first nine months of 2015, Stratasys' total revenue declined by 2% annually, while 3D Systems' revenue increased by a modest 3.6%. Breaking it down by segment, it's clear that the weakness stemmed from product sales -- 3D printing hardware.
Data sources: Stratasys and 3D Systems. *Growth rate includes Harvest Technologies and Solid Concepts acquisitions.
Stratasys' working theory is that the 3D printing industry experienced tremendous growth in 2013 and 2014, which created an oversupply of capacity in the marketplace today, and is prompting customers to delay additional 3D printer purchases. 3D Systems echoed this sentiment, citing weak capital spending in areas like automotive, oil and gas, healthcare, and aviation.
Year to date, Proto Labs' revenue performance has far exceeded 3D Systems' and Stratasys', thanks to its 100% services-based model that's proven to be less sensitive to softening capital spending:
PRLB Revenue (Quarterly) data by YCharts.
No Pepsi to Proto Labs' Coke The competition in the 3D printing hardware business is fierce and expected to intensify with Carbon3D, HP, and Canon entering the fray next year. These well-funded competitors have developed proprietary 3D printing technology that aims to address many of the shortcomings believed to be holding back overall adoption. Consequently, 3D Systems and Stratasys could face greater challenges if newer technologies make their hardware appear inferior.
Proto Labs, on the other hand, enjoys far less competition because the manufacturing services industry is highly fragmented and often slow to turn around orders. This dynamic has allowed Proto Labs to establish itself as lowest cost and fastest provider that can take a product developer through the entire design and manufacturing process -- from conceptual model or prototype using 3D printing, to a mid-volume manufacturing run exceeding 10,000 units using injection molding -- all in a matter of weeks.
Ultimately, the level of capital, equipment, automation technology, and expertise required to replicate Proto Labs' quick-turn model in its entirety creates a high barrier of entry for new competition. In practice, this competitive advantage has allowed Proto Labs to consistently grow the number of product developers it serves, further reinforcing the value proposition of its model.
Data source: Proto Labs.
To be clear, 3D Systems and Stratasys also offer 3D printing and manufacturing services, but they remain a secondary (and smaller) focus to their overall businesses, and don't provide the scale or speed Proto Labs can offer.
Disciplined management Throughout 2015, 3D Systems and Stratasys have experienced execution issues and blunders, while Proto Labs has delivered on its promise to serve more product developers by expanding its manufacturing services and marketing efforts.
In retrospect, 3D Systems' hyper-aggressive acquisition strategy distracted management from properly focusing on its operations, and Stratasys' overly ambitious plan to merge with and acquire 3D printing companies at hefty premiums ended poorly with a series massive writedowns, the most recent being a $910million doozy of a writedown in the third quarter.
At the same time, Proto Labs CEO Vicki Holt has demonstrated discipline when it comes execution and making acquisitions that add value to the business. Since Holt's appointment as CEO in Feb. 2014, Proto Labs acquired Fineline Prototyping, which introduced 3D printing services to Proto Labs' offerings, the number of unique product developers served in a quarter increased by over 44%, and it acquired Alphaform AG, a European 3D printing service provider to bolster its position in the region and bring new technologies online.
To illustrate Proto Labs' ability to make acquisitions, 70% of its customers utilized 3D printing prior to acquiring Fineline. In the third quarter, Fineline reported annual sales growth of 79%. Moreover, Proto Labs paid $10 million for Alphaform, which appears to be a bargain compared to the $16 million in annual revenue it's expected to generate during its first year.
No contest Putting it all together, it becomes clear Proto Labs currently has what 3D Systems and Stratasys lack: a meaningful competitive advantage in a less established industry, disciplined management, and solid execution. Conversely, 3D Systems and Stratasys are in the midst of navigating 3D printing industry headwinds -- softening capital spending and increased competition -- while simultaneously working to improve their operations.
From an investor perspective, it's a heck of a lot easier for Proto Labs to keep on winning than it is for 3D Systems and Stratasys to turn things around.
The article 3 Reasons Proto Labs, Inc. Is Crushing 3D Systems and Stratasys in 2015 originally appeared on Fool.com.
Steve Heller owns shares of 3D Systems and Proto Labs. The Motley Fool owns shares of and recommends Proto Labs. The Motley Fool recommends 3D Systems and Stratasys. Try any of our Foolish newsletter services free for 30 days. We Fools may not all hold the same opinions, but we all believe that considering a diverse range of insights makes us better investors. The Motley Fool has a disclosure policy.
Copyright 1995 - 2015 The Motley Fool, LLC. All rights reserved. The Motley Fool has a disclosure policy.