3 Reasons Potash Corp. Stock Could Rise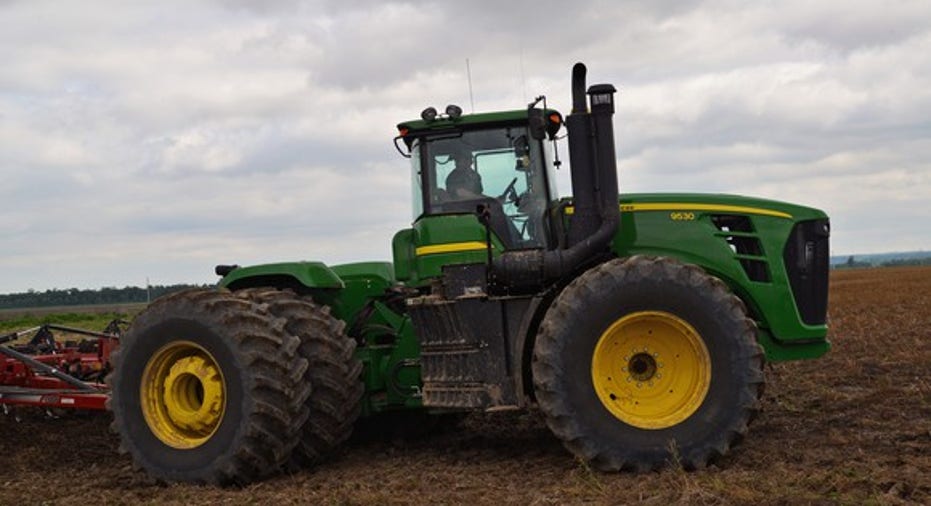 Image source: United Soybean Board/Flickr.
Earlier this month I examined three reasons that the stock of the world's largest producer of potassium nutrients for agriculture, Potash Corp. , could fall. Those reasons included rising North American inventories of potash, uncertainty from China and India in deal structuring, and the potential for further dividend cuts. While I'm currently leaning more toward the pessimistic argument, I also admit that I do not have the ability to predict the future. It's always good to examine multiple points of views of the companies you own or are researching. With that in mind, here are three reasons Potash Corp stock could rise.
Billionaire's bet
The following two things are true: I cannot predict the future and I am not a billionaire (yet?). The same does not apply to Ray Dalio, founder of Bridgewater Associates, who was featured in the recent book "Originals" by Wharton School professor Adam Grant. Dalio can't predict the future, either, but his fund recently disclosed a position in Potash Corp. totaling some 721,000 shares. Apparently, the market's pessimism for anything associated with the fertilizer industry is not enough to scare away Bridgewater.
While it will take at least a few more quarters for global markets to better balance supply and demand of potash, Dalio's move could be good news for investors. It's especially interesting because the fund sold out of its previous position in Potash Corp. in 2Q15 -- a move that avoided a nearly 50% loss had the shares remained in the fund's portfolio. This may not signal anything of significance, but it could be the beginning of a value play by one of the world's top investors and best-managed funds (and company of any kind, for that matter).
Spot markets replacing contracts
The uncertainty injected into the investment thesis for Potash Corp. was listed as a reason the stock could fall in the most recent article. After all, India and China represented 15% of the company's total potash sales by volume in 2015. But the uncertainty could also create a great opportunity for Potash Corp.
That's because the company sells to international buyers through Canpotex, a cartel collectively controlled by Potash Corp., Agrium, and The Mosaic Company. It may turn out that any shuffling of the global status quo favors the logistical and marketing might of Canpotex more than any individual sellers. Of course, the opposite could also be true, but if markets begin to recover there's little reason to believe that Canpotex won't be among the first to benefit.
Increased production capacity
Nothing forces a company to root out operational inefficiencies quite like market turmoil. Potash Corp. has responded to an oversupplied market by closing two facilities -- one temporarily and one permanently -- that represented about 7% of finished product volumes and 8% of raw ore mined by the company in 2015. While investors will take a hit in 2016 from reduced volumes, Potash Corp. successfully increased the volume of finished products by 17% from 2013 to 2015, despite only mining 13% more ore in that time period. That bodes well for the long-term health of the company. Once markets find a new equilibrium, investors may own a company that is stronger than ever before, which could expedite any recovery.
What does it mean for investors?
For investors looking for above-average dividends and value stocks, the fertilizer industry offers intriguing potential. However, it's important to remember that things can still get worse, and average selling prices thus far in 2016 hint that more pain might be doled out by Mr. Market before the situation improves for Potash Corp. Therefore, I see no reason to rush into an investment, but would remind investors to remain patient and have realistic expectations for the timeline of any potential recovery.
The article 3 Reasons Potash Corp. Stock Could Rise originally appeared on Fool.com.
Maxx Chatsko has no position in any stocks mentioned. Follow him on Twitter to keep up with developments in the engineered biology field.The Motley Fool has no position in any of the stocks mentioned. Try any of our Foolish newsletter services free for 30 days. We Fools may not all hold the same opinions, but we all believe that considering a diverse range of insights makes us better investors. The Motley Fool has a disclosure policy.
Copyright 1995 - 2016 The Motley Fool, LLC. All rights reserved. The Motley Fool has a disclosure policy.