3 Reasons NXP Semiconductors NV Is A Great Value Play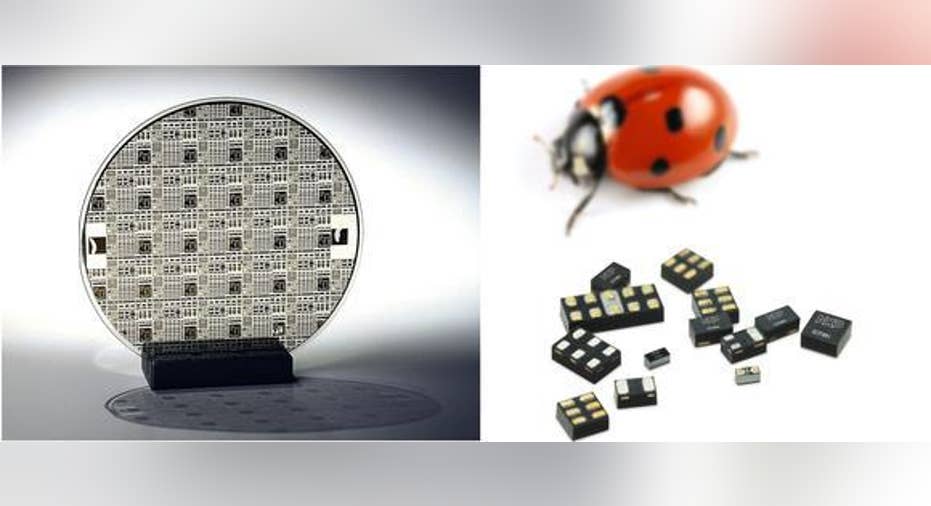 NXP Semiconductors recently beat Wall Street estimates with solid sales and earnings growth during its first quarter. Revenue, which was bolstered by its purchase of Freescale last year, rose 51% annually to $2.2 billion, topping expectations by $10 million. Non-GAAP net income increased 22% to $401 million, or $1.14 per share, beating estimates by five cents.
Those numbers looked solid, but the chipmaker's stock remains down 10% over the past 12 months, due to concerns about the cost of digesting Freescale, lower revenue growth from selling its RF unit to satisfy antitrust regulators, and slowing sales of NFC chips for Apple's iPhones. But if we dig deeper, we'll see that NXP is a pretty good value play at current prices for three reasons.
Image source: NXP Semiconductors.
1. Low valuations, smart buybacksNXP's closest industry rivals are STMicroelectronics and Texas Instruments . NXP trades at 14 times trailing earnings, which is much lower than STMicro's P/E of 53, TI's P/E of 21, and the industry average P/E of 21.
Looking ahead, analysts expect NXP to post 25% annual earnings growth over the next five years, which gives it a 5-year PEG ratio of 0.6. Since a PEG ratio under 1 is considered undervalued, NXP looks cheap relative to its earnings growth potential. STMicro also has a 5-year PEG ratio of 0.6, while Texas Instruments has a ratio of 2.1. NXP believes that its acquisition of Freescale, which allows it to lower production costs through economies of scale, will boost its non-GAAP gross margin from 50% today to a range between 51% to 55% byfiscal 2019.
NXP also uses well-timed buybacks to support that earnings growth. Last quarter, the company spent $298 million to buyback 4.1 million shares at a weighted average cost of $71.86 per share -- roughly 16% below its current price.
2. The top auto chipmaker in the worldBuying Freescalemade NXP the top auto chipmaker in the world. Last quarter, NXP's automotive revenues rose 167% annually and accounted for 36% of its top line. But on a combined and adjusted basis, which compares sales to NXP and Freescale's combined sales in the prior year quarter, revenue only rose 1%.
That growth might seem tepid, but it will likely accelerate as demand for connected, semi-autonomous, and autonomous cars climbs over the next few years. BI Intelligence estimatesthat the percentage of new cars which are shipped connected to the Internet will rise from 13% in 2015 to 75% in 2020. Boston Consulting Group, meanwhile, estimates that fully autonomous vehicles, which will evolve from Internet-connected ones, will navigate city streets by 2022. Expanding in this market will help NXP offset slower sales of chips for mobile devices.
3. Android devices could boost NFC salesSales of NXP's Secure Connected Devices (SCD) rose 63% annually and accounted for 21% of the company's revenue. But on a combined and adjusted basis, revenue fell 10% due to softer sales of NFC chips to Apple. Considering that Apple's iPhone sales fell 18% annually last quarter and are expected to continue sliding, the SCD business could remain under short-term pressure.
However, sales of NFC chips for Android devices could pick up the slack over the long term. Research firm IHS estimates that the number of NFC-equipped Android phones will rise from 254million in 2013 to 844 million in 2018. The Chinese market, where Apple Pay is currently competing against other mobile payment apps, is expected to be a key growth driver. During last quarter's conference call (as transcribed by Thomson Reuters), CEO Rick Clemmer declared that as Apple Pay gains momentum in China, "all of the high-end smartphone guys have to have something equivalent."
Should you buy NXP Semiconductors today?NXP's low valuation, its diversification away from mobile devices into connected cars, and its market-leading position in NFC chips and smart cards make it a compelling purchase at today's prices. However, shares will likely remain under pressure in the near-term due to more myopic concerns about sluggish sales of mobile devices and its slow growth in automotive chips.
The article 3 Reasons NXP Semiconductors NV Is A Great Value Play originally appeared on Fool.com.
Leo Sun has no position in any stocks mentioned. The Motley Fool owns shares of and recommends Apple and NXP Semiconductors. Try any of our Foolish newsletter services free for 30 days. We Fools may not all hold the same opinions, but we all believe that considering a diverse range of insights makes us better investors. The Motley Fool has a disclosure policy.
Copyright 1995 - 2016 The Motley Fool, LLC. All rights reserved. The Motley Fool has a disclosure policy.