3 Reasons Express Scripts Stock Could Rise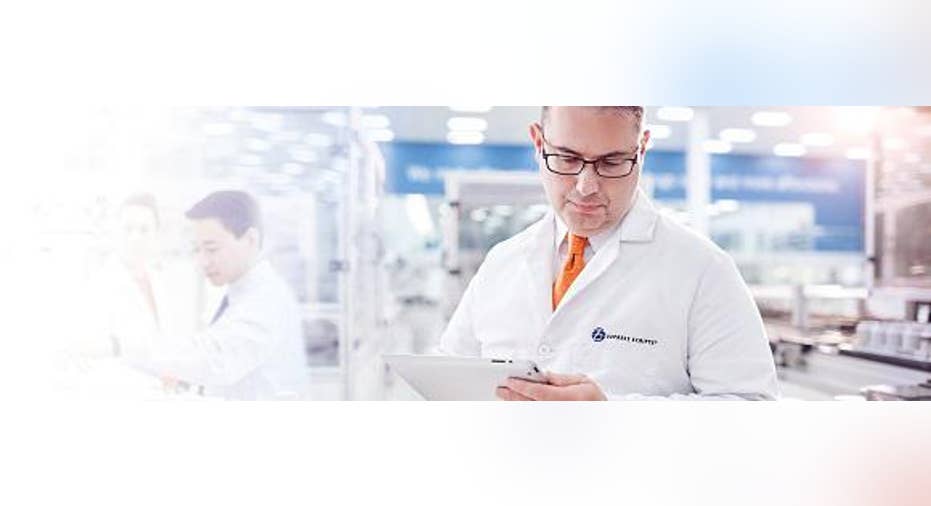 Image Source: Express Scripts
Express Scripts (NASDAQ: ESRX) shareholders have experienced a taste of bad medicine so far in 2016. The big pharmacy benefits manager's stock dropped over 20% before rebounding a little. Could Express Scripts be poised to go higher after the dismal year-to-date performance? Here are three reasons why it could happen.
1.Contract renewalThe simplest way for Express Scripts shares to take off would be from a resolution of the contract dispute with its largest customer,Anthem (NYSE: ANTM). Express Scripts' recent woes began with Anthem's public airing of the two organizations' differences over how much the insurer is due from prescription drug savings.
How likely is it that Express Scripts and Anthem could settle those differences? It seems very unlikely that Express Scripts will agree to pay Anthem anywhere close to the $3 billion that the insurer has demanded. However, that doesn't mean that a deal isn't possible.
One potential scenario that I think could happen includes give and take from both sides. Express Scripts would give Anthem some lesser amount in price concessions. Some of those concessions could be less painful for the PBM if Anthem agreed to participate in programs that Express Scripts uses with other companies to help reduce prescription drug costs. In this scenario, Anthem would then give Express Scripts an extension of the current contract, which expires in 2019.
2.Risk/reward appealWith any investment, it's all about the amount of reward possible for the level of risk taken. The ideal stock to buy is one that has relatively low risk of going down with a relatively large upside potential. I think Express Scripts meets this description pretty well right now.
Let's assume the worst-case scenario where Anthem follows through on the threat to leave. That would represent an impact of around $350 million in annual earnings for Express Scripts. The PBM's market cap is down over $10 billion from where it was prior to Anthem's bombshell announcement. That's more than the Anthem business would contribute to Express Scripts' bottom line over the next 28 years.
Considering that an Anthem loss is already more than reflected in Express Scripts' stock price, is another big plunge likely? I don't think so. The PBM already locked up a multi-year contract extension with its second-largest customer, the U.S. Department of Defense. Could smaller customers bolt, causing revenue and profits to suffer? Maybe, but Express Scripts currently enjoys an all-time high customer retention rate of 97%. That indicates the PBM is doing plenty of things right.
I suspect more investors will begin to recognize the attractive risk/reward proposition that Express Scripts currently offers. If Anthem does leave, the stock would probably still decline -- but not nearly as much as it's already fallen. On the other hand, any good news (not just on the Anthem front) should help drive shares higher.
3.Higher earnings per shareMost stocks move higher the old-fashioned way: They earn it. Higher earnings per share (and expectations of higher earnings per share) drives share prices higher. Express Scripts should be in position to benefit as its EPS increases.
The PBM announced in February that it expects 2016 earnings to be between $6.10 and $6.28 per share. The midpoint of that range reflects an increase of nearly 12% over 2015 earnings.
Is that enough to propel Express Scripts' stock higher? Last year, the company experienced similar earnings-per-share growth. Shares rose around 3% -- but in a very choppy year for the overall market. However, in 2014 Express Scripts grew earnings per share by 13%, within the guidance range for this year. That year, Express Scripts' shares soared by 21%.
Of course, all of this discussion focuses only on the immediate future. Over the long run, demand for services offered by PBMs should increase, particularly with more expensive specialty drugs on the market and the aging population. Express Scripts' size gives it economies of scale that should allow the company to compete effectively -- pushing its earnings and its stock price higher.
Looking aheadFor those looking for near-term gains, a lot depends on an agreement with Anthem. There's no magic date we can point to for a final determination one way or the other with the Anthem dispute. Certainly, the outcome will have a major impact on Express Scripts' stock momentum, especially if the two companies reach a deal where both sides win.
Aside from resolution of the Anthem conflict, the most important potential upcoming catalyst for Express Scripts is first-quarter results. The PBM is expected to announce those results in late April or early May.
The better perspective, though, is to focus on the long term. If you think employers and payers will continue to need to manage prescription drug costs and if you agree that larger PBMs will be able to negotiate better drug pricing, Express Scripts should be a stock to consider.
The article 3 Reasons Express Scripts Stock Could Rise originally appeared on Fool.com.
Keith Speights owns shares of Express Scripts. The Motley Fool owns shares of and recommends Express Scripts. The Motley Fool recommends Anthem. Try any of our Foolish newsletter services free for 30 days. We Fools may not all hold the same opinions, but we all believe that considering a diverse range of insights makes us better investors. The Motley Fool has a disclosure policy.
Copyright 1995 - 2016 The Motley Fool, LLC. All rights reserved. The Motley Fool has a disclosure policy.