3 Reason Dividend Growth Investors Should Love Shell Midstream Partners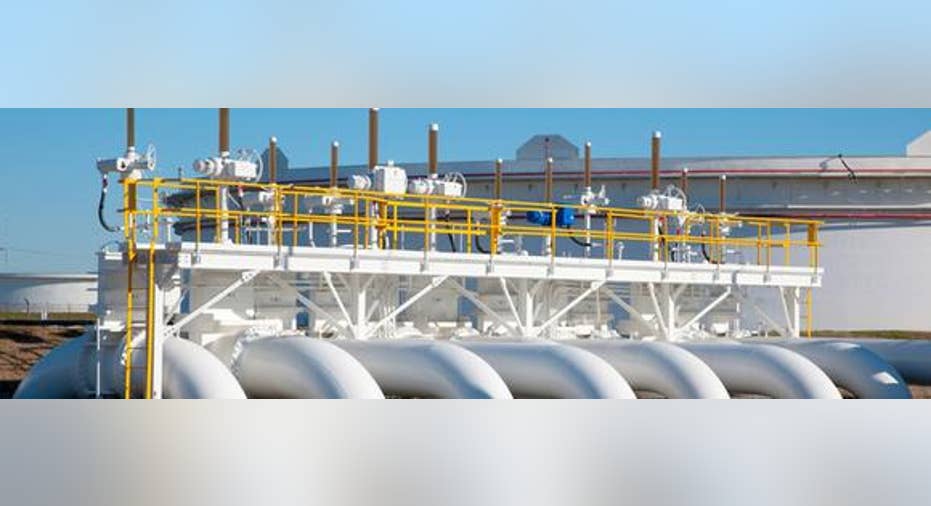 cImage source: Shell Midstream Partners.
OPEC's recent decision to effectively end production quotas has sent oil prices into a tailspin (again) and is challenging the business models of even large blue-chip midstream MLPs. Yet despite the worst oil crash ingenerations,Shell Midstream Partners could potentially become a strong dividend growth company over the next decade.
Let's look at three key management quotes from the company's most recent earnings call to understand why Shell Midstream's growth is likely to continue at a torrid pace for many years to come; oil crash be darned.
Giant sponsor whose interests are aligned with investors
This quote highlights the reason I consider Shell Midstream Partners to be one of the best long-term growth opportunities in the midstream MLP industry. Royal Dutch Shell is the world's third largest publicly traded oil company and thus owns a massive amount of international midstream assets -- thinkpipelines, storage facilities, and terminals.all of which could eventually be dropped down to its MLP.
In fact, Shell's North Americanmidstream assets aloneare enough to potentially boost Shell Midstream's annual EBITDA from its current rate of $150 million to$3.65 billion.However, given that between 2010 and 2014, Shell invested $18.9 billion in global midstream assets,theeventual drop down pipeline for Shell Midstream is most likely far larger, and likely to drive growth for at least the next decade or two.
Fantastic payout profile
Midstream MLPs are mainly owned for their consistent and growing yields, courtesy of a toll-road like business model built around long-term, fixed-fee, and often volume ensured contracts. This creates a highly predictable distributable cash flow stream from which to fund the payout -- one thatcan belargely immune from volatile energy prices.
While Shell Midstream's 2% yield is among the lowest in the industry, its payout growth potential is arguably one ofthe best.Analysts are projecting almost 32% CAGR growth over the next five years --
In addition, keep in mind that long-termincome investors need to look at the overall payout profile, which includes the yield, long-term growth potential, and sustainability. With a distribution coverage ratio of 1.5, not only is Shell Midstream throwing off$93 million per yearof excess cash flow -- which can be reinvested into further growth -- but its distribution is among the more secure in its industry.
Ridiculously great access to growth capital
Given the enormous scale of Shell Midstream's drop down pipeline, it needs strong access to capital markets to reach its full growth potential. Luckily for investors, the MLP's balance sheet is rock solid. In fact, Shell Midstream's debt to EBITDA ratio of 2.3 times is much lower than the industry average of 6.54x.
This grantsShell Midstream access to debt that is both plentiful and cheap. In addition, since the MLP is able to fund some of its growth internally excess cash from operations, that cheap debt can be stretched further to buy even more growth assets.
Finally, that low 2% yield means it can sell new units at a favorable market rate -- even during an oil crash. This makes further accretive acquisitions(meaning distributable cash flow per unit increases despite a higher unit count) even easier and more profitable.
Bottom lineFew midstream MLPs currently offer long-term investors payout security and growth potential as great as Shell Midstream Partners. With the largest sponsor inthemidstream sectorproviding a massive drop down pipeline, and some of the lowest growth capital costs in the industry,long-term investors should expect both stupendous income and market-crushing total returns over the coming years.
The article 3 Reason Dividend Growth Investors Should Love Shell Midstream Partners originally appeared on Fool.com.
Adam Galasowns units of Shell Midstream Partners.The Motley Fool has no position in any of the stocks mentioned. Try any of our Foolish newsletter services free for 30 days. We Fools may not all hold the same opinions, but we all believe that considering a diverse range of insights makes us better investors. The Motley Fool has a disclosure policy.
Copyright 1995 - 2016 The Motley Fool, LLC. All rights reserved. The Motley Fool has a disclosure policy.