3 Quotes That Show How Take-Two Interactive Is Benefiting From Its Digital Sales Transition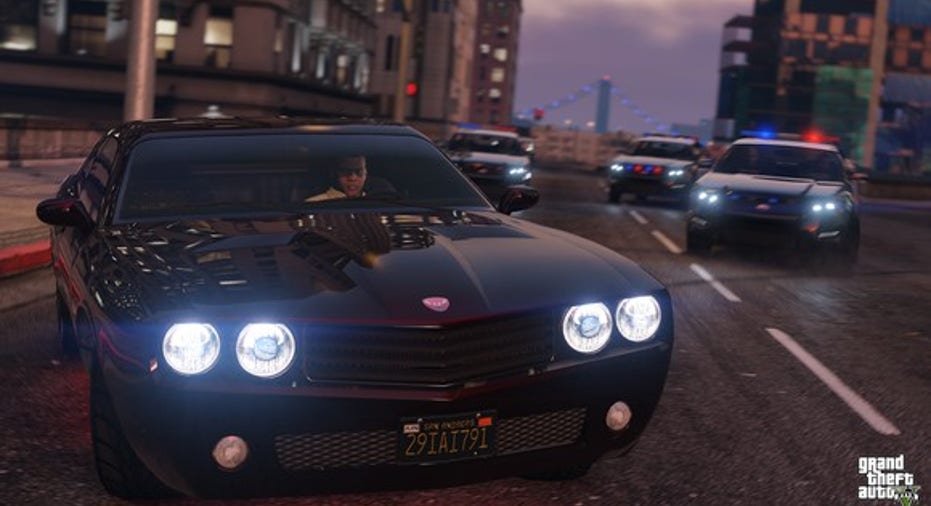 Image source: Take-Two Interactive.
Strong performance for games and add-on content sold digitally has helped Take-Two Interactive (NASDAQ: TTWO) beat earnings expectations in seven of the last eight quartersand been a big factor in driving the company's share price up roughly 200% over the last three years. The rise of digital sales has been one of the biggest performance drivers for video game publishers in recent years and remains one of the most important trends shaping the industry.
Here's a look at what the digital transition means for Take-Two, with three quotes from the company's most recent earnings call that highlight the state of its digital business and indicate where it might be heading.
Take-Two benefited from strong digital sales in the second quarter
The digital distribution push benefits Take-Two and other games publishers in a few key ways. Selling downloads means significantly better margins for games companies because they save on costs associated with producing a physical product and because they sell directly to the consumer rather than to a retailer such as GameStop or Wal-Mart. Digital distribution also makes it easier for publishers to sell add-on content and continue to keep users engaged to generate additional revenue after the launch of the core product. In-game content sales also typically generate great margins for publishers, so it's easy to see why publishers love the digital sales trend.
Here's Take-Two CEO Strauss Zelnick on the company's digital performance in the second quarter:
With full-game downloads added in, digital sales accounted for 47% of bookings in the quarter. Take-Two's development and marketing cycles mean that margin improvements are often obscured in financial reports, but the digital momentum is great for profitability.
Image source: Take-Two Interactive.
A legacy title and a new release were the biggest in-game sales drivers
The fact that Grand Theft Auto V and NBA2K17 were Take-Two's two biggest second quarter in-game purchase drivers, despite GTA V first debuting in October 2013, portends well for the company's future. Here's Zelnick on the performance of the two standout titles:
The increased user engagement evidenced by NBA2K17's substantial in-game purchase growth is a great sign for the company's basketball series, and points to this year's release being a stronger-than-expected earnings contributor over the next year.
Perhaps even more impressive is the fact that Grand Theft Auto V's online component managed to outperform NBA2K17's recurrent spending. Grand Theft Auto remains Take-Two's most important franchise, and continued outperformance from the game's online mode shows just how strong the property is. It also validates the company's strategy of releasing new game modes for free but charging users for the purchase of in-game currency that can be used to unlock content.
Later in the call, management indicated that it expects digital sales for Grand Theft Auto V and its online mode to begin to slow,though Grand Theft Auto Online sales were up year over year at the time of the call. New releases and growth for NBA2K and WWE are expected to offset moderating Grand Theft Auto sales and lead to 42% sales growth in the third quarter compared to the prior-year period.
Take-Two is seeing growth in free-to-play
While Electronic Arts has been focused on mobile growth for years and Activision Blizzard made a big push into the space with its $5.9 billion acquisition of King Digital, Take-Two Interactive has been slower in its uptake of free-to-play. This is partially attributable to Take-Two having less available resources than those two larger competitors, but the company is building its position and has a significant growth opportunity in the space.
Zelnick pointed to strong performance and year-over-year growth forNBA2K Online in China and WWE SuperCard as recurrent spending drivers during the call, and President Karl Slatoff outlined key releases and a strategy to support the company's core properties:
The company has been careful not to dilute the pull of the Grand Theft Auto franchise, but an original mobile game built around the property could be a huge hit without detracting from the sales of core releases with the right application. The company's big 2017 release Red Dead Redemption 2 is another title that could be ripe for a tie-in. Take-Two has strong properties to work with in the still rapidly expanding free-to-play space, and the publisher would post massive growth in mobile and add to its digital sales strength if it decided to make use of its heaviest hitters.
10 stocks we like better than Take-Two Interactive When investing geniuses David and Tom Gardner have a stock tip, it can pay to listen. After all, the newsletter they have run for over a decade, Motley Fool Stock Advisor, has tripled the market.*
David and Tom just revealed what they believe are the 10 best stocks for investors to buy right now... and Take-Two Interactive wasn't one of them! That's right -- they think these 10 stocks are even better buys.
Click here to learn about these picks!
*Stock Advisor returns as of November 7, 2016
Keith Noonan owns shares of Activision Blizzard and Take-Two Interactive. The Motley Fool owns shares of and recommends Activision Blizzard and Take-Two Interactive. The Motley Fool recommends Electronic Arts. Try any of our Foolish newsletter services free for 30 days. We Fools may not all hold the same opinions, but we all believe that considering a diverse range of insights makes us better investors. The Motley Fool has a disclosure policy.