3 Prime Reasons Valeant Pharmaceuticals Intl. Inc. Shares Dove 11% in November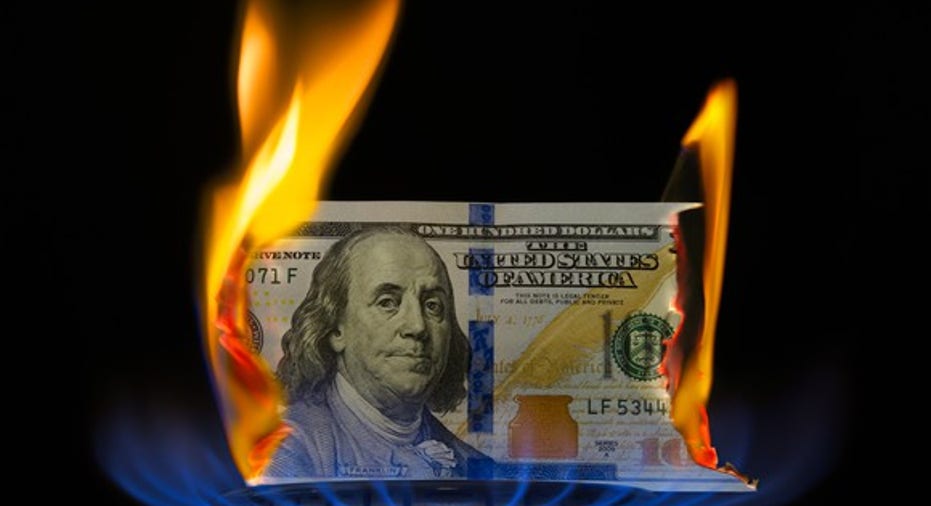 Image source: Getty Images.
What happened
The miserable year continued for shareholders of embattled drugmaker Valeant Pharmaceuticals (NYSE: VRX) in November, with shares of the company falling by 11%, according to data from S&P Global Market Intelligence. A combination of three factors fueled Valeant's double-digit percentage plunge last month.
So what
Arguably the biggest negative for Valeant was the release of its third-quarter earnings results on Election Day. There was a lot of hope heading into Q3 that Valeant would once again stick by its previous profit and EBITDA guidance, but those hopes were quickly dashed. Total revenue in Q3 wound up falling 11% to $2.48 billion on a year-over-year basis, while adjusted EPS of $1.55 missed Wall Street's expectations by $0.20 per share. Worst of all, Valeant reduced its full-year profit forecast to a new range of $5.30 to $5.50 in adjusted EPS from a prior forecast of $6.60 to $7 in adjusted EPS, and it slashed its full-year EBITDA forecast to a range of $4.25 billion to $4.35 billion from its previous projection of between $4.8 billion and $4.95 billion. The midpoint of its full-year revenue guidance also fell by $400 million.
Second, federal prosecutors in New York wound up filing criminal charges against former Valeant executive Gary Tanner and former Philidor Rx Services CEO Andrew Davenport in November. Prosecutors have alleged that Tanner was steering a large portion of Valeant's specialty pharma business to drug distributor Philidor, lining Davenport's pockets in the process. In return, Davenport was providing Tanner with cash kickbacks. Though these criminal charges may have no further bearing on Valeant's business, the ongoing investigation could potentially lead to fines and sales restrictions for Valeant.
Finally, Wall Street discovered that the Securities and Exchange Commission had sent its second correspondence to Valeant in a matter of months concerning its non-GAAP reporting measures. The SEC criticized Valeant for stripping out acquisition-related costs in a May correspondence, as well as potentially misrepresenting the tax effect of excluding those costs. In the latest correspondence, the SEC has challenged Valeant's exclusion of legal and restructuring costs. Though Valeant has vowed to alter its non-GAAP reporting practices, it's clear the company is on the SEC's radar.
Image source: Getty Images.
Now what
The hits just keep on coming for Valeant, and it's uncertain when they'll stop.
What wasn't mentioned in the three downside catalysts above is perhaps Valeant's biggest problem: The $30.4 billion in debt it's lugging around on its balance sheet as of the end of Q3. New CEO Joseph Papa and his management team have recognized the need to divest assets, but the company is essentially in a no-win situation. If it chooses to divest non-core assets, then it may not generate enough capital to make a dent in its debt load. However, if it winds up selling its juiciest core assets, like Salix Pharmaceuticals or Bausch & Lomb, then it will likely crush its future growth potential. Plus, no matter which path Valeant takes, its prospective buyers are unlikely to pay a premium for these assets, knowing how much financial trouble Valeant is in.
Valeant still looks like it could be a bargain from a fundamental perspective at just three times this year's projected EPS. But it's unclear how long it could be before the company's core operating segments, such as dermatology, begin growing again. Furthermore, Valeant has lost some of its prized pricing power, which may continue to constrain its results.
My suggestion remains that investors stay far away from Valeant Pharmaceuticals.
10 stocks we like better than Valeant Pharmaceuticals When investing geniuses David and Tom Gardner have a stock tip, it can pay to listen. After all, the newsletter they have run for over a decade, Motley Fool Stock Advisor, has tripled the market.*
David and Tom just revealed what they believe are the 10 best stocks for investors to buy right now... and Valeant Pharmaceuticals wasn't one of them! That's right -- they think these 10 stocks are even better buys.
Click here to learn about these picks!
*Stock Advisor returns as of November 7, 2016
Sean Williamshas no material interest in any companies mentioned in this article. You can follow him on CAPS under the screen nameTMFUltraLong, and check him out on Twitter, where he goes by the handle@TMFUltraLong.
The Motley Fool owns shares of and recommends Valeant Pharmaceuticals. Try any of our Foolish newsletter services free for 30 days. We Fools may not all hold the same opinions, but we all believe that considering a diverse range of insights makes us better investors. The Motley Fool has a disclosure policy.