3 Popular Stocks Hedge Fund Tycoons Are Ditching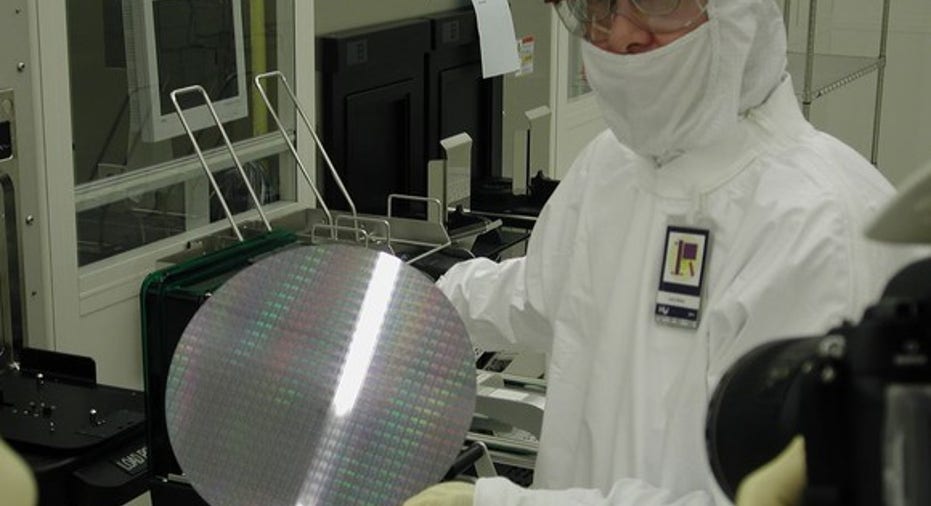 It's not uncommon for Wall Street and retail investors to look toward the world's top money managers for guidance on where the stock market, and some of the most popular stocks, are headed next. While these hedge-fund magnates can be wrong just like the rest of us, their track record suggests they know a thing or two about investing, which is why the investments of the world's top hedge funds are so closely monitored.
According to 13F filings with the Securities and Exchange Commission for the fourth quarter, a handful of highly popular stocks were kicked to the curb by prominent hedge funds and their managers. Three of those popular stocks, as highlighted by our Foolish contributors, are chipmaking giant Intel (NASDAQ: INTC), branded-apparel retailer Michael Kors Holdings (NYSE: KORS), and mortgage real estate investment trust Annaly Capital Management (NYSE: NLY).
Image source: Getty Images.
Patience is a virtue
Tim Brugger(Intel): With approximately $160 billion in assets under management,Bridgewater Associates is one of the largest money managers around, and like many of its peers and individual investors, it appears it's run out of patience as Intel continues its business transformation.
In the last quarter of 2016, Bridgewater shed 570,700 shares of Intel, equal to over 37% of its total stake. With its stock down 3% in 2017, Bridgewater isn't the only Intel naysayer. That said, thanks in part to a stronger-than-expected PC market and continued growth in key units, Intel is coming off a record-breaking quarter and year in which revenue climbed to $16.4 billion and $59.4 billion, respectively.
Client computing continues to drive much of Intel's revenue, but it was its focus on cloud data center sales, the Internet of Things (IoT), and data security that put it over the top. Intel is very much aware that PCs are not where it's future lies, and it has gone on record saying it is now a data center first provider.
Image source: Intel.
Intel's client computing unit revenue climbed a respectable 2% last year to $32.9 billion. But data center sales jumped 8% to $17.2 billion, IoT soared 15% to $2.6 billion, and data security was up 9% to $2.2 billion. With each passing quarter, Intel derives more and more of its total revenue from its up-and-coming units. Add to that Intel's 3.1% dividend yield, and patient investors will be rewarded, despite what some of the industry's big hitters think.
When the fashion tide turns....
Brian Feroldi(Michael Kors Holdings): David Einhorn, the famous billionaire investor who runs Greenlight Capital, is a hedge fund manager I like to keep tabs on. One stock that Einhorn recently sold out of completely is Michael Kors Holdings, the luxury retailer that owns the iconic "MK" brand.
It isn't hard to figure out why Einhorn isn't feeling bullish about this company's prospects any longer. Kors has posted a string of disappointing earnings reports that feature declining comparable-store sales. This metric declined by 6.9% in the all-important holiday quarter, driving a 3.2% decrease in total sales. While the company's massive buyback program helped to drive its EPS higher year over year, the declining comparable-store sales hint that this brand is losing its consumer appeal. If true, that could mean that the company's troubles are likely to get worse.
Image source: Michael Kors Holdings.
While management has a plan to right the ship, it admits that the near term is going to be challenging. For the upcoming quarter, it's projecting that comps will fall in the "low teens," which doesn't exactly inspire confidence.
It is possible that management's plan could work out and that shares could be a bargain way down here. However, Einhorn clearly doesn't believe that a turnaround is in the cards, which is why he got out while he could. I agree with him that keeping this stock far away from your portfolio is probably the best move.
This nearly 11% yield was on the chopping block
Sean Williams (Annaly Capital Management): Mortgage real estate investment trust Annaly Capital Management is exceptionally popular among income investors because of its nearly 11% dividend yield. Assuming this yield remained static, investors could double their investment on the payout alone in less than seven years.
However, certain hedge funds wanted nothing to do with Annaly Capital during the fourth quarter. Clough Capital Partners, headed by Charles Clough, former chief investment strategist of Merrill Lynch, dumped all 1.41 million shares of Annaly in Q4 2016, Similarly, Acadian Asset Management, which has more than $20 billion in funds under management, dumped nearly 2.5 million Annaly shares, and Rockefeller Financial Services sold almost 7.2 million shares. These are big hedge funds running for the hills.
Image source: Getty Images.
What has these big money hedge funds spooked? Look no further than the Federal Reserve's ongoing monetary tightening. REITs of all forms thrive off borrowing money and reinvesting those assets to generate nearly guaranteed income. As interest rates rise, the cost of borrowing rises, which throttles the ability of REITs to use leverage. It also has a tendency to inhibit margins. In Annaly's case, it means a narrower net interest margin, and potentially less cash to divvy out to investors.
Even more so, rising interest rates can make dividend stocks appear less attractive. As yields rise on safe interest-bearing assets, investors may choose to opt out of riskier dividend stocks, which can harm a company's share price.
This Fool does understand why hedge funds are approaching Annaly with caution, but I believe they're overlooking a few key points. Namely, that Annaly's management team is experienced and has weathered a rising interest-rate environment before, and that Annaly predominantly deals in agency-only (i.e., government-backed) mortgage-backed securities. This means it's protected from defaults, which makes it among the safer mortgage-REITs. Even if Annaly's dividend yield were to fall, it's still likely to have a much higher yield than nearly all S&P 500 companies, and it's valued at just below its book value. There are plenty of reasons to believe this popular income stock can still be a winner for investors.
10 stocks we like better than IntelWhen investing geniuses David and Tom Gardner have a stock tip, it can pay to listen. After all, the newsletter they have run for over a decade, Motley Fool Stock Advisor, has tripled the market.*
David and Tom just revealed what they believe are the 10 best stocks for investors to buy right now... and Intel wasn't one of them! That's right -- they think these 10 stocks are even better buys.
Click here to learn about these picks!
*Stock Advisor returns as of February 6, 2017
Brian Feroldi has no position in any stocks mentioned. Sean Williams has no position in any stocks mentioned. Tim Brugger has no position in any stocks mentioned. The Motley Fool owns shares of Michael Kors Holdings. The Motley Fool recommends Intel. The Motley Fool has a disclosure policy.