3 Numbers to Watch When Textainer Group Reports Earnings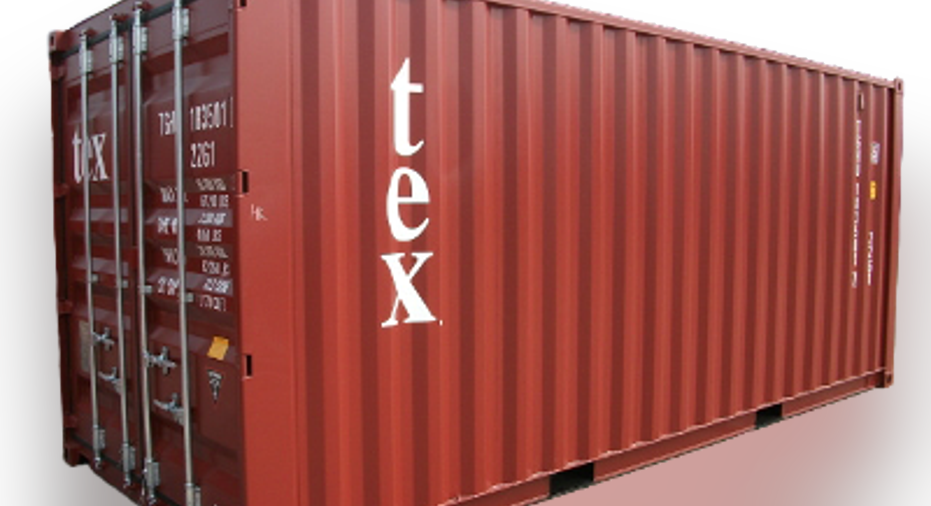 A slowing global economy has had a deep impact on the container industry, which is clear by looking at the results of Textainer Group over the past couple of quarters. Those weak results were expected to continue in 2016 given that the catalysts driving the sector -- namely weak demand, low steel prices, and low interest rates -- haven't improved all that much this year. That being said, investors can look for signs that the tide is turning by taking a close look at three numbers when Textainer reports on Wednesday morning:
The utilization rate,
container prices, and
capex.
First, let's review Before we get to those numbers, let's take a quick look back at last quarter. During the fourth quarter Textainer reported weak results after slumping container pricing had a deep impact on the income the company earns from container sales and trades:
| | Q4 2015 Actuals | Q4 2014 Actuals | Growth (YOY) |
| --- | --- | --- | --- |
| Lease Rental Income | $124.6 million | $129.5 million | (3.7%) |
| Management Fees | $3.6 million | $4.2 million | (12.5%) |
| Trading Container Sales Proceeds | $1.3 million | $7.3 million | (81.8%) |
| Gains on Sale of Containers, Net | ($0.3 million) | $2.6 million | (110.8%) |
Data source: Textainer Group.
As that table indicates, the company saw a steep decline in proceeds from selling and trading containers during the quarter after container prices declined 25% over the course of 2015. That was partially due to weak demand for containers, which also put downward pressure on the revenue the company receives from lease rentals due to both lower utilization as well as weaker lease renewal rates.
1. Watch the utilization rateGiven the importance of utilization, it's a key number to watch this quarter. That's because Textainer has seen its average fleet utilization rate slip over the past year with it dropping from 97.4% during the fourth quarter of 2014 to just 95.7% last quarter. Worse yet, utilization was down to 94.2% in the middle of the first quarter, which is going to have a negative impact on lease rental income during the quarter.
That said, what investors want to keep an eye on is if utilization has continued to move downward or if it has bottomed and is now improving. If that's the case, it would signal that container demand might be on the upswing.
Image source: Textainer Group.
2. Look for changes in container pricesSpeaking of container demand, that's one reason why container prices are down roughly 25% year over year. However, it isn't the only pressure point, with container prices also being affected by falling steel prices and low interest rates.
Of the three, the one that potentially could be improving is steel prices after the U.S. government imposed tariffs on seven steel-producing nations, which had been dumping steel on the U.S. market at unfairly low prices. These tariffs came after companies like U.S. Steel (NYSE: X) and TimkenSteel (NYSE: TMST) complained about the pressure they were facing from unfair import prices. U.S. Steel, for example, noted that its fourth-quarter results were hurt by a decrease in realized steel prices due to "dumped or subsidized imported products" while TimkenSteel noted that these weak steel prices from imports would lead to lower earnings in 2016 for the company. While neither U.S. Steel nor TimkenSteel saw any real improvement in those conditions during the first quarter, there is some optimism that the new tariffs could lead to better steel prices later this year, which could lead to higher shipping container prices.
Given that backdrop, check to see if Textainer saw any improvement in container prices due to the potential for higher steel prices later this year.
3. Keep an eye on capexWhile weak container prices hurt Textainer in the short term, it has the potential to be a long-term positive because the company is actively buying these cheaper containers. Last year the company invested $600 million on new and used containers and had already spent $65.5 million on new containers through early February. Given that torrid spending pace, keep an eye on what impact this capital investment is having on the company's overall fleet size, as well as what its investment plans are for 2016.
Investor takeawayThe container leasing market has been under a lot of pressure lately, which wasn't expected to abate during the first quarter. That'll likely put more downward pressure on Textainer's first quarter results. That said, investors should keep an eye out for positive signs for the future by keeping a close eye on utilization, container prices, and capex spending levels, because these numbers could provide a glimpse on when its results might improve, as well as what the future holds for its fleet.
The article 3 Numbers to Watch When Textainer Group Reports Earnings originally appeared on Fool.com.
Matt DiLallo owns shares of Textainer Group. The Motley Fool owns shares of and recommends Textainer Group. Try any of our Foolish newsletter services free for 30 days. We Fools may not all hold the same opinions, but we all believe that considering a diverse range of insights makes us better investors. The Motley Fool has a disclosure policy.
Copyright 1995 - 2016 The Motley Fool, LLC. All rights reserved. The Motley Fool has a disclosure policy.