3 Numbers to Watch When Netflix Inc. Posts Earnings Next Week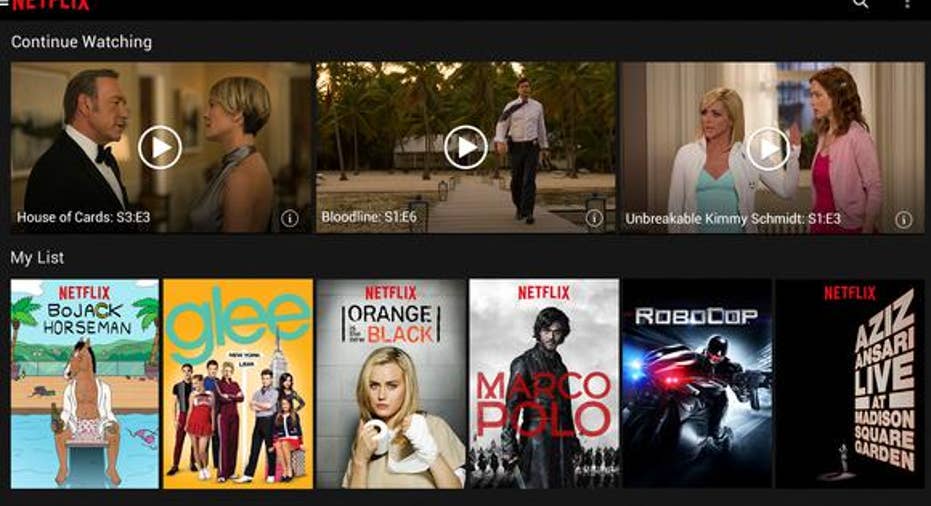 The big number from Netflix's fourth-quarter report in January was 75 million, or the total subscriber base that the streaming-video giant reached just a few hours after midnight on Dec. 31. A year earlier, that number stood at 57 million, meaning the company showed solid progress in 2015 toward its goal of eventually serving 100 million users around the world.
For the first quarter, which is typically one of Netflix's biggest, membership growth will be key for investors to watch, in addition to profit margins and cash flow.
International membership Management's forecast calls for 6.1 million new members to join the subscriber base in Q1, which would easily set a record for the company -- and the reason for the aggressive goal boils down to international expansion.
Image source: Netflix.
Netflix in Q4 overshot its internal growth target by 9%, which CEO Reed Hastings pegged on surprising demand for the service in markets outside of the United States. "What we're seeing is that this on demand Internet TV, watch whenever and wherever you want, it's very popular wherever you go in the world," Hastings said in a conference call with investors.
Seventy percent of the subscriber-base growth is projected to come from international markets in Q1, and investors should expect to see that lopsided performance continue as the company morphs into a global enterprise where most of the revenue is generated outside the U.S. At last count, the user-base split was 60% domestic, 40% international; but those percentages will likely flip during the next few years.
Profitability The transformation won't be cheap, though. Netflix posted a $109 million Q4 loss in the international business, and expects the red ink to widen to $114 million this quarter.
CEO Reed Hastings while announcing Netflix's global expansion last quarter. Image source: Netflix.
Sure, the U.S. business is slated to become even more profitable, with segment operating margin rising to 36% from 32% last year; but the international segment is headed in the other direction, and should see its margin decline to -18% from -16%. This would mark the single-biggest reason why earnings per share should decline to $0.03 from $0.05 a year ago.
"We expect modest operating income results for Q1...as we invest in our international expansion," executives said in January's shareholder letter.
Cash flow In addition, original content like Narcos and Marvel's Jessica Jones, which is driving much of the global growth, requires a lot of cash. Netflix's profitable U.S. operations could easily handle the expenses -- if they weren't also funding an aggressive ramp up into dozens of additional outside markets. Instead, with two expensive strategic priorities to pursue, Netflix's cash flow has turned sharply negative this year, reaching $276 million in Q4 on its way to almost $1 billion for the full 2015.
NFLX cash from operations (quarterly) data by YCharts.
That trend makes it likely that the streamer will need to tap into debt markets sometime in the next year. Netflix last raised cash that way in February of 2015 when it borrowed $1.5 billion, after initially targeting $1 billion. (As Chief Financial Officer David Wells put it, "we upsized our debt deal last year.")
The bigger draw has knocked the company off of its recent pace of needing to raise new cash early on in each calendar year, but the fact that management sees another $1 billion of negative cash flow in 2016 almost ensures that Netflix will be borrowing funds again sometime soon. If everything goes to plan, though, this will be the company's last bond issue, as the international expansion should be paid for by the end of the year. From then on, executives expect to generate substantial net income beginning in 2017.
The article 3 Numbers to Watch When Netflix Inc. Posts Earnings Next Week originally appeared on Fool.com.
Demitrios Kalogeropoulos owns shares of Netflix. The Motley Fool owns shares of and recommends Netflix. Try any of our Foolish newsletter services free for 30 days. We Fools may not all hold the same opinions, but we all believe that considering a diverse range of insights makes us better investors. The Motley Fool has a disclosure policy.
Copyright 1995 - 2016 The Motley Fool, LLC. All rights reserved. The Motley Fool has a disclosure policy.