3 Noteworthy Numbers From Energy Transfer Partners LP's Q3 Report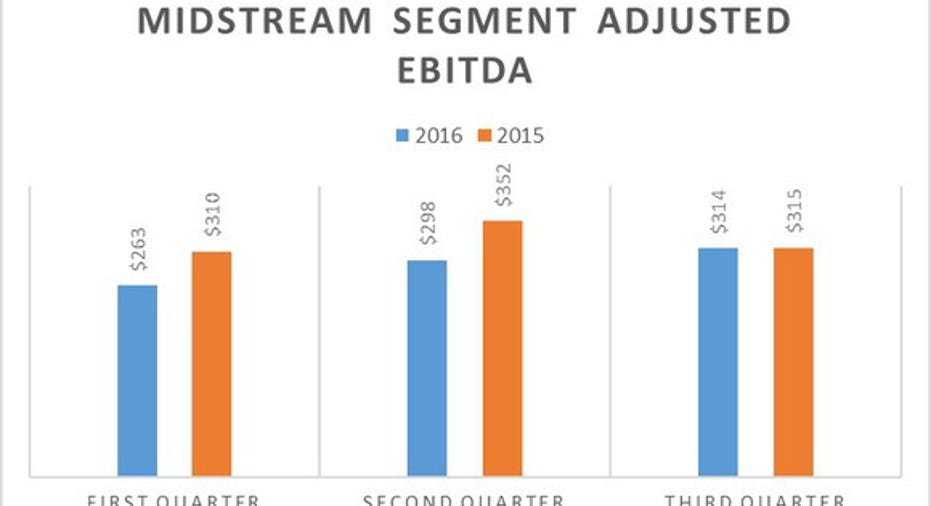 Image source: Getty Images.
Energy Transfer Partners (NYSE: ETP) has had its share of ups and downs this year, which is why its unit price has been all over the place. That mixture of triumphs and tribulations stuck with it in the third quarter after it showed a slight improvement in two important numbers but the continued deterioration in one crucial metric. The net result is another mixed quarter that leaves investors with more questions than answers.
Midstream is almost back to even
We will start with the positives, which is the noticeable improvement in the company's midstream segment:
In millions of dollars.Data source: Energy Transfer Partners. Chart by author.
As the following chart shows, that segment had significantly underperformed last year's tally through the first two quarters before finally pulling back toward even during the third quarter. Driving that improvement were higher oil and NGL prices, which lifted its non fee-based margins, as well as higher volumes in the Permian Basin. These factors helped offset weaker volumes elsewhere as well as an increase in costs enabling the midstream segment to show some much-needed improvement.
Closing the gap on distributable cash flow
That recovery helped keep distributable cash flow from falling as deeply as it had in prior quarters:
In millions of dollars.Data source: Energy Transfer Partners. Chart by author.
That said, the company still generated less cash during the quarter than it did last year. One of the contributors to the decline was that it only received $149 million in distributable cash flow from its unconsolidated affiliates, which was down from $156 million in the year-ago period. One factor driving down that number is that the company did not receive any distributions from itsstake in PES, which is a refining joint venture with The Carlyle Group (NASDAQ: CG), after receiving $15 million in the year-ago quarter.
The coverage ratio remains in the danger zone
While distributable cash flow only declined 1.2% versus last year, that is still a problem because Energy Transfer Partners paid its investors a net $876 million in cash during the quarter. That resulted in a very concerning coverage ratio of 0.82 times, which is down from 0.84 times in the year-ago quarter. Another culprit this quarter is the fact that Energy Transfer Partners has 3.3% more units outstanding, which is adding additional weight to the coverage ratio. This decrease is coming even though parent company Energy Transfer Equity (NYSE: ETE) relinquished $127 million of its incentive distribution rights (IDRs) during the quarter, up $99 million from the year-ago quarter. That increase is due to Energy Transfer Equity's support agreement with its MLP, which calls for it to relinquish a growing amount of IDRs through Dec. 2017 as it helps the company get through a tough period of lower commodity prices and high capex spending.
With this quarter's decline, the coverage has now fallen to 0.87 times for the year, which is not sustainable. That said, the company is in the midst of a major expansion phase, which will see it complete several projects over the next year. In fact, the company expected its $4.8 billion Bakken Crude Pipeline and $470 million Lone Star Frac IV to go into service during the fourth quarter and supply some incremental cash flow. However, protesters have haltedthe construction of the Bakken Pipeline due to the opposition over a portion its route, which makes it unlikely that it will enter service this year. Because of that, the coverage ratio could remain a concern until this and other projects enter service next year.
Investor takeaway
Energy Transfer Partners' third quarter was not all that great. While the midstream segment and distributable cash flow showed some improvement, distribution coverage remains dangerously low. That will continue to be a concern since it cannot keep paying out more than it brings in, especially if it experiences any additional delays to its major growth projects. This shortfall makes investors question whether the company can continue to maintain the payout at its current level, let alone grow it in the future.
10 stocks we like better than Energy Transfer Partners When investing geniuses David and Tom Gardner have a stock tip, it can pay to listen. After all, the newsletter they have run for over a decade, Motley Fool Stock Advisor, has tripled the market.*
David and Tom just revealed what they believe are the ten best stocks for investors to buy right now... and Energy Transfer Partners wasn't one of them! That's right -- they think these 10 stocks are even better buys.
Click here to learn about these picks!
*Stock Advisor returns as of November 7, 2016
Matt DiLallo has no position in any stocks mentioned. The Motley Fool has no position in any of the stocks mentioned. Try any of our Foolish newsletter services free for 30 days. We Fools may not all hold the same opinions, but we all believe that considering a diverse range of insights makes us better investors. The Motley Fool has a disclosure policy.