3 Key Takeaways From Oshkosh Corporation's Q1 2017 Earnings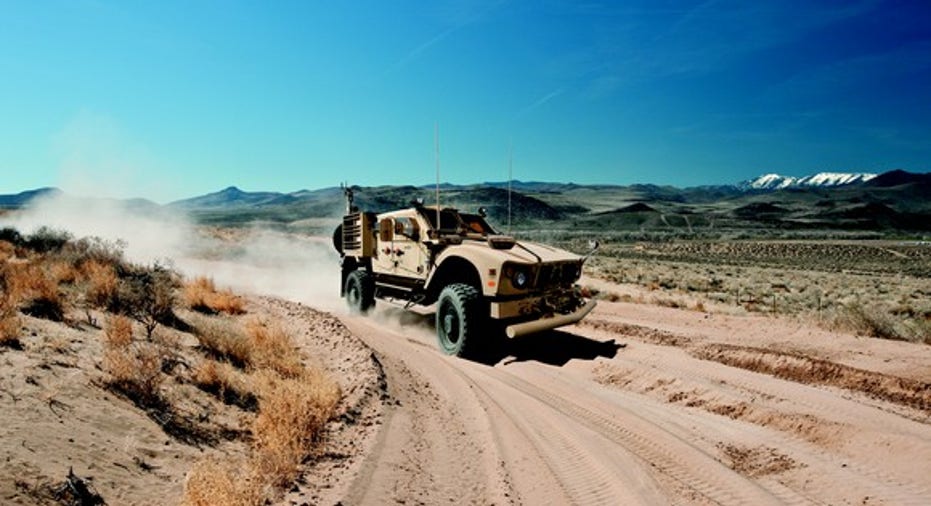 Vehicle manufacturerOshkosh Corporation(NYSE: OSK) reported Q1 2017 results on Jan. 27. The company, which turns 100 years old this year, makes all kinds of specialty trucks and equipment, from telehandlers (think forklifts on steroids) to fire trucks to cement mixers to military vehicles. And although business wasn't booming in the first quarter (which ran from October 2016 through December 2016), the company is still doing well.
Here are three things investors should know about the quarter's results, and where they suggest the company will go from here.
The Oshkosh Mine Resistant Ambush Protected All-Terrain Vehicle (MATV) is one of the company's most popular military vehicles. Image Source: Oshkosh Corporation.
A reduction in access
The company's $0.26 in quarterly earnings per share handily beat the consensus estimate of $0.11. Those results also beat the year-ago quarter's $0.19 in EPS, as well as topping the company's internal estimates.Revenue was also up, at $199.7 million, compared with $182.8 million in the year-ago quarter. Despite this growth, sales were down about 3.2% year over year.
Sales were noticeably off in the company's largest segment, access equipment, falling 7.7% year over year.The company blamed declining sales in North America and Europe, which is nothing new. The access equipment unit's fortunes are largely tied to the construction industry, which has been in a slump for years, and the access equipment unit has been a drag on the company's sales during that time.Impressively, despite the sales slump, revenue from the unit grew this quarter as timing of new project development spending and a favorable product mix offset the lower sales.
The company, however, has a plan to deal with the underperformance of the access equipment segment. By cutting some European telehandler product lines and closing some facilities in Europe and North America, Oshkosh expects to realize $15 million to $20 million of benefit in 2018, and $20 million to $25 million per year in pre-tax savings thereafter.So while this won't affect the company's 2017 performance, it's good to know that management is addressing the weakness that has been plaguing the company's largest segment. However, there will be some costs associated with these changes in 2017 that will offset earnings, so investors should be prepared for those as well.
Fits and starts
Growth has always been lumpy for Oshkosh, and wild swings in sales from one quarter to the next are nothing new. There are a number of reasons for this situation, including seasonal sales and the presence -- or absence -- of large contracts. For example, specialty-vehicle sales are generally low in Q1's late autumn and early winter but rebound in the spring.
This quarter wasn't immune from these swings. In the fourth quarter of 2016, strong international M-ATV (Mine Resistant Ambush Protected All-Terrain Vehicle)sales were responsible for most of the company's revenue beat. In the first quarter of 2017, on the other hand, the company had zero international M-ATV sales, which was the primary reason for the overall year-over-year sales decrease in Oshkosh's defense segment.
Large contracts, too, can yield surprises for the company -- if it can land them. The inherent uncertainty around the status of upcoming contract bids means that it's tricky to project how the company will fare. This quarter saw examples of that situation as well, as a competitor's protest to a tactical vehicle contract was withdrawn, resulting in the expectation of at least two more years of revenue from that source.
On the other hand, Oshkosh is one of six companies currently working on a prototype vehicle for the U.S. Postal Service, which could lead to a contract for 180,000 vehicles. That would bring in a massive amount of revenue, but there's no way to know at this time if that contract will go to Oshkosh or one of the other competitors.Oshkosh investors need to be prepared for short-term surprises in either direction when it comes to sales and revenue numbers.
Looking ahead
Oshkosh is anticipating 2017 per-share earnings of $3.00-$3.40 on an adjusted basis. But there are some caveats to that range. The company plans to report earnings on a non-GAAP basis, excluding any costs that will be incurred by the restructuring in the access equipment segment. So the GAAP EPS number for 2017 will probably be substantially lower.
I say "probably" because the company isn't factoring a proposed major U.S. infrastructure spending package into its 2017 predictions. CEO Wilson Jones explained why:
Jones believes, however, that the company's access equipment and commercial segments would benefit from an infrastructure package, if it comes to fruition.
Investor takeaway
Any company that can post higher revenue and earnings on lower sales is clearly doing something right.Oshkosh's management is also doing the right thing for its shareholders by addressing the ongoing weakness in the company's access equipment segment and by not counting their chickens before they hatch when it comes to possible increases in government spending.
Overall, this was another solid quarter from a solid company. Despite the possibility of a bad quarter here or there because of the natural uncertainty in this business, investors should feel safe sticking with Oshkosh for the long term.
10 stocks we like better than Oshkosh Corporation When investing geniuses David and Tom Gardner have a stock tip, it can pay to listen. After all, the newsletter they have run for over a decade, Motley Fool Stock Advisor, has tripled the market.*
David and Tom just revealed what they believe are the 10 best stocks for investors to buy right now... and Oshkosh Corporation wasn't one of them! That's right -- they think these 10 stocks are even better buys.
Click here to learn about these picks!
*Stock Advisor returns as of January 4, 2017
John Bromels has no position in any stocks mentioned. The Motley Fool has no position in any of the stocks mentioned. The Motley Fool has a disclosure policy.