3 Key Metrics for National Oilwell Varco, Inc. Investors to Focus On Next Week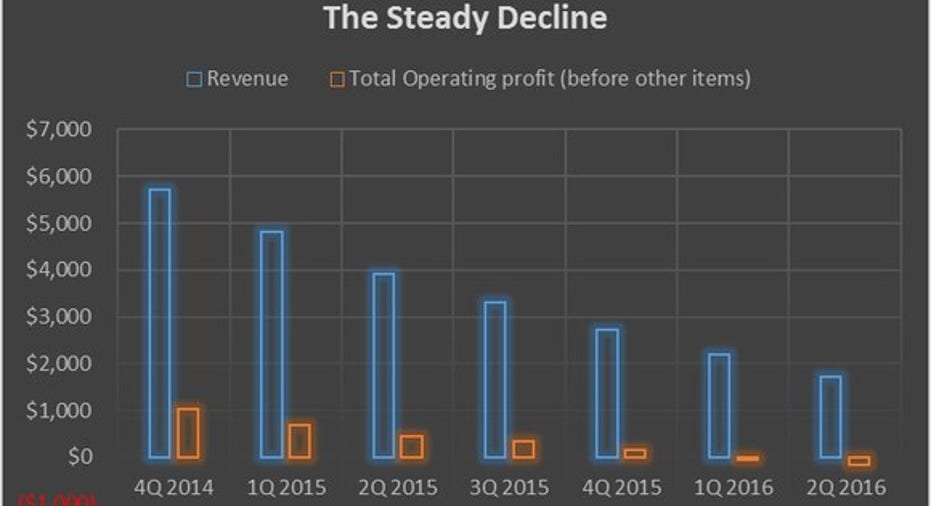 Image source: Getty Images.
The oil market downturn has hit National Oilwell Varco's (NYSE: NOV) financial results hard. Last quarter was its worst yet, with revenue sliding another 5% sequentially while its net loss widened. However, oil prices have improved significantly over the past several months, causing some green shoots to start appearing. The question that remains is whether the fourth quarter finally marked the beginning of a long-awaited recovery in National Oilwell's results and outlook.
Here are three metrics to focus on when it reports next week that should confirm whether its results have bottomed.
Did the revenue slide end?
The oil equipment maker initially thought that its results would start improving during the third quarter, projecting a 10% sequential increase in revenue due to large projects booked earlier in the year. Instead, revenue slipped again, continuing its more than two-year decline:
Data source: National Oilwell Varco. Chart by author. Note: In millions of dollars.
Given what happened last quarter, National Oilwell Varco offered tepid guidance for the forth quarter. CEO Clay Williams said on the third-quarter conference call that while results were"at or near the bottom of an extraordinary down cycle" he still saw "lots of cross-currents." For example, Williams thought that completion and production systems revenue would improve in the fourth quarter by a mid-single-digit percentage because 80% of its revenue comes from short-cycle shale development, which has increased in recent months. However, he was not quite as optimistic about the wellbore technology, rig aftermarket, or rig systems segments, forecasting single-digit declines in each business line.
What investors should focus on is whether revenue continued its decline as expected or if it finally hit bottom due to improving oil and gas drilling activities as producers started spending more money.
Did margins continue to improve?
While National Oilwell Varco's revenue and earnings continued slumping last quarter, its margins improved a bit. That is evident after adjusted EBITDA increased by $43 million from the prior quarter to $68 million, or 4.1% of sales. Fueling that growth in the face of falling sales was the company's ability to improve efficiency and drive out costs.
However, given the company's weak guidance, it will be tough for it to deliver higher margins again this quarter. For instance, on the third-quarter conference call, Williams said that margins in the rig aftermarket business would probably fall by a few hundred basis points due to falling sales and a different mix of spare parts and repair services. He sees a similar drop in rig system margins resulting from a shift to lower-margin land opportunities and lower-priced and lower-margin offshore orders in its backlog. However, Williams did note that margins in the completion and production solutions segment should improve thanks to the expected rise in revenue and additional cost reductions. Meanwhile, Williams thought that EBITDA in wellbore technologies would be roughly flat on account of continued cost reductions.
For the company to boost margins in the face of these headwinds, it would need to keep a firm lid on costs during the quarter or sales would need to come in ahead of expectations. Ideally, however, we would like to see both happen.
Image source: Getty Images.
Is the outlook decidedly more bullish?
On last quarter's call, Williams told the tale of two oil markets. The rebound of oil prices back into the $50s enabled low-cost producers in the U.S., Russia, and Saudi Arabia to increase oil and gas development activities, which fueled higher equipment sales. However, conditions remained very challenging for offshore customers as well as for other international areas, which put more pressure on equipment and service prices.
Given National Oilwell Varco's offshore-focused business, markets need to show some signs of improvement. The good news is that service companies see better days ahead for that market. Leading oil-field service company Schlumberger (NYSE: SLB), for example, might not have been overly bullish but it did seem to think the worst was over. That is evident from comments bySchlumberger CEO Paal Kibsgaard, who said on its recent fourth-quarter conference call that "activity levels in key market segments such as exploration and deepwater are at record lows and although we do not expect a dramatic short-term recovery, the trends can only be positive from this point on." Meanwhile, reservoir specialist Core Labs (NYSE: CLB) was much more bullish. In Core's fourth-quarter earnings release, it wrote that while international and deepwater markets are currently challenging, it "believes those markets are poised for a rebound beginning in the first half of 2017." In fact, it concludes that a "V-shaped" recovery is already underway in the oil market.
Given these views, investors should focus on what National Oilwell's customers are telling it about their spending plans and if that's translating into actual sales or a reasonable expectation for improving sales in 2017.
Investor takeaway
Make no mistake about it: The fourth quarter will not be a good one for National Oilwell Varco. That said, the quarter would be less atrocious if revenue stopped its slide and margins edged up a bit more. Meanwhile, the icing on the cake would be the release of a bullish outlook, backed by customer conversations confirming plans to open their pocketbooks in 2017 and buy more equipment.
10 stocks we like better than National Oilwell Varco When investing geniuses David and Tom Gardner have a stock tip, it can pay to listen. After all, the newsletter they have run for over a decade, Motley Fool Stock Advisor, has tripled the market.*
David and Tom just revealed what they believe are the 10 best stocks for investors to buy right now... and National Oilwell Varco wasn't one of them! That's right -- they think these 10 stocks are even better buys.
Click here to learn about these picks!
*Stock Advisor returns as of January 4, 2017
Matt DiLallo owns shares of Core Laboratories and National Oilwell Varco. The Motley Fool owns shares of and recommends Core Laboratories and National Oilwell Varco. The Motley Fool has a disclosure policy.