3 Key Metrics for Alcoa Corp Investors to Focus On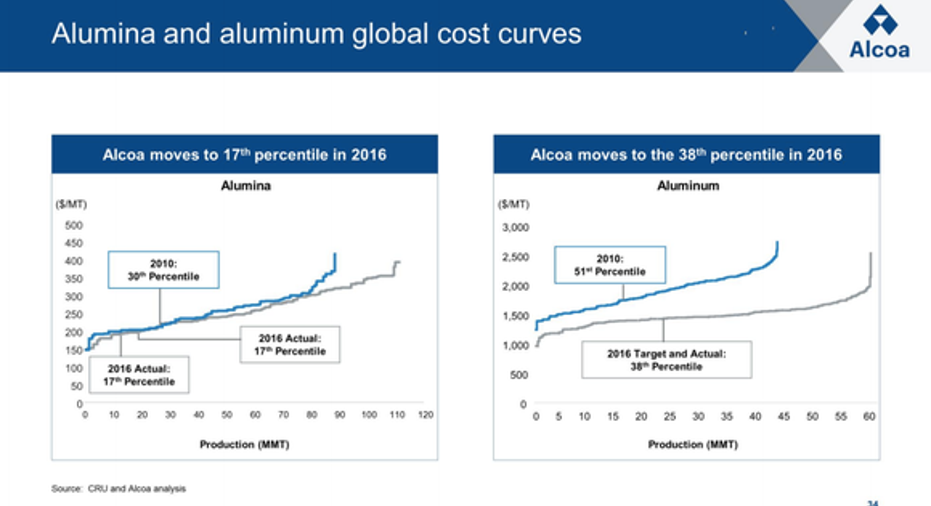 Alcoa Corp (NYSE: AA), which recently spun-off its advanced manufacturing arms, became an old fashioned aluminum manufacturer once again in late 2016. At this point, the global aluminum giant has to prove that it can compete with the rest of the industry -- without the help of its former specialty parts business, Arconic Inc (NYSE: ARNC). The trend leading up to the breakup was cost cutting, which is why these three metrics will be important to watch going forward.
3 Keys Metrics
If you invest in or are considering investing in Alcoa, one of the first metrics to monitor is cost of goods sold. It measures the direct costs associated with making Alcoa's wares, including materials and labor. The company was able to trim this number by about 1.5% year over year in the fourth quarter, it's first as a stand-alone entity. More important, it made up 83.7% of revenues, down from 88% a year ago.
Image source: Alcoa Corp
As a commodity company, Alcoa has only so much control over certain aspects of its business, so cost of goods sold could jump around a bit. However, if it starts rising you'll want to make sure you understand why. If there isn't a good answer, it could be a sign that management is letting costs get out of hand.
Next up is sales, general, and administrative expense: (including research and development). This is a tally of the expenses outside of what it costs to make a product. Alcoa was able to trim this metric by almost 7.5% year over year in the fourth quarter. It went from 4.4% of revenue to 3.9%.
Management has a lot more control over these costs, and staying lean and mean will be important as it charts its own course. Note that this number should be more consistent than cost of goods sold. What you'll want to watch for is any indication that management is letting corporate overhead creep up without a good reason or offsetting gains on the revenue side of the equation.
A quick overview of Alcoa's income statement. Image source: Alcoa Corp
The third metric worth paying close attention to is simplyinterest expense. A big question surrounding the breakup of Alcoa and Arconic was how the pair's debt would be divided. The answer was that Alcoa got a reasonable amount, at roughly 15% of the capital structure (including non-controlling interests). Notably, interest expense fell just over 25% year over year in the fourth quarter.
Debt is an important part of Alcoa's business model, so it will never be debt free. However, it operates in an often volatile commodity business, so having too much debt could lead to material financial strain. You'll want to make sure that the company's debt levels and interest burden remain reasonable.
Why do these metrics matter?
Now that you know the metrics we're talking about, here's why you should care about them. After Klaus Kleinfeld took over as the CEO of Alcoa he started to build up the company's specialty parts business and trim down its aluminum group operations. After a series of big acquisitions in the parts space, the decision was made to break the company in two (Kleinfeld went with Arconic). At this point, after the late 2016 break up, that's now entirely in the past. But it's important news because it represented, essentially, a reset for Alcoa.
What happens from here is extraordinarily important, but it's also exigent to understand where "here" is. For example, leading up to the separation, closing older, less efficient assets and focusing on cost containment allowed Alcoa to move itself from the 51st percentile to the 38th percentile on the aluminum cost curve. It did even better on the alumina side of the business. That's where Alcoa is today, a little history about how it got there, and why costs will be an important indicator of continued success.
Alcoa made big gains on the cost curve leading up to the break up. Image source: Alcoa Corp.
Where Alcoa goes from here
Basically, Alcoa has to keep the gains it made on the cost side of the equation if it wants to remain competitive. It would be even better if the aluminum giant was able to improve on them now that it's on its own. To make sure that happens, you need to pay attention to the company's costs on an absolute basis and on a relative basis. Watching cost of goods sold, sales, general, and administrative expense, and interest expense is a good way to quickly do that. The fourth quarter of 2016 is the new base case scenario. You'll want to ensure that all of the hard won gains leading up to the break up aren't squandered as Alcoa charts its own course.
10 stocks we like better than AlcoaWhen investing geniuses David and Tom Gardner have a stock tip, it can pay to listen. After all, the newsletter they have run for over a decade, Motley Fool Stock Advisor, has tripled the market.*
David and Tom just revealed what they believe are the 10 best stocks for investors to buy right now... and Alcoa wasn't one of them! That's right -- they think these 10 stocks are even better buys.
Click here to learn about these picks!
*Stock Advisor returns as of February 6, 2017
Reuben Brewer has no position in any stocks mentioned. The Motley Fool has no position in any of the stocks mentioned. The Motley Fool has a disclosure policy.