3 iPad Pro Innovations That Could Come to Apple Inc.'s iPhone This Fall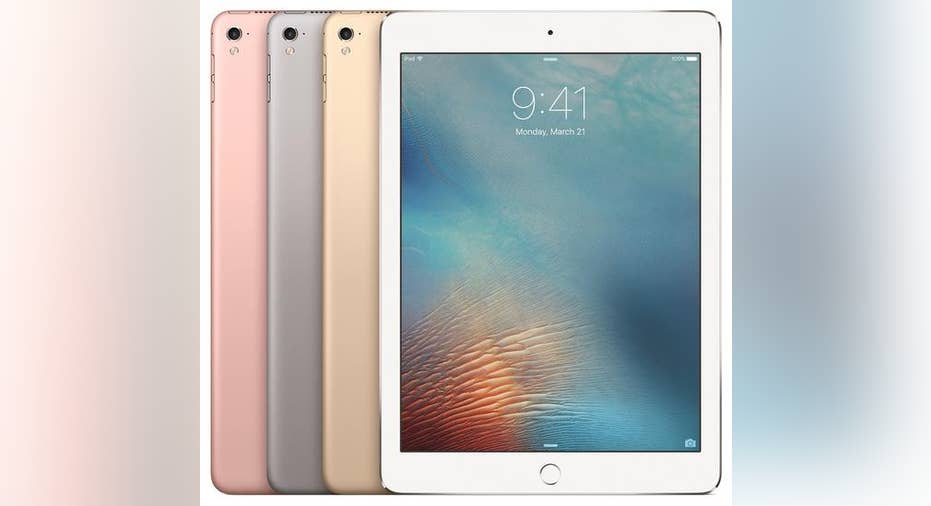 Apple's latest iPad Pro. Image credit: Apple.
On March 21, Apple hosted its "Let Us Loop You In" spring event at which it unveiled new Apple Watch bands, a new 4-inch iPhone, and an all-new 9.7-inch iPad Pro. In my mind, the most interesting announcement of the bunch was the new iPad, which brought a number of interesting enhancements over both the iPad Air 2 and the 12.9-inch iPad Pro.
I believe that many of the innovative features that Apple brought to the 9.7-inch iPad Pro will find their way to the upcoming iPhone 7-series of devices. Here are three that I'm expecting.
Anti-reflective coatingAs 9to5Mac reported ahead of the event, the 9.7-inch iPad Pro features a second-generation anti-reflective coating. This coating, per the company, means that reflectance is down by 40% relative to the iPad Air 2.
According to an email exchange with display expert Raymond Soneira of DisplayMate, high display reflectance "reduces image contrast and color saturation," and was impressed with the 1.8% reflectance figure that Apple announced in the press release.
I would be quite surprised if Apple didn't bring this technology to the next generation iPhone, particularly as this would be a good way to improve the effective contrast ratios (Soneira calls this "contrast rating" in his display shootouts) of the upcoming devices.
Wide color gamutLast year, Apple introduced new iMacs with displays that cover the DCI-P3 color gamut, which the iDevice maker says improves color saturation by 25% over standard sRGB. With iMacs and now the 9.7-inch iPad Pro implementing wide gamut displays, it seems almost a no-brainer to expect Apple to implement this technology into next generation iPhones.
That being said, in response to a question about the impact of this wider color gamut on the color accuracy of these displays, Soneira said that sRGB "currently accounts for over 99% of all current consumer content."
This, Soneira explained, means that Apple will need to implement multiple display modes: one covering the standard sRGB gamut and one covering the new DCI-P3 gamut.
True Tone displayAnother neat feature of the iPad Pro is the device's ability to alter the color temperature (also known as white balance) of the display based on ambient lighting conditions. In the presentation, Apple marketing Chief Phil Schiller said that this feature -- marketed as a "True Tone display" -- has not appeared on a device before.
"Once you use a display with this True Tone technology, you never want to go back," Schiller said.
Given the importance of Apple's iPhone business to its top and bottom lines relative to iPad, it only makes sense that the company would bring such a significant feature to its next generation iPhones. This is particularly true as many iPad Pro owners are also likely to be iPhone owners.
Holding customers over until OLEDApple is expected to transition at least some of its iPhones to OLED displays in either late 2017 or in late 2018. This means that for the iPhone 7, Apple will be "stuck" using a more traditional liquid crystal display.
If Apple is able to bring these three significant advances to the iPhone 7, coupled with, say, a resolution increase for the 4.7-inch model, then the iDevice maker should be able to field phones with best-in-class displays until it can transition to OLEDs.
The article 3 iPad Pro Innovations That Could Come to Apple Inc.'s iPhone This Fall originally appeared on Fool.com.
Ashraf Eassa has no position in any stocks mentioned. The Motley Fool owns shares of and recommends Apple. Try any of our Foolish newsletter services free for 30 days. We Fools may not all hold the same opinions, but we all believe that considering a diverse range of insights makes us better investors. The Motley Fool has a disclosure policy.
Copyright 1995 - 2016 The Motley Fool, LLC. All rights reserved. The Motley Fool has a disclosure policy.