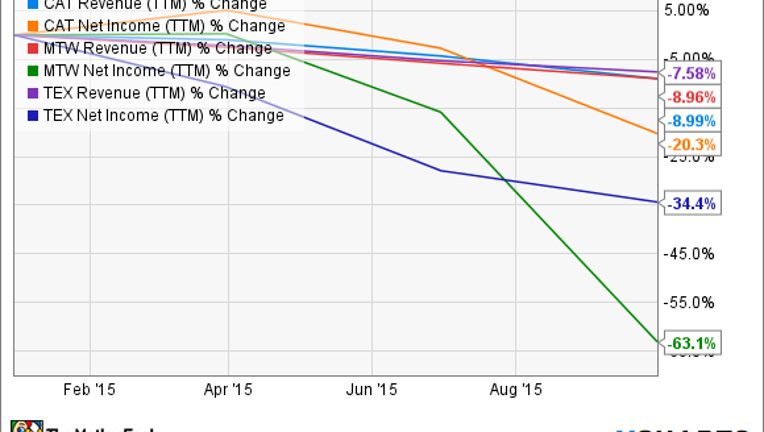 Given the cyclical nature of Manitowoc Company's business, it isn't surprising to see its revenues take a hit in a down cycle as it has this year. But the steep fall in the company's profits has baffled investors: its net income plunged a staggering 82% during the nine months through September. What's more alarming is that peers Caterpillar and Terex haven't suffered as much despite similar business conditions, with Caterpillar, in particular, having significant exposure to the struggling mining and oil and gas industries unlike Manitowoc.
CAT Revenue (TTM) data by YCharts.
Unfortunately, some of the things that Manitowoc's interim CEO, Kenneth W. Krueger, said on the company's recent earnings call indicate that its struggles are far from over. In fact, present business conditions now raise a big question about Manitowoc's plans to separate its cranes and foodservices businesses by early next year. Find out what it is in the slideshow below to get a sense of where the company is headed.
Data sources: All figures taken from Manitowoc.
3 Important Things Manitowoc Company Management Wants You to Know from
The article 3 Important Things Manitowoc Company Inc. Management Wants You to Know originally appeared on Fool.com.
Neha Chamaria has no position in any stocks mentioned. The Motley Fool recommends Terex. Try any of our Foolish newsletter services free for 30 days. We Fools may not all hold the same opinions, but we all believe that considering a diverse range of insights makes us better investors. The Motley Fool has a disclosure policy.
Copyright 1995 - 2015 The Motley Fool, LLC. All rights reserved. The Motley Fool has a disclosure policy.