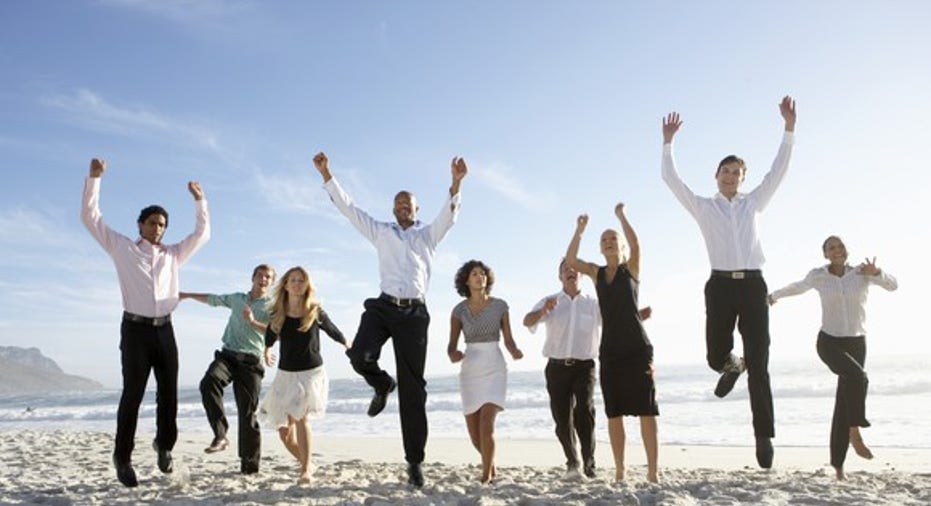 Biotechnology stocks have been on a roller coaster ride. Pushback over sky-high prices and worry over price controls and healthcare reform have taken a toll on investors, but not all biotech stocks have been duds.
Cara Therapeutics (NASDAQ: CARA), Esperion Therapeutics(NASDAQ: ESPR), andAurinia Pharmaceuticals (NASDAQ: AUPH)shares have been a big success this year. Here's why these stocks have delivered eye-popping returns in 2017.
Image source: Getty Images.
Cara Therapeutics: Up 68% year to date
Doctors write more than 24 million prescriptions every year for opioids like Oxycontin that are used to treat chronic pain, and that's a big problem because opioids can cause side effects and addiction.
Cara Therapeutics is developing a new approach to beating back pain that it thinks is better than opioids. The company's CR845 is being studied to control chronic hip and knee pain in osteoarthritis patients, and results from trials are expected soon. If successful, it could lead to a trial that eventually allows for FDA approval, clearing the way for CR845 to tap into this multibillion dollar market.
The opportunity to reshape pain treatment, however, isn't limited to chronic pain. CR845 is also being evaluated for use following abdominal surgery, and in uremic pruritus, a chronic itch suffered by hundreds of thousands of dialysis patients. Results from those trials are expected soon, too.
Given that Cara Therapeutics has a tidal wave of study data on deck, and CR845 targets big commercial markets with a need for new treatment options, the potential for this stock is undeniably big. Despite the run-up in its share price, the company's market cap is only $424 million -- and that's not very big given the market size.
Esperion Therapeutics: Up 212%
Tens of millions of patients are taking statins to lower their bad cholesterol level and reduce their risk of stroke or heart attack, but many of those patients fail to respond adequately to statin therapy, or can't remain on statins because of their side effects.
Heart disease is the second most common cause of death, and previously, studies have shown that lowering bad cholesterol can reduce major cardiovascular events like stroke, so there's a big, unmet need for additional cholesterol-busting treatment options.
Esperion Therapeutics is developing bempedoic acid, an oral drug that can be taken alongside statins to lower bad cholesterol levels more effectively. After showing that adding it to statin therapy reduced bad cholesterol by about an additional 20%, the company ushered it into phase 3 trials, and those trials completed enrolling patients in January. Data from this study could be available next year, and assuming no safety surprises, an eventual approval could produce meaningful revenue for Esperion Therapeutics as soon as 2019.
It's anyone's guess what bempedoic acid's peak sales could be, but it's probably a solid bet to assume this drug will be at least a nine-figure seller. After all, top-selling statins hauled in billions of dollars in sales per year prior to losing patent protection, and PCSK9 inhibitors, which lower bad cholesterol in tough-to-treat cases, are already generating hundreds of millions in annualized sales after less than two years on the market.
Aurinia Pharmaceuticals: Up 298% year to date
Up to 60% of the 500,000 patients in the U.S. with systemic lupus erythematosus suffer from lupus nephritis, an inflammation of the kidneys that can cause end stage renal failure.
Unfortunately, treatment options for these patients are limited. The current standard of care is CellCept, a medicine that's used off-label, and that delivers less than ideal response rates in patients.
Recently, Aurinia Pharmaceuticals reported that using its clinical-stage drug voclosporin alongside CellCept canimprove response rates, and that's got investors thinking that voclosporin may one day become part of a standard of care combination therapy. If so, this drug could be a billion dollar blockbuster.
In a 48-week, mid-stage trial, dosing voclosporin alongside CellCept resulted in complete remission rates of between 40% and 49%, depending on dosage. For comparison, the complete remission rate in patients given CellCept plus a placebo was only 24%.Aurinia Pharmaceuticals will need to conduct a phase 3 trial to confirm voclosporin's effectiveness, but that hasn't stopped investors from flocking to shares.
Admittedly, phase 3 trials are expensive, and that's going to tax the company's balance sheet, but management recently used the run-up in its share price to raise $173 million, before fees, via a stock offering, and that has me thinking it has plenty of cash on hand to advance this drug to the next level.
Looking ahead
These hot biotech stocks have produced eye-popping returns for investors, but a lot can (and often does) go wrong in clinical trials, and if they stumble, shares could tumble. Nevertheless, the opportunity ahead forCara Therapeutics, Esperion Therapeutics, and Aurinia Pharmaceuticals is potentially big, and that makes them intriguing stocks for any risk-tolerant investor to consider owning.
10 stocks we like better than Aurinia PharmaceuticalsWhen investing geniuses David and Tom Gardner have a stock tip, it can pay to listen. After all, the newsletter they have run for over a decade, Motley Fool Stock Advisor, has tripled the market.*
David and Tom just revealed what they believe are the 10 best stocks for investors to buy right now... and Aurinia Pharmaceuticals wasn't one of them! That's right -- they think these 10 stocks are even better buys.
Click here to learn about these picks!
*Stock Advisor returns as of February 6, 2017
Todd Campbell owns shares of Esperion Therapeutics.His clients may have positions in the companies mentioned.The Motley Fool has no position in any of the stocks mentioned. The Motley Fool has a disclosure policy.