3 Healthcare Stocks We Won't Buy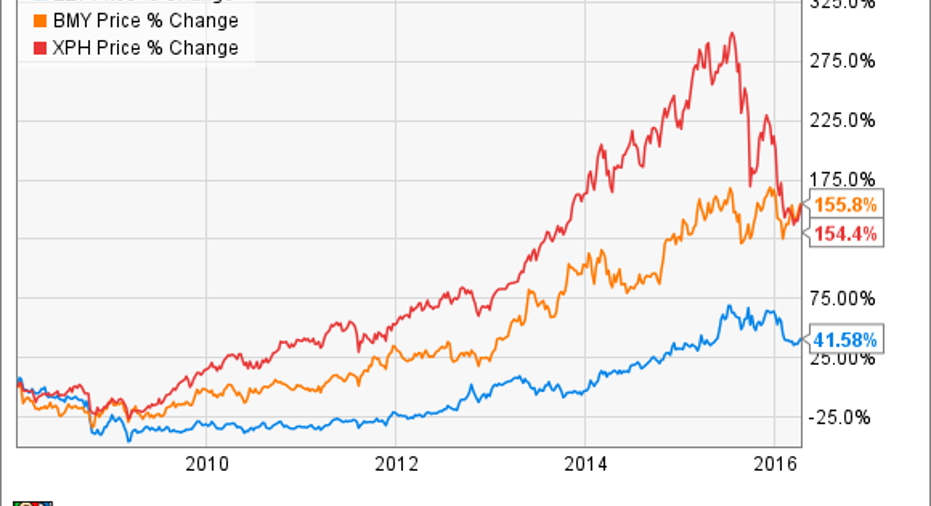 PHOTO CREDIT: BRYAN ROSENGRANT ON FLICKR.
Did you know that roughly 10,000 baby boomers will turn 65 every day for the next 13 years? It's true, and that fact should be a boon to the healthcare sector, in general, as spending on staying healthy tends to rise rapidly with age.
However, just because healthcare spending is likely to rise doesn't mean that every company in the sector will turn out to be a winner -- the industry has plenty of bad businesses that investors should probably avoid altogether. Knowing that, we asked our team of Motley Fool healthcare contributors toshare one healthcare stock that they thinkshould be avoided at all costs. Read below to see which companies they think could be toxic to your portfolio.
Brian Feroldi:One healthcare stock that I plan on avoiding like the plague isValeantPharmaceuticals. This former Wall Street darling has so many problems right now that I can't imagine ever buying shares, no matter how cheap they become.
What's wrong with Valeant? The company's business really started to fall apart late last yearwhen a report that was generated internally showed that there were some accounting irregularities in the company's financial statements. Valeant had incorrectly booked $58 million in revenue from one of its distributors, causing it to delay one of its required filings. That move caught the attention of short-sellers, who started to put the company's business under a microscope -- and they unearthed even more problems.
More recently, the company's entire business model has come under attack. For years, Valeant grew by acquiring other drugmakers with debt, gutted their research and development departments, and then raised the prices of their drugs. This practice caught the attention of the government and created a media frenzy, which has hugely damaged the company's brand. In response, Valeant's longtime CEO, Michael Pearson -- who was out on medical leave through much of this ordeal -- is stepping down.
If everything above wasn't bad enough, creditorsare now starting to really worry about the company'smassive $30.9 billion debt load. Moody's downgraded the company's debt a few weeks ago, and more recently, the company received a notice of default from bondholders due to its delayed 10-K filing.
In short, Valeant is a slow-moving train wreck with multiple problems right now. Even though shares are down more than 87% from their 52-week high, it's hard to see this company having a bright future. For that reason, I think the company's stock should be avoided.
Cory Renauer:If there's one healthcare stock I won't be buying it's Eli Lilly . I could fill chapters with reasons not to put your money there, but I'll highlight the company's core issue: weak corporate governance. For comparison, I'm going to compare Lilly's board to another company that recently suffered heavy losses from key patent expirations,Bristol-Myers Squibb.
From the standpoint of investors, a company's board of directors is tasked with ensuring that management increases the value of their shares. Most importantly, it hires or fires officers based on that person's ability to do so. While some aspects of management are universal, the drugmaking business presents some unique challenges. Having board members with industry experience is key.
Bristol's 11-member board is chaired byformerCEO Lamberto Andreotti, who successfully carried the company over a patent cliff. It also includes:
a former Secretary of Veterans Affairs, who oversaw the largest healthcare system in the country
the CEO ofIntegra Lifesciences
the dean of Weill Cornell Medical College and next CEO of theof the Dana-Farber Cancer Institute
the CEO of the Massachusetts General Physicians Organization and former director of Yale Cancer Center and School of Medicine
a former Harvard professor of molecular and cell biology, and former President of Vertex Pharmaceuticals
current CEOGiovanni Caforio
Members of Lilly's 13-member board with medical backgrounds include:
a retiredDirector Emeritus ofMayo Clinic Center for Individualized Medicine
a professor of medicine at Dana-Farber/Harvard Cancer Center
the CEO of the University of Michigan Health System
a Harvard professor of health economics
Most importantly, the Chairman is also CEO John C. Lechleiter.That's right... the guy chairing the board responsible for hiring and firing company officers is the CEO. I picked Bristol out of a hat, but Lilly's stock has also underperformed theSPDR S&P Pharmaceuticals ETFsince Lechleiter became CEO in 2008.
There are plenty more reasons why I won't buy Lilly, but assuming Lechleiter will continue as CEO, with oversight by a relatively weak board, is at the core of them all.
Keith Speights:Remember what happened when Charlie Brown stepped up to kick a football? Every single time, without fail, Lucy would yank the football away, leaving poor Charlie flat on his back. That's how many investors feel about MannKind stock. And for good reason.
PHOTO SOURCE: MANNKIND
MannKind's inhaled insulin Afrezza has always seemed promising. Just when the company appeared to be on the brink of success, though, Lucy -- also known as the FDA -- would yank the football -- also known as regulatory approval -- away. But when MannKind finally did win the long-awaited regulatory approval for Afrezza, shareholders just knew that victory wouldn't be snatched away this time.
After all, MannKind lined up a major marketing partner to commercialize Afrezza. What could go wrong?
Then Lucy -- this time in the form of French drugmaker Sanofi -- yanked the football away again. Quarter after quarter of dismal sales ultimately spurred Sanofi to dump Afrezza like a hot potato.
Now, MannKind plans to market Afrezza all by itself. Shares soared after the company announced a conference call to discuss those plans. Keep in mind, MannKind seeks to accomplish what a company roughly 150 times its size in market cap couldn't do. And it intends to succeed in selling Afrezza with a little more than $59 million to fund the effort plus pay all the other bills.
Maybe MannKind will find a way to win. Perhaps lower pricing and free trials of Afrezza for patients, combined with the a passion that a big partner never had, can make the difference. For me, though, the latest news looks a lot like Charlie Brown stepping up to kick the ball held by Lucy, yet again. I expect a similar outcome.
The article 3 Healthcare Stocks We Won't Buy originally appeared on Fool.com.
Brian Feroldi has no position in any stocks mentioned. Cory Renauer has no position in any stocks mentioned. Keith Speights has no position in any stocks mentioned. The Motley Fool owns shares of and recommends Valeant Pharmaceuticals. Try any of our Foolish newsletter services free for 30 days. We Fools may not all hold the same opinions, but we all believe that considering a diverse range of insights makes us better investors. The Motley Fool has a disclosure policy.
Copyright 1995 - 2016 The Motley Fool, LLC. All rights reserved. The Motley Fool has a disclosure policy.