3 Healthcare Stocks to Buy in a Market Meltdown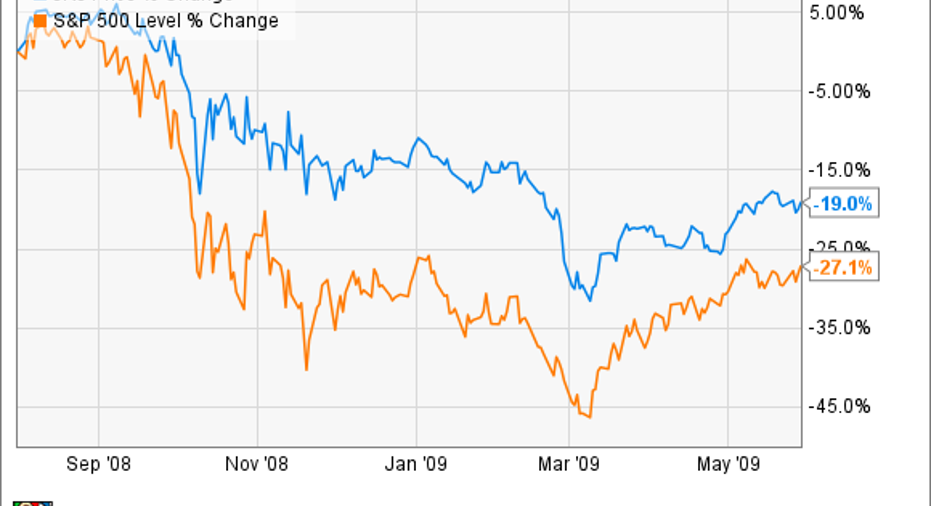 Image Source: Wikimedia Commons
Is a major market meltdown on the way in 2016? The first few days in January no doubt have some investors anxious that this could be the case. If the market does indeed take a deeper plunge, some stocks will become even more attractive for investors with a long-term outlook. Here are three healthcare stocks to keep on your watch list should a significant correction occur.
1.Johnson & Johnson Remember the scary days of the financial crisis in 2008 that caused the stock market to tank well into 2009? Nearly every stock plummeted back then. Healthcare giant Johnson & Johnson was no exception. But take a look at how J&J fared compared to the S&P 500 as a whole.
J&J's stock held up much better than the shares of many other stocks in large part because of the nature of its business. You can really think of J&J as three companies rolled into one. Pharmaceuticals is the biggest in terms of revenue, followed by medical devices. J&J's consumer products business unit trails in size -- but still generated over $14 billion in sales during each of the last three years.
This is a company that celebrates its 130th birthday in 2016. J&J has survived two world wars, the Great Depression, and major recessions -- yet still thrived. Its stock has chalked up gains of nearly 3,000% over the past three decades. And J&J has paid a steady dividend the entire time. Whether the market performs well or not, this is one stock that should remain a perennial favorite for long-term investors.
2.Gilead Sciences Gilead actually proved more resilient than even J&J in the 2008 market crash. Shares of the biotech fell around 30% before bouncing back much more quickly than the broader indexes. Back then, Gilead made most of its money from its HIV product lineup. That franchise still contributes heavily to Gilead's financial results, but the bigger story these days is in hepatitis C.
Regardless of what happens with China's economy or interest rates in the U.S., patients suffering from HIV or hep C will continue to need their medications. Gilead's drugs are the most popular and arguably most effective treatments for both indications.
Gilead's stock is very attractively priced already, with a price-to-earnings multiple under 9. That bargain price stems mainly from concerns about how long the biotech can keep growing its hep C franchise earnings. My view is that those concerns are overblown. Gilead has even better products on the way that should keep the competition largely at bay. The company also has plenty of cash to make smart acquisitions to help grow earnings -- something Gilead has proved to be pretty good at doing in the past.
3.Express Scripts It's not terribly useful to look back at how Express Scripts performed in 2008 and 2009. The large pharmacy benefits manager has made so many acquisitions that it's a different company now than it was then in a lot of ways. (For what it's worth, though, Express Scripts did outperform the S&P 500 during the financial crisis.)
What makes Express Scripts a smart buy if the market crashes again? Like Gilead and J&J, the company should continue to experience strong demand for its products even during times of economic uncertainty.
Express Scripts benefits from a couple of key trends. First, drug prices are increasing -- especially because of specialty drugs (like Gilead's hepatitis C drug Harvoni). Second, greater numbers of elderly Americans are driving drug utilization higher. Express Scripts helps employers and insurers control the rising drug costs associated with these trends. Its size gives it more leverage than smaller rivals in negotiating with drugmakers -- a nice plus when wooing customers.
Perfect timingFor short-term traders, the problem with buying any of these three stocks is that they could all drop if the market indeed suffers a meltdown. These traders have to anxiously guess when exactly the market will move. If they buy, they'll chew their fingernails hoping that things work out in their favor.
Long-term investors, on the other hand, can buy any or all of these stocks and feel pretty good. Two of the three (J&J and Gilead) pay solid dividends, which reward investors who hold on quarter after quarter. Even if the market tanks or the economy tumbles, these investors can realistically assume that patients will keep on needing the products offered by all three companies.
A smart strategy is to buy Johnson & Johnson, Gilead Sciences, or Express Scripts -- and keep those shares for the long haul. Now that's perfect timing.
The article 3 Healthcare Stocks to Buy in a Market Meltdown originally appeared on Fool.com.
Keith Speights owns shares of Express Scripts and Gilead Sciences -- and really likes Johnson & Johnson although he doesn't currently own the stock. The Motley Fool owns shares of and recommends Express Scripts and Gilead Sciences. The Motley Fool recommends Johnson & Johnson. Try any of our Foolish newsletter services free for 30 days. We Fools may not all hold the same opinions, but we all believe that considering a diverse range of insights makes us better investors. The Motley Fool has a disclosure policy.
Copyright 1995 - 2016 The Motley Fool, LLC. All rights reserved. The Motley Fool has a disclosure policy.