3 Healthcare Bargain Stocks You Can Buy Right Now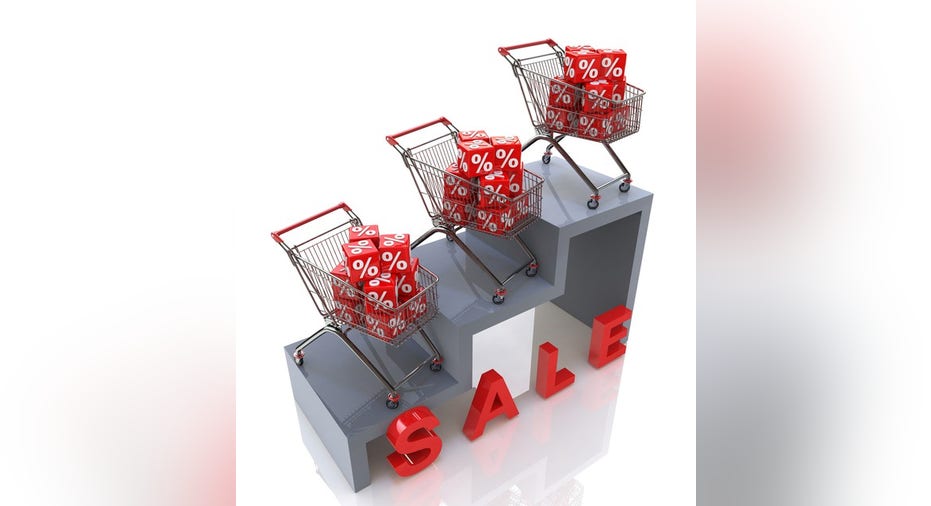 You might have heard that stock market is way overpriced. And by several metrics, that statement is true. In particular, the cyclically adjusted price-to-earnings (CAPE) ratio popularized by economist Robert Shiller is higher than it's been since 2002. That was a period when reason was finally overcoming the dot-com "irrational exuberance."
Despite the high overall market valuations, there are some stocks that aren't overpriced. Allergan (NYSE: AGN), Express Scripts (NASDAQ: ESRX), and Vertex Pharmaceuticals (NASDAQ: VRTX) belong in that group. Here's why these are three healthcare bargain stocks that you can buy right now.
Image source: Getty Images.
Allergan: Acquiring growth
Allergan stock trades at a relatively low 13 times expected earnings. What makes the drugmaker's valuation more appealing is that Wall Street analysts think Allergan will grow earnings by an average annual rate of nearly 14% over the next five years.
Some of that growth will come from the company's many acquisitions. In 2016 alone, Allergan bought eight smaller biotechs. Two of those deals allowed Allergan to jump into the race to develop treatments for non-alcoholic steatohepatitis (NASH), which some project will become a $40 billion market.
Allergan's pipeline includes over 70 clinical programs. The company's top focus is in aesthetics and dermatology, with 26 clinical studies in progress. Allergan is also very active in eye care and central nervous system drug development.
Two products are most important for Allergan's current growth. Top-selling Botox made nearly $2.8 billion last year, up 41% from 2015. Chronic dry eye disease drug Restasis generated 2016 revenue of $1.5 billion, a 42% jump from the previous year.
Express Scripts: Defending against rising drug costs
Express Scripts looks to be even less expensive than Allergan, with shares trading at less than nine times forward earnings. The big pharmacy benefits manager (PBM) is expected to grow earnings by nearly 13% annually over the next five years, although earnings won't grow by quite as much in 2017.
The PBM's plans to grow are pretty straightforward. Prescription drug costs continue to rise, in large part because of more high-cost specialty drugs on the market. A way to control those costs is needed -- and Express Scripts provides an answer.
Some drugmakers have accused PBMs like Express Scripts of being a big part of the problem of rising prescription drug costs because of the rebates that the PBMs demand. However, Express Scripts' response is this: Rebates don't raise drug prices; drugmakers raise drug prices.
Express Scripts points to its internal data showing that its programs helped reduce the growth of drug prices by 27% from 2015 to 2016. In particular, the PBM helped keep specialty drug price increase trend down to its lowest level since 2003. Those are the kinds of numbers that should enable Express Scripts to win more customers in the future.
Vertex Pharmaceuticals: Dominating its primary market
You might wonder why Vertex made the list of healthcare bargain stocks. The biotech's shares trade at more than 37 times expected earnings. That's not cheap at all. However, Vertex stock is attractively valued right now for one reason: its tremendous growth prospects.
Analysts expect Vertex to grow earnings by a whopping 72% annual average rate over the next five years. If the company achieves that kind of growth (or even close to it), its stock is a deal at current prices. But can Vertex really grow earnings that much? I think so.
Vertex dominates the cystic fibrosis (CF) market right now. Sales for its first CF drug, Kalydeco, continue to grow at a solid pace. Revenue for Vertex's second CF drug, Orkambi, soared by 179% in 2016 to $979 million. Orkambi is now Vertex's top-selling product.
Even better news could be on the way. In March, Vertex announced positive results from two late-stage studies evaluating a combination of experimental drugtezecaftor (VX-661) and Kalydeco in treating CF patients. The company plans to submit the combo for regulatory approval in the U.S. and in Europe by the third quarter of 2017.
Risks
Every stock comes with risks. These three healthcare stocks are no exceptions to this.
Allergan is fighting off attempts by rivals to get approval for generic versions of Restasis. The drugmaker could stumble in some of its clinical studies. That could be especially painful if Allergan's experimental NASH drugs don't prove successful.
Express Scripts is in litigation with its biggest customer, Anthem. Even if the PBM wins in court, it wouldn't be surprising for Anthem to choose not to renew its contract with Express Scripts when it expires in 2019. That would present a large chunk of revenue for the company to replace.
Vertex's fortunes could take a hit if the tezecaftor/Kalydeco combo doesn't win regulatory approval. Patients have discontinued use of Orkambi at higher rates than expected due to respiratory problems. That could cause issues for Vertex in achieving growth projections. However, the new combo doesn't appear to have side effects that could result in high discontinuation rates -- making approval very important for Vertex.
Even with these risks, though, these stocks still look like bargains. I think that Allergan, Express Scripts, and Vertex should be big winners over the long run.
10 stocks we like better than Vertex PharmaceuticalsWhen investing geniuses David and Tom Gardner have a stock tip, it can pay to listen. After all, the newsletter they have run for over a decade, Motley Fool Stock Advisor, has tripled the market.*
David and Tom just revealed what they believe are the 10 best stocks for investors to buy right now... and Vertex Pharmaceuticals wasn't one of them! That's right -- they think these 10 stocks are even better buys.
Click here to learn about these picks!
*Stock Advisor returns as of April 3, 2017
Keith Speights and The Motley Fool own shares of Express Scripts. The Motley Fool recommends Vertex Pharmaceuticals. The Motley Fool has a disclosure policy.