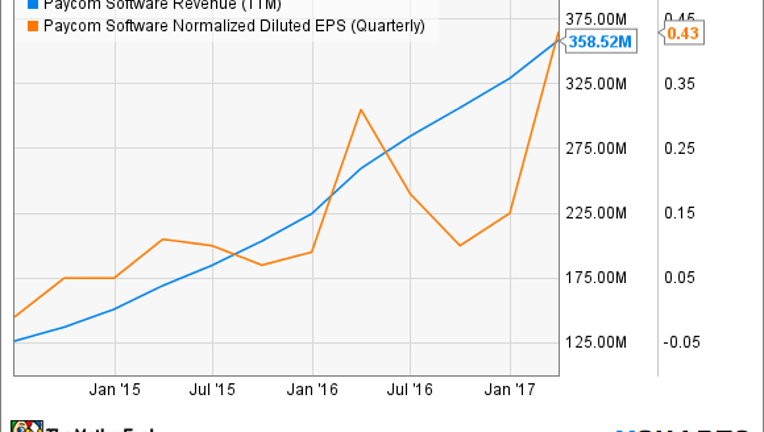 We asked three of our Motley Fool contributors for suggestions of growth stocks that belong in the portfolios of ambitious investors. Their picks -- K12 Inc.(NYSE: LRN), Adobe Systems (NASDAQ: ADBE), andPaycom (NYSE: PAYC) -- are strong choices for growth portfolios, and each boasts compelling catalysts that make them good buys today.
Educate yourself about this for-profit educator
Rich Smith (K12): Well thanks a lot, Motley Fool. Now I can't get these lyrics out of my head:
"Well we're movin' on up (movin on up) To the East Side (movin on up) To a deluxe apartment in the sky. Movin' on up (movin on up) To the East Side (movin on up) We finally got a piece of the pie."
To me, these lyrics, from '70s and '80s sitcom The Jeffersons, suggest the aspiration of people looking to better themselves and improve their lot in life -- and how better to do that than through education? That's why my suggestion for a top growth stock "for those moving up in the world" is K12 Inc.
IMAGE SOURCE: GETTY IMAGES.
K12 is both a for-profit educator (operating online private schools such as the K12 International Academy, the George Washington University Online High School, and the Keystone School) and also a provider of proprietary online learning curricula and software systems for other institutions. And while this whole industry still remains out of favor following an Obama administration crackdown on an array of improper practices that resulted in a spate of for-profit college closures, there's every reason to believe that President Donald Trump (who famously set up his own for-profit university) will be more lenient on the for-profit ed industry than his predecessor was.
That could be good news for K12, which I view as one of the stronger players in this industry. Boasting a rock-solid balance sheet with $170 million more cash than debt, but a market capitalization of only $772 million, K12 churned out a massive $94 million in free cash flow over the past 12 months, giving the stock an enterprise value-to-free cash flow ratio of only 6.4.
That's an incredibly cheap price for a stock that, in the opinion of analysts, is likely to post 15% annual profit growth over the next five years. Given those numbers, I see every chance that K12 stock will be "moving on up" over the next four (or eight) years.
So much more than just Photoshop
Seth McNew(Adobe Systems):The image-editing software Photoshop helped to transform the advertising world when its impressive power to alter images went mainstream. But while that was probably the product that made Adobe Systems a household name, it's far from the only thing that's contributing to this tech company's incredible rise. For those moving up in the world -- consider adding this company that is doing the same to your portfolios.
IMAGE SOURCE: GETTY IMAGES.
In the first quarter of its fiscal 2017,Adobe grew sales 22%, year over year -- an impressive jump for a company that is already well-established in its industry. Its products to continue to be the top of the line in their niches, but beyond that ongoing success, Adobe is making some wise bets for future growth. For example, it has developed a robust Adobe Cloud storage system for its users, and is even working to develop artificial intelligence enhancements to its products.
One of the reasons Adobe has been so successful recently is the company's decision to move from a one-time purchase model of its software, to a subscription model where users get continual updates and support -- and Adobe gets continual revenue. Beyond helping to grow its revenue through product upgrades, it also keeps Adobe's sales and earnings consistent.
A next-gen payroll provider with big upside
Todd Campbell (Paycom): It could very well be that your paycheck and other benefits are being managed using Paycom's solutions.
The fast-growing cloud-based software provider is helping thousands of businesses manage their human resources data. But beyond that, an increasingly complex regulatory environment, strong employment trends, and an increasing focus on deploying cloud-based, all-in-one solutions give this company significant tailwinds.
A quick look at its financials shows that its solution is resonating. Paycom's sales grew 35% year over year to $87.8 million, and its earnings per share clocked in last quarter at $0.47, up 43% from a year ago.
PAYC Revenue (TTM) data by YCharts
Worried that Paycom has already tapped out its market opportunity? Consider that there are 28 million small businesses in the United States, and Paycom's only working with about 18,000 of them. Still unconvinced? Rest assured that CEO Chad Richison is laser-focused on Paycom's success. After all,he owns 13% of the company.
Overall, a growing client base, a 90%-plus client-retention rate, and an opportunity to disrupt a big market make this company's stock a great addition to growth stock portfolios.
10 stocks we like better than Paycom SoftwareWhen investing geniuses David and Tom Gardner have a stock tip, it can pay to listen. After all, the newsletter they have run for over a decade, Motley Fool Stock Advisor, has tripled the market.*
David and Tom just revealed what they believe are the 10 best stocks for investors to buy right now... and Paycom Software wasn't one of them! That's right -- they think these 10 stocks are even better buys.
Click here to learn about these picks!
*Stock Advisor returns as of May 1, 2017
Rich Smith has no position in any stocks mentioned. Seth McNew has no position in any stocks mentioned. Todd Campbell owns shares of Adobe Systems.Todd's clients may have positions in the companies mentioned.The Motley Fool owns shares of and recommends Paycom Software. The Motley Fool recommends Adobe Systems. The Motley Fool has a disclosure policy.