3 Growth Stocks for Recent College Graduates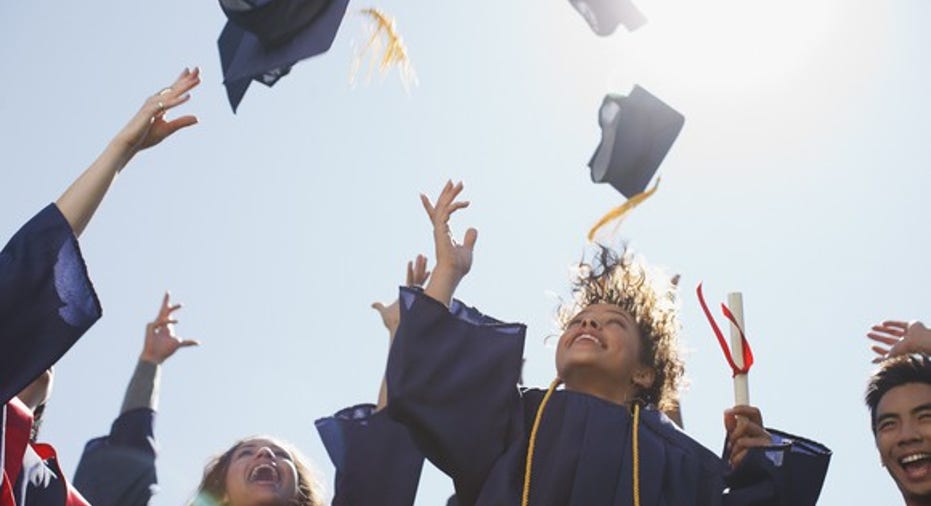 You've got your diploma and you've landed your dream job, and now you're wondering where you should invest the money that's left over after making your student loan payment. Don't worry. We've got you covered. Our Motley Fool contributors went hunting for top stocks that new graduates can buy, and they came back recommending IBM Corp (NYSE: IBM), Shopify (NYSE: SHOP), and Facebook (NASDAQ: FB). Read on to find out why they think these stocks can get your investments off on the right foot.
Your best job could be your best investment
Rich Smith (IBM): If you're a recent college graduate, chances are you've done your share of job research, right? Then you must be aware of the recent Glassdoor report that the No. 1 best job in America today is "data scientist." It seems logical to me that the best job in America, attracting the best minds coming out of college, just might be a good place to find a good growth stock to invest in.
IMAGE SOURCE: GETTY IMAGES.
That's why my pick today is International Business Machines, one of the leaders in the field of big data, and the company behind the Watson supercomputer that's been making headlines, winning Jeopardy tournaments, and even trying to cure cancer over the last few years.
Valued at $149 billion in market capitalization, IBM stock sells for just 12.8 times earnings. With cash profits exceeding reported net income under GAAP accounting standards, IBM stock is even cheaper when valued on that metric -- costing only 12.4 times free cash flow.
To my mind, at prices so low, IBM is clearly a value stock. But is it a growth stock as well? Is it really appropriate for a kid just out of college, with a really long time horizon to invest, to be picking as one of her first stock investments?
I think so. Sure, at first glance, IBM's growth doesn't really impress. Analysts who follow IBM see the tech giant growing at a meager 4% annualized pace over the next five years. But that's just a guess, and analysts have been wrong before. Call me an optimist, but I just have to believe that if you give IBM enough time, Watson -- truly the best example of computer artificial intelligence we've seen to date -- is going to evolve into a profit-driver for IBM.
How long will it take? Honestly, I expected to see Watson begin driving IBM's results years ago, and I'm more than a little surprised that it hasn't happened yet. Still, if you're just out of college, you've got a whole lot longer than five years that you can afford to wait for an investment to pay off. Lucky for you, IBM is also paying a 3.8% dividend -- and paying you to wait for Watson to live up to its potential.
Given enough time, I think it will.
Simplifying online retail
Todd Campbell (Shopify): People have been buying products online since Amazon.com started selling books in the 1990s, and while you might think e-commerce is running out of steam, the evidence says we're still in the early innings. According to the U.S. Census Bureau, e-commerce sales increased 14.3% year over year in Q4 2016, and they represent only 8.3% of total retail sales.
Because online retail still accounts for such a small fraction of the retail market, there's plenty of opportunity for retailers to tap e-commerce for growth, and Shopify is perfectly positioned to help them do it.
Shopify helps hundreds of thousands of retailers (includingRed Bull) win customers, process orders, and manage inventory, and last quarter,a record numberof clients and products sold helped the company's sales jump 75% higher year over year to $127 million.
Shopify makes its money in two ways. First, it collects monthly subscription fees that range between $29 per month and $299 per month. As retailers expand their business, and their needs get more complex, they trade up their subscription to a more comprehensive solution. The company also offers the biggest retailers Shopify Plus, an even more complete solution that's even pricier. In the first quarter, subscription revenue clocked in at $62 million, up 60% from one year ago.
Second, Shopify generates money by processing transactions for its retailers. Themore goods retailers sell on Shopify's platform, the more money Shopify pockets for itself. Last quarter, sales from these merchant solutions grew 92% to $65 million.
The company isn't making a profit yet, and it might be a while before it does, but that shouldn't scare you off. Investments in R&D and marketing should keep it ahead of its competitors, and eventually, it should achieve enough scale to produce plenty of profit.
From college dorm to world renowned
Seth McNew(Facebook):Spending too much time on it might have hurt your college grades, but now it could help your portfolio. Facebook continues to prove why being one of the top media platforms in the world can mean big dollars, as its most recent annual sales number of $26.9 billion was up 57% over 2015, and more than five times its 2012 revenue.
Facebook has easy-to-understand growth paths within its main business of advertising, as well as more exciting moonshot opportunities in areas like virtual reality with its recently announced Facebook Spaces. That's a great place to be in for young investors who are excited to watch one of their portfolio holdings continue to evolve -- and to see how investments like those Facebook is making now could drive massive returns over the long term.
Speaking of long term, that's another reason Facebook is a great stock for recent college graduates: Investors who have a long-term horizon and are able to buy and hold a stock like this could be rewarded in the decades ahead. Because there is so much hype around the company, its stock is not cheap, and it could certainly see a pullback the first time a quarterly earnings report doesn't live up to the high expectations the market puts on it.Still, Facebook and CEO Mark Zuckerberg are investing for the long term, which could provide younger investors with potentially decades of growth ahead if they are willing to hold on to the stock.
Find out why Facebook is one of the 10 best stocks to buy nowMotley Fool co-founders Tom and David Gardner have spent more than a decade beating the market. (In fact, the newsletter they run, Motley Fool Stock Advisor, has tripled the market!*)
Tom and David just revealed their 10 top stock picks for investors to buy right now. Facebook is on the list -- but there are nine others you may be overlooking.
Click here to get access to the full list!
*Stock Advisor returns as of May 1, 2017
Rich Smith has no position in any stocks mentioned. Seth McNew has no position in any stocks mentioned. Todd Campbell owns shares of Amazon and Facebook.Todd's clients may have positions in the companies mentioned.The Motley Fool owns shares of and recommends Amazon, Facebook, and Shopify. The Motley Fool has a disclosure policy.