3 Gold Stocks Worth Buying in 2017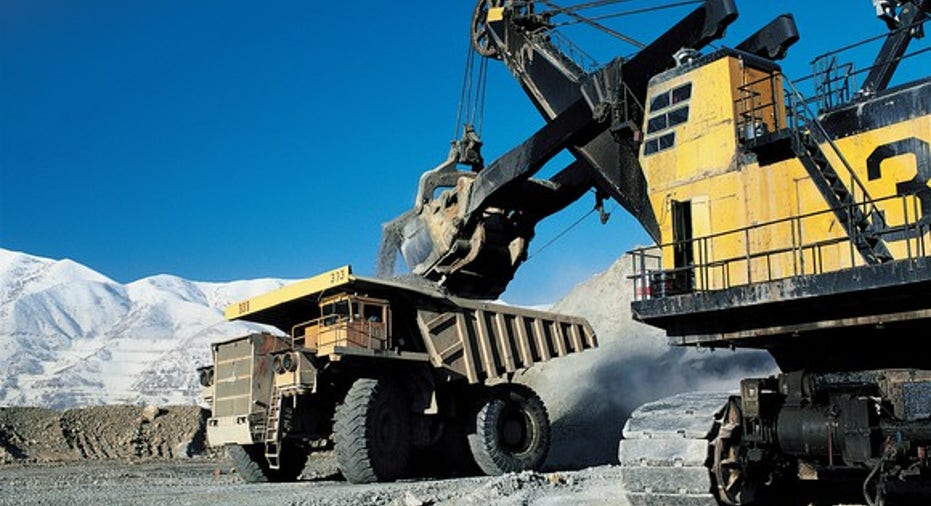 Image source: Getty Images.
If the year wrapped up sometime around the beginning of August, there would be no doubt that gold miners were the stars of 2016. Physical gold prices reestablished themselves in a firm bull market, rising from a low of $1,050 per ounce to nearly $1,400 per ounce, and more than half of all gold stocks with a market value of $300 million or higher at least doubled in value. You practically could have thrown a dart and been successful.
Things have changed a bit since the summer. Gold has lost more than $220 per ounce from its high, and it's taken a particularly hard hit over the month since Donald Trump won the presidency. Physical gold rocketed as high as $1,340 in the overnight hours when it appeared Trump was poised for victory, but once the volatility and emotions subsided, Wall Street's expectations of improved GDP growth and perhaps higher interest rates has weighed on the metal. Now many of the best-performing gold stocks of 2016 have lost their luster.
Now here's the good news for investors: with the opportunity cost of owning gold still low -- even if the Federal Reserve hikes interest rates, interest-bearing assets aren't yielding enough to really drive investors out of gold and into bonds or CDs -- and supply mostly constrained, the fundamental outlook for physical gold remains positive.
Gold stocks worth buying in 2017
The real challenge is in finding gold stocks that could outperform their peers. Amidst the recent carnage, there are three gold miners that stand out as strong rebound candidates in 2017 and beyond. In my opinion, it wouldn't take more than a quick buffing to bring the shine back to these stocks.
Image source: Getty Images.
Barrick Gold
Investors looking at Barrick Gold (NYSE: ABX) are going to find two distinct trends, both of which are positive.
One of the standout trends for Barrick Gold is its declining expenditures. When Barrick Gold offered its preliminary 2013 capital expenditure guidance in Feb. 2013, it forecast a midpoint of $6 billion in spending. Based on Barrick's third-quarter update for full-year CapEx in 2016, the company now anticipates just $1.25 billion in spending at the midpoint.
On top of wisely spending its money on top ore grade projects and expansions, Barrick also remains on track to reduce its total debt to $8 billion by year's end from $13 billion two years ago. Over the intermediate-term, Barrick is on track to reduce its outstanding debt to $5 billion, which means more financial flexibility and lower interest expenses.
The other trend for Barrick is that it has ample opportunities for organic growth, which should improve production output and eventually push its industry-leading all-in sustaining costs (AISC) even lower. For example, Goldrush has 8.6 million ounces in measured and indicated resources that could fuel production growth and maintain its industry-low AISC for years to come. Likewise, its Turquoise Ridge expansion gives Barrick the opportunity for better efficiency and higher production output. Barrick has a veritable sea of opportunities like this, and it's a big reason why the miner's full-year AISC forecast in 2016 has dipped below $760 per ounce at the midpoint. By 2019, Barrick has its eyes set on a sub-$700 AISC.
As long as Barrick can maintain AISC significantly below spot gold prices and continues to whittle down its outstanding debt, there's little reason to believe it won't outperform most of its peers.
Image source: Getty Images.
Yamana Gold
Another gold stock that could be worth buying in 2017 is midcap Yamana Gold (NYSE: AUY). The allure of Yamana is its various expansion opportunities, each of which has the potential to rocket its production significantly higher. In particular, 2018 is likely to be a big year for the company, meaning it could be wise to get in ahead of a slew of expected positive news.
One of Yamana's most recently acquired properties, Riacho dos Machados, a gold and copper mine, is expected to produce about 55,000 ounces of gold in 2016 and expand to annual production of around 100,000 ounces by 2018. Most impressively, Yamana nabbed this mine for less than $50 million from Carpathian Gold and will have nearly doubled its production in less than two years.
Image source: Kinross Gold.
In addition to Riacho dos Machados yielding an expected 100,000 ounces of gold annually, C1 Santa Luz is expected to begin commercial production in the first quarter of 2018 with an initial output of 130,000 ounces in the first year and average annual production of 114,000 ounces of gold over its first seven years. C1 Santa Luz is anticipated to have a mine life of 10 years, but underground expansion potential could extend this figure.
And we're still not done! The underground development, detailed engineering, and process plant construction at Cerro Moro are all ahead of schedule, putting the mine on track for production in early 2018. Cerro Moro should help push Yamana's AISC down thanks to expected high-yield silver and gold ore grades.
Beyond 2018, the company's Chapada mine may also yield a significant boost in production. The Suruca development, which could begin production as early as 2019, could add 45,000 to 60,000 ounces a year over the four-to-five-year lifespan of the expansion.
With byproduct costs (silver and copper) helping push Yamana's costs down, and its full-year EPS possibly tripling in the next three years, Yamana could be worth your consideration.
Image source: Kinross Gold.
Kinross Gold
Like Yamana, Kinross Gold (NYSE: KGC) should be on the radar of gold mining investors because of its mine expansion potential. However, unlike Yamana, the appeal of Kinross rests almost entirely with the potential of one mine: Tasiast.
The Tasiast mine, located in Mauritania, has been an absolute thorn for Kinross and investors for the better part of this decade. Kinross gobbled up the Tasiast mine as part of its acquisition of Red Back Mining for $7.1 billion in 2010. Unfortunately, two write-offs totaling nearly $5.6 billion wiped out a significant portion of its deal value in the years to follow. As salt in the wound, the falling price of gold between 2011 and 2014 halted expansion opportunities at Tasiast.
Image source: Kinross Gold.
Today, however, with Kinross' other mines demonstrating better efficiency and its costs (both CapEx and administrative) falling, the company now has the means and reason to ramp up Tasiast. Plus, it didn't hurt that initial expansion costs came in below its feasibility study guidance. If all goes well, Tasiast could easily become Kinross' flagship asset.
The first phase of the expansion will push throughput capacity to 12,000 tons per day (t/d) from its current throughput of 8,000 t/d. Once this expansion is fully in place in 2018, annual production is expected to average 409,000 ounces of gold per year over the following decade. More importantly, cash costs are expected to fall by nearly 50% with AISC of $760 per ounce. That's a solid $400+ per ounce margin from today's spot gold price.
But there's a second phase of expansion that would be slightly more than double the capital costs ($620 million) of the first phase ($300 million), but would have a significant impact on throughput and AISC. If approved, this second phase would be ready for commercial production in 2020, yielding 777,000 ounces of gold per year between 2020 and 2026 at an insanely low AISC of $665 per ounce. Throughput would more than double to 30,000 t/d from 12,000 t/d.
Tasiast has been a thorn for a long time, but it looks ready to (finally) shine. Wall Street has long discounted Kinross relative to its peers because of its write downs associated with Tasiast. However, with Kinross being essentially the cheapest gold stock on a future cash flow per share basis, I believe it's worth strong consideration by gold stock investors.
10 stocks we like better than Barrick Gold When investing geniuses David and Tom Gardner have a stock tip, it can pay to listen. After all, the newsletter they have run for over a decade, Motley Fool Stock Advisor, has tripled the market.*
David and Tom just revealed what they believe are the 10 best stocks for investors to buy right now... and Barrick Gold wasn't one of them! That's right -- they think these 10 stocks are even better buys.
Click here to learn about these picks!
*Stock Advisor returns as of Nov. 7, 2016
Sean Williamshas no material interest in any companies mentioned in this article. You can follow him on CAPS under the screen nameTMFUltraLong, and check him out on Twitter, where he goes by the handle@TMFUltraLong.
The Motley Fool has no position in any of the stocks mentioned. Try any of our Foolish newsletter servicesfree for 30 days. We Fools may not all hold the same opinions, but we all believe thatconsidering a diverse range of insightsmakes us better investors. The Motley Fool has adisclosure policy.