3 Global Infectious Diseases That May Soon Have Cures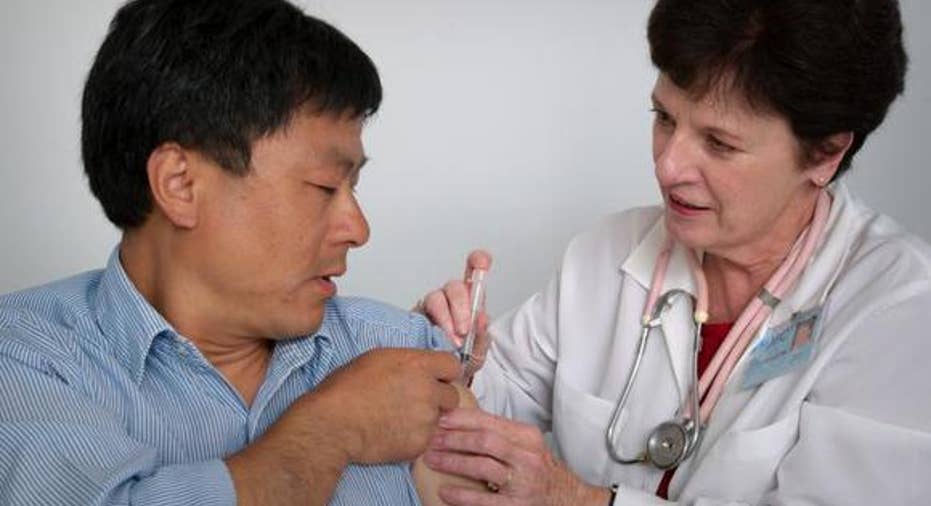 Image source: Flickr user Ilmicrofono Oggiono.
According to the World Health Organization, infectious diseases, predominantly led by lower respiratory infections, are the fourth-leading cause of death around the globe. In 2012 some 3.1 million people died of lower respiratory infections, trailing only COPD, stroke, and cardiovascular disease as the leading causes of death.
Infectious diseases are especially crippling in emerging market and low-income countries where medical infrastructure is lacking or still evolving. The WHO notes that a third of all deaths in low-income countries are caused by lower respiratory infections, HIV/AIDS, diarrheal diseases, malaria, and tuberculosis. It's no wonder that drug developers have been placing an increased focus on infectious disease vaccine development in recent years.
The good news is that we've witnessed some major success stories. Perhaps none shines more brightly than the development of a cure for hepatitis C. This viral disease that can adversely affect the liver over the long term, leading to cirrhosis, liver cancer, liver failure, or even death, has been cured in 90%-plus of cases with once-daily pills from Gilead Sciences . Gilead's Harvoni can cure in eight-to-12 weeks what had, just four years earlier, taken as long as 48 weeks to cure. Best of all, a 90% or higher cure rate is a night-and-day difference from the coin-flip cure rate (about 50%) of the standard of care in 2011, interferon with ribavirin.
Three global infectious diseases that may have soon have cures But the reality is that this is just one step forward. There are still countless global infectious diseases that need attention. However, a cure for three other terrifying global infectious diseases may soon be in the offing. Here are three promising vaccines you should know about.
Image source: European Commission DG ECHO via Flickr.
EbolaThere was perhaps no bigger story in 2014 than the potential for an Ebola pandemic. The Ebola virus was particularly scary because it cropped up in a low-income portion of Western Africa where quarantine measures weren't initially adequate and testing not always available. Guinea, Sierra Leone, and Liberia accounted for practically all of the 28,598 cumulative Ebola cases, according to WHO data.
Also worrisome is the Ebola virus' exceptionally long incubation period. Symptoms can emerge anywhere from two days to 21 days after exposure to the active virus. Thankfully, just a single case of Ebola has been reported over the past 21 days.
The good news is we may have a cure on the horizon courtesy of a partnership between Merck and NewLink Genetics . Their vaccine, known as rVSV-ZEBOV, delivered impeccable efficacy in an interim late-stage study in West Africa that's being sponsored by WHO. The trial took 7,651 patients and split them into two groups. One group would receive rVSV-ZEBOV immediately, while the other group would receive the experimental vaccine after a delay. An interim phase 3 analysis showed that not a single individual who was vaccinated immediately had detectable levels of Ebola virus infection after 10 days. Conversely, 16 instances of infection were discovered in the delayed group. The difference is statistically significant, and it represents a vaccine effectiveness of 100%!
Although the Ebola virus looks to be under control for the time being, no one can ever predict when or if it'll reemerge. With rVSV-ZEBOV, we may have a weapon the next time it begins to crop up, assuming it's approved by regulatory agencies worldwide.
Image source: Centers for Disease Control and Prevention.
ShinglesShingles, which is also known herpes zoster, isn't a global killer like Ebola, but it can cause extremely painful rashes on a person's face or the side of their body. From start to finish it can take 2 weeks to more than a month for symptoms of shingles to completely go away.
Within the United States, the Centers for Disease Control and Prevention estimates that one out of three people will get shingles during their lifetime. Further, one million cases of shingles are reported each year just in the United States. Long story short, it's no fun to deal with, and it's been a focus of U.K.-based GlaxoSmithKline for quite some time.
GlaxoSmithKline, already a global vaccine juggernaut, is expected to file for marketing approval for Shingrix, its shingles vaccine, in the second-half of 2016. As published in the New England Journal of Medicine in April, a 15,411-participant trial evaluated patients who were given Shingrix or a placebo after a mean period of 3.2 years and determined that just six of the Shingrix trial cohort developed shingles, compared to 210 people in the placebo group. Across all age groups, the vaccine effectiveness, when extrapolated out over a person's expected lifetime, was 97.2%!
Additional phase 3 studies from GlaxoSmithKline showed that not only did its Shingrix vaccine lower the occurrence of herpes zoster, but it dramatically reduced chronic neuropathic pain, or postherpetic neuralgia (PHN), in both the ages 50 and up (89% PHN reduction) and ages 70 and up (91% PHN reduction) testing cohorts.
An effective preventative tool, or dare I say near-cure, could be right around the corner.
Female Aedes Aegypti mosquito feeding. Image source: Centers for Disease Control and Prevention.
Dengue feverDengue fever, which is also commonly known as simply dengue, is a mosquito-borne disease occurring in the tropics that typically causes flu-like symptoms and muscle/joint pains. In rare instances it can lead to serious complications. Globally, per the WHO, there are about 390 million Dengue infections annually, of which a quarter manifest into a clinical disease (of any severity level). WHO statistics suggest that some 500,000 people worldwide are hospitalized with severe dengue each year, of which 2.5% will die -- most of them children.
With dozens of countries at risk of Dengue, including the United States, it's not surprising to find out that it's an actively researched, but uncured, infectious disease. However, Sanofi-Pasteur, the vaccine-developing subsidiary of Sanofi , may soon change all that.
Sanofi's leading treatment option is CYD-TDV, a live-attenuated tetravalent vaccine that's designed to address the four serotypes of dengue. In clinical studies that have been ongoing for years and have included more than 40,000 volunteers around the globe, the vaccine proved effective 60% of the time against the four serotypes and reduced hospitalizations related to severe dengue by 80% in children ages two to 14. Ultimately, Sanofi aims to reduce mortality associated with dengue by 50% and morbidity by 25% before 2020.
More recent data published in the New England Journal of Medicine this past summer showed even greater efficacy, including 93% protection against severe dengue and an 80% reduced rate of hospitalization.
Sanofi is likely to stagger its dengue vaccine launch in various countries simply because the demographics of who the disease affects, and how much governments may purchase, will vary greatly. But the key point is that dozens of countries over the next couple of years will have access to an effective dengue prevention vaccine.
The article 3 Global Infectious Diseases That May Soon Have Cures originally appeared on Fool.com.
Sean Williamshas no material interest in any companies mentioned in this article. You can follow him on CAPS under the screen nameTMFUltraLong, track every pick he makes under the screen nameTrackUltraLong, and check him out on Twitter, where he goes by the handle@TMFUltraLong.The Motley Fool owns shares of and recommends Gilead Sciences. Try any of our Foolish newsletter services free for 30 days. We Fools may not all hold the same opinions, but we all believe that considering a diverse range of insights makes us better investors. The Motley Fool has a disclosure policy.
Copyright 1995 - 2015 The Motley Fool, LLC. All rights reserved. The Motley Fool has a disclosure policy.