3 Dividend Stocks That Pay You Every Month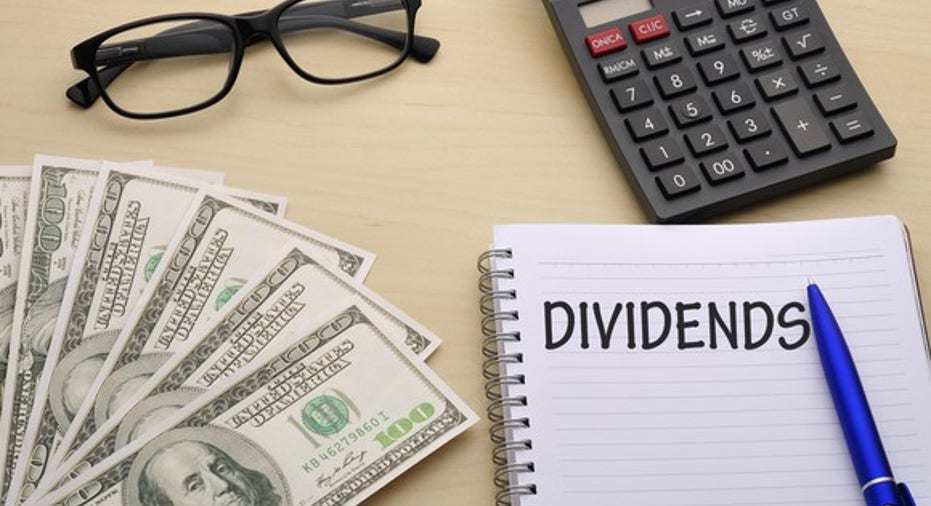 Dividend stocks provide much-needed income to many investors. But most stocks pay dividends quarterly, which can be challenging for those trying to pay bills every month. Perhaps in response, some companies have moved to monthly dividend payment schedules, and you can find some solid picks among the list of monthly dividend payers that can help give you some growth potential to go with your income. In particular, Realty Income (NYSE: O), Shaw Communications (NYSE: SJR), and STAG Industrial (NYSE: STAG) have made a habit of paying monthly dividends and sharing their wealth with shareholders.
The original monthly dividend stock
No discussion of monthly dividend stocks would be complete without including Realty Income. The real estate investment trust bills itself as The Monthly Dividend Company, even carrying a registered trademark on the term. The REIT has made 559 consecutive monthly dividend payments, and it has boosted those dividends for 78 consecutive quarters. Realty Income's current yield of 4.4% rewards its shareholders by making even the monthly payments it makes relatively large.
Realty Income has a diversified portfolio of more than 4,900 properties on which it has long-term net lease agreements, and that's where the REIT gets the lion's share of its monthly income to distribute to its shareholders as dividends. With nearly 250 commercial tenants covering 47 industries in all but one state in the U.S., Realty Income has generated an impressive total return of 17% annually since going public on the New York Stock Exchange in 2016. For those looking for dividends and growth potential, Realty Income has delivered both quite well.
Image source: Getty Images.
Western Canada's communications specialist
Shaw Communications has been operating for more than half a century, and over that time span, the company has become a giant in the Canadian telecom market. Shaw currently boasts 3.2 million customers, including 1.9 million subscribers to its internet service and more than 1 million home phone customers. After starting in Edmonton, Shaw has expanded its network and its product and service lineup, and the monthly bills that the company collects are easily turned around and paid out to investors as dividends.
Shaw's current dividend yield weighs in at 4.4%, and the company has done a good job of keeping its dividend payments relatively stable. The fact that Shaw is a Canadian company adds a bit of currency exposure to the equation, but over the long haul, the communications specialist's track record of consistency in returning capital to shareholders makes it an attractive option for income investors looking to go beyond U.S. borders to find dividend opportunities.
Riding the commercial real estate wave
STAG Industrial is another REIT, and like Realty Income, it thrives on making the most of commercial real estate. In particular, it buys up industrial properties and then seeks to lease them out to single tenants who need the entire space. By doing so, STAG hopes to lock in lucrative lease deals for long periods of time without having to worry about subdividing properties or any of the other hassles that some smaller-use commercial real estate applications require.
STAG's current yield is nearly 6%, and it's been making monthly dividend payments for almost four years now. Investors in the REIT should expect potential volatility if the commercial real estate market finally starts to give back some of its gains in recent years. Yet over the long run, STAG's business model supports gradual growth through acquisition, and dependable cash flow should keep those monthly dividends flowing for the foreseeable future.
To companies, it really doesn't make that much difference whether they pay a dividend once every three months or on a monthly basis. To investors who rely on portfolio income to provide the cash they need to pay monthly expenses, however, monthly dividends are extremely valuable. These three stocks can meet investors' needs in that regard and have prospects for long-term growth to boot.
10 stocks we like better than Realty IncomeWhen investing geniuses David and Tom Gardner have a stock tip, it can pay to listen. After all, the newsletter they have run for over a decade, Motley Fool Stock Advisor, has tripled the market.*
David and Tom just revealed what they believe are the 10 best stocks for investors to buy right now... and Realty Income wasn't one of them! That's right -- they think these 10 stocks are even better buys.
Click here to learn about these picks!
*Stock Advisor returns as of February 6, 2017
Dan Caplinger has no position in any stocks mentioned. The Motley Fool recommends Stag Industrial. The Motley Fool has a disclosure policy.