3 Dividend Stocks for Thrifty Investors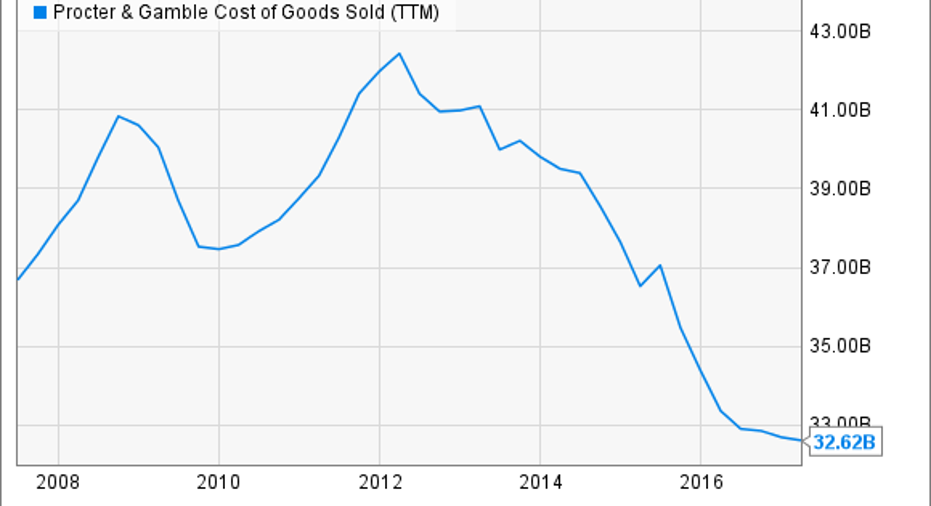 In the recent market environment, it's been harder and harder for income investors to find attractive stocks to buy. However, if you are willing to turn over enough rocks, there are almost always a few stocks that can be purchased on the cheap.
Knowingthat,we asked a team of Fools to highlight a dividend stock that they think is a great choice for an investor who likes a bargain. Here's why they pickedDunkin' Brands Group(NASDAQ: DNKN),8point3 Energy Partners(NASDAQ: CAFD),andProcter & Gamble(NYSE: PG).
Image source: Getty Images.
Plenty of room left for expansion
Brian Feroldi(Dunkin' Brands Group):Thrifty investors know that they can save a bundle over the long term by getting their caffeine fix at home. However, that fact doesn't stop millions of people from buying their morning breakfast and cup of joe from their local Dunkin' Donuts anyway. With more than 12,000 stores in operation, Dunkin' Brands has done a fabulous job at making its products easy to find and buy. When combined with the company's knack for marketing and branding, this has made Dunkin' Brands a company that many people simply cannot live without.
That dependence has worked out wonderfully for investors. The strength of the Dunkin' Donuts and Baskin-Robbins brand names continues to compel franchisees to open more stores. In turn, Dunkin' Brands has benefited from anever-increasingflow of high-marginroyalty and rental-incomepayments. Management has then used that growing profit stream to reward investors with regular stock buybacks and a rising dividend payment.
Given the company's ubiquity in some parts of the U.S., you might be tempted to assume that Dunkin' Brands' opportunity for expansion is quite limited. I thought so too until I took a closer look at the numbers. I then realized that the company's opporunity for growth is still massive, even right here in the U.S. While there are more than 4,000 stores in the company's "core" northeastern market, there are only 454 stores up and running in the company's west region. That area includes several heavily populated states such as California, Texas, and Washington, which suggests that there is ample room left for future store growth. Add in the company's skill at growing same-store sales and buying back stock, and market watchers predict that Dunkin' Brands' bottom line will expand at more than 12% annually over the next five years. That's an attractive growth rate for a company that offers up a dividend yield of 2.3% and is trading around 21 times forward earnings.
Renewable energy's forgotten dividend
Travis Hoium(8point3 Energy Partners):Thrifty investors looking for cheap stocks and a consistent business should take a look at 8point3 Energy Partners. The solar energy yieldco owns solar power plants that have long-term contracts, often over 20 years, to sell energy to utilities at fixed prices and uses its cash flow to pay out a hefty dividend.
The stock has been beaten up lately because First Solar announced its intention to sell its stake in 8point3 Energy Partners as it shifts business strategies. But that doesn't take away from the underlying value of the existing assets. And with a 7.7% dividend yield, the stock would be a great long-term investment for the dividend alone, and if a buyout takes place, there could be a short-term premium paid.
Yieldcos have been out of style for most of the past year and 8point3 Energy Partners has struggled on the market as a result. But the contracted cash flow the company has over the next 20 years should translate to a solid dividend, with the potential for further dividend growth or even a buyout in the future. That's what makes 8point3 a great dividend stock for thrifty investors.
A frugal company that sells premium products
Demitri Kalogeropoulos(Procter & Gamble):Most consumer goods companies are focused on cutting costs these days as their industry plugs along at near-zero growth. But Procter & Gamble has taken that frugal strategy to heights that could make it an appealing option for thrifty investors. In the past five years, the Dividend Aristocrat has sliced over $7 billion from its cost of goods sold and is targeting afurther $10 billion of cuts ahead.
PG Cost of Goods Sold (TTM)data byYCharts.
The changes are supporting market-thumping profitability. In fact, P&G's 21% operating margin puts it well ahead ofnearly all its consumer-focused peers.
Now that the company finally has the portfolio of products that it wants -- one that's far simpler, easier to manage, and more profitable -- shareholders are looking for P&G to return to market-share gains after two straight years of disappointing declines in key brands like Gillette. When it began its mission to remove 100 brands from the portfolio, after all, management said the initiative would result in roughly 1% faster organic growth and an extra percentage point of profitability.
Sure, that rebound is being complicated by the weak selling environment that has everyone in the industry cutting prices in hopes of keeping sales volumes rising. But P&G still aims to grow at nearly double its 2016 pace this year. Its improving profit picture, meanwhile, helped fund a 3% dividend increase that keeps its annual yield comfortably above 3%.
10 stocks we like better than Procter & GambleWhen investing geniuses David and Tom Gardner have a stock tip, it can pay to listen. After all, the newsletter they have run for over a decade, Motley Fool Stock Advisor, has tripled the market.*
David and Tom just revealed what they believe are the 10 best stocks for investors to buy right now... and Procter & Gamble wasn't one of them! That's right -- they think these 10 stocks are even better buys.
Click here to learn about these picks!
*Stock Advisor returns as of May 1, 2017
Brian Feroldi has no position in any stocks mentioned. Demitrios Kalogeropoulos has no position in any stocks mentioned. Travis Hoium owns shares of 8point3 Energy Partners, First Solar, and Procter & Gamble. The Motley Fool recommends Dunkin' Brands Group. The Motley Fool has a disclosure policy.