3 Dividend Aristocrats to Buy in July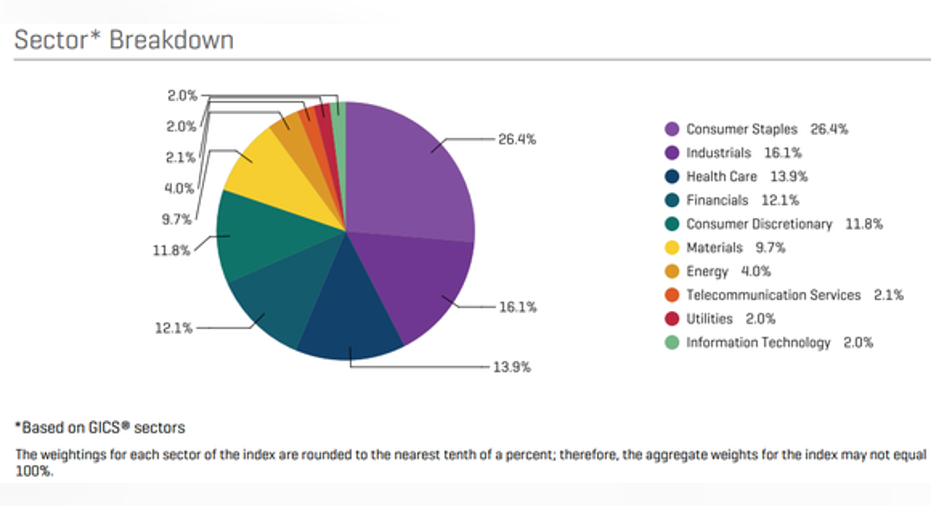 Image source: Getty Images.
The S&P 500 Dividend Aristocrats are companies that have upped their dividend payments to investors for at least 25 consecutive years. Increasingly, investors are considering this collection of companies ideal investments to own in income portfolios. Since dividend-paying companies have been shown to outperform non-dividend-paying stocks, we asked some top Motley Fool contributors to highlight the Dividend Aristocrats they'd like to tuck away into their portfolio this month. Read on to find out what they picked as buys in July.
Drilling into dividends
Daniel Miller: One of my favorite Dividend Aristocrats is often overlooked by investors: Stanley Black & Decker . Perhaps it's overlooked because its dividend yield is currently around 2%. What can't be overlooked, however, is that the company has paid a dividend for 139 consecutive years and has increased that dividend for the past 48 years.
Stanley Black & Decker is best known for its popular power tools, which, along with other tools & storage products, generated $7.1 billion in revenue last year. Tools and storage generated about 63% of last year's $11 billion in revenue, but the company's industrial and security businesses brought in a combined $4.1 billion -- so it's more than just a power tool company.
Emerging markets only generated about 16% of revenue for the company in 2015, so there's still global growth to be had. That will continue to be a strategic focus for the company going forward; the company currently plans to grow its emerging-market share of revenue to 20%.Despite being such a large and consistent company already, Stanley Black & Decker still managed a 9% compound annual growth rate (CAGR) for revenue between 2011 and 2015. Excluding M&A charges and payments, its earnings per share posted an 11% CAGR over the same time period.
Looking ahead, for investors interested in this overlooked dividend aristocrat, the company plans to return roughly 50% of its free cash flow to shareholders through dividends and share repurchases, and the other 50% of FCF will be used to acquire more companies for growth. Stanley Black & Decker should be a solid addition to a portfolio looking for consistent dividends with some upside from global growth.
Sum is greater than the parts
Todd Campbell: Global markets dipped last month because of the U.K.'s decision to exit the European Union, which created some intriguing opportunities for investors. While individual Dividend Aristocrats are attractive, the broad-based nature of June's Brexit sell-off has me thinking the best bet for investors might be the ProShares S&P 500 Dividend Aristocrats ETF .
This ETF gets you exposure to this entire universe of shareholder-friendly dividend-payers, and that means you run less risk of picking the wrong stock to buy. Currently, 26% of the Dividend Aristocrats ETF is made up of consumer goods stocks, and another 14% is healthcare. Because those baskets are more insulated to economic whims and whispers than other areas of the market, they may offer some protection if Brexit worries send stocks even lower later this year.
The Dividend Aristocrats ETF also gives bargain-hunters exposure to the sector that's fallen the most since the U.K. vote to leave: financials. Roughly 12% of the ETF is invested in that sector. So, if you'd like to pick up a beat-up banking stock for the long haul, this might be a nice way to do so without taking on the risk of owning an individual stock.
Image source: S&P Dow Jones Indicies.
Overall, the Dividend Aristocrats ETF yields a respectable 1.9%, and while that's not as high as other investments, the ETF is up 8.9% through June 28, so the yield is certainly no reason to dismiss it.
Six decades of dividend increases
Neha Chamaria: I believe a company that focuses on converting its weaknesses into opportunities during a cyclical downturn offers great promise for long-term investors. Emerson Electric fits the bill.
Emerson has a strong history of rewarding shareholders, having raised its dividend for 59 straight years. The winning streak should continue, given Emerson's aggressive efforts to divest unprofitable operations even as it seeks to grow via acquisitions. Combined, these efforts should boost its margins and cash flows, ensuring investors greater dividends in the years to come. The conglomerate already boasts strong financials, having generated free cash flow worth nearly $2.2 billion against net income of $1.9 billion during the past 12 months. Few companies generate greater FCF than net profits.
Better yet, Emerson is projecting almost 12% higher operating cash flow for 2016 despite a slowdown in the oil and gas industry, which has put a dent in its sales. Even if the current turmoil in Europe and the U.K. and the resultant pressure on oil prices were to hit Emerson's profits and cash flows, a payout ratio of about 64% should still enable the company to maintain and grow its dividends. With the stock losing almost 7% in the past three months, I believe now is a great time to consider Emerson if you're looking to add a Dividend Aristocrat to your portfolio.
The article 3 Dividend Aristocrats to Buy in July originally appeared on Fool.com.
Daniel Miller has no position in any stocks mentioned. Neha Chamaria has no position in any stocks mentioned. Todd Campbell has no position in any stocks mentioned. The Motley Fool recommends Emerson Electric. Try any of our Foolish newsletter services free for 30 days. We Fools may not all hold the same opinions, but we all believe that considering a diverse range of insights makes us better investors. The Motley Fool has a disclosure policy.
Copyright 1995 - 2016 The Motley Fool, LLC. All rights reserved. The Motley Fool has a disclosure policy.