3 Critical FDA Decisions You Can't Afford to Miss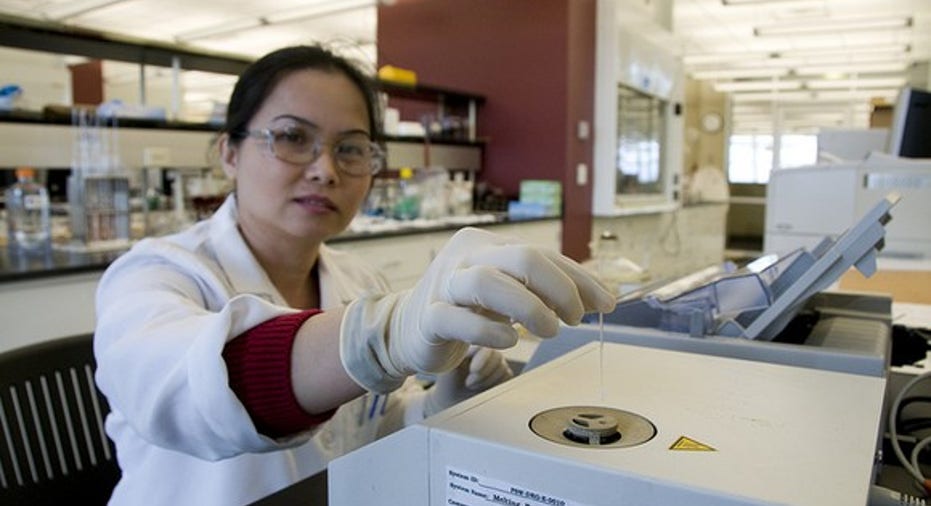 Image source: U.S. Food and Drug Administration via Flickr.
Some think the U.S. Food and Drug Administration has an excessively long list of regulations designed to make it all but impossible for experimental therapies to make it to pharmacy shelves, but that's just not the case. The fact of the matter is that in recent years, the FDA has arguably been working more expediently than ever to see new medications make their way through the approval process.
In 2015, new drug approvals totaled 51, marking a 66-year high. New treatments hitting the market last year include Pfizer's advanced breast cancer drug Ibrance, which nearly doubled progression-free survival in phase 3 clinical trials;Johnson & Johnsonand GenMab's Darzalex, a multiple myeloma treatment that led to a 29% overall response rate after a median of five prior therapies; and both Amgen'sCorlanor and Novartis'Entresto, treatments for chronic heart failure.
And new drug applications continue to flood in. The FDA already has nearly three dozen PDUFA decisions scheduled between now and the end of February 2017. Some of these decisions are for the approval of first-in-class medications, while others could expand existing label indications.
Three FDA decisions you'd be foolish to miss
Three upcoming decisions before the end of October stand out as particularly noteworthy because they involve potential blockbuster therapies. If you're a biotech investor or enthusiast, these are FDA decisions you simply won't want to miss.
Image source: Getty Images.
1. Orkambi's sNDA for cystic fibrosis in children aged six to 11
The supplemental new drug application (sNDA) for Vertex Pharmaceuticals' (NASDAQ: VRTX) cystic fibrosis drug Orkambi will be reviewed by the FDA on or before Sept. 30. Orkambi targets CF patients with two copies of the F508del mutation. This sNDA review couldn't come at a better time for Vertex: A little over a week ago, Vertex's shares came under pressure after management noted that Orkambi, which costs $259,000 a year, had fewer refills than expected in recent months.
If the FDA approves this sNDA, it will expand use of Vertex's next-generation CF medicine in children between the ages of six and 11, and it could reinvigorate sales of Vertex's lead drug. When Orkambi was approved in 2015, the eligible patient pool in the U.S. was estimated at 27,000. Vertex anticipates that expanding Orkambi's label to include 6- to 11-year-olds in the U.S. would add another 2,400 eligible patients.
The data backing Vertex's sNDA was presented on June 10, 2016, at the European Cystic Fibrosis Society Conference. The open-label phase 3 study evaluated Orkambi in 58 children with CF between the ages of six and 11 with two copies of the F508del mutation and was found to have met its primary safety endpoint after patients received two doses of therapy for 24 weeks. Multiple secondary endpoints also demonstrated signs of improvement, including an absolute improvement in FEV1 of 2.5 percentage points (FEV1, a measure of "forced expiratory volume" within the first second of exhalation, gauges lung function), as well as weight gain, to name a few positives.
Though there's no such thing as certainty when it comes to the FDA, I'd opine that an approval seems likely, considering that Orkambi met its primary safety endpoint and is already an established therapy on pharmacy shelves. All that said, Orkambi should be on track to cross $1 billion in total sales this year.
Image source: Getty Images.
2. Tecentriq's biologic license application (BLA) for advanced non-small cell lung cancer with PD-L1 expression
Arguably the biggest FDA decision in October could revolve around Roche's (NASDAQOTH: RHHBY) cancer immunotherapy Tecentriq, which was approved for the first time in May as a treatment for the most common type of bladder cancer. Cancer immunotherapies are a new type of cancer-fighting drug that work to remove the immunosuppressant quality of cancer cells and supercharge a patients' immune system to more effectively fight cancer.
On or before Oct. 19, the FDA will decide whether or not to approve Tecentriq as a treatment for advanced non-small cell lung cancer (NSCLC) in patients whose tumors express PD-L1. As noted by Sandra Horning, head of global product development at Roche, "In a study of atezolizumab [the scientific name for Tecentriq] in people with previous treated advanced lung cancer, PD-L1 expression correlated with how well they responded to the medicine."
The data the FDA will be using to make its determination primarily comes from the midstage, open-label BIRCH trial. In mid-August of 2015, Roche announced that Tecentriq met its primary endpoint of the study, which was determined by objective response rate (i.e., tumor shrinkage). A month later, in September 2015, Roche released the specifics of that data, including a 27% objective response rate in advanced NSCLC patients with high levels of PD-L1 expression. Lastly, in June 2016, Roche announced an overall survival benefit of 12.6 months in its updated analysis, as well as a median duration of response of 18.6 months.
This data appears to suggest that Roche's immunotherapy will get the green light from the FDA in October. If Tecentriq nabs the highly coveted advanced NSCLC indication, it could continue its march toward $2 billion to $3 billion in peak annual sales.
Image source: Getty Images.
3. Sarilumab's BLA for moderate to severe rheumatoid arthritis
Lastly, on Oct. 30, 2016, the FDA will decide whether to approve Regeneron Pharmaceuticals(NASDAQ: REGN) and Sanofi's (NYSE: SNY) sarilumab, an injectable treatment for patients with moderate to severe rheumatoid arthritis.
What makes sarilumab, an antibody receptor for interleukin-6, such an attractive therapeutic candidate is the fact that its phase 3 SARIL-RA-MONARCH study demonstrated superiority to AbbVie's (NYSE: ABBV) Humira, the best-selling drug in the world, after 24 weeks. The primary endpoint was a change from baseline in DAS28-ESR, a measure of disease activity. Sarilumab demonstrated a 3.25-point reduction, compared to a 2.22-point reduction for Humira. A number of secondary endpoints were also met, and sarilumab boasted a 20% improvement in the American College of Rheumatology criteria over Humira. Safety data was also similar between the two therapies.
Both Regeneron and Sanofi have a number of exciting therapies they've developed and brought to market, and sarilumab looks to be no different: The injectable rheumatoid arthritis drug has potentialfor more than $1 billion in peak annual sales. Based on the SARIL-RA-MONARCH study, an approval seems more likely than a rejection at this point.
A secret billion-dollar stock opportunity The world's biggest tech company forgot to show you something, but a few Wall Street analysts and the Fool didn't miss a beat: There's a small company that's powering their brand-new gadgets and the coming revolution in technology. And we think its stock price has nearly unlimited room to run for early in-the-know investors! To be one of them, just click here.
Sean Williamshas no material interest in any companies mentioned in this article. You can follow him on CAPS under the screen nameTMFUltraLong, and check him out on Twitter, where he goes by the handle@TMFUltraLong.
The Motley Fool recommends Johnson and Johnson and Vertex Pharmaceuticals. Try any of our Foolish newsletter services free for 30 days. We Fools may not all hold the same opinions, but we all believe that considering a diverse range of insights makes us better investors. The Motley Fool has a disclosure policy.