3 Companies That Need to Kick Their CEO to the Curb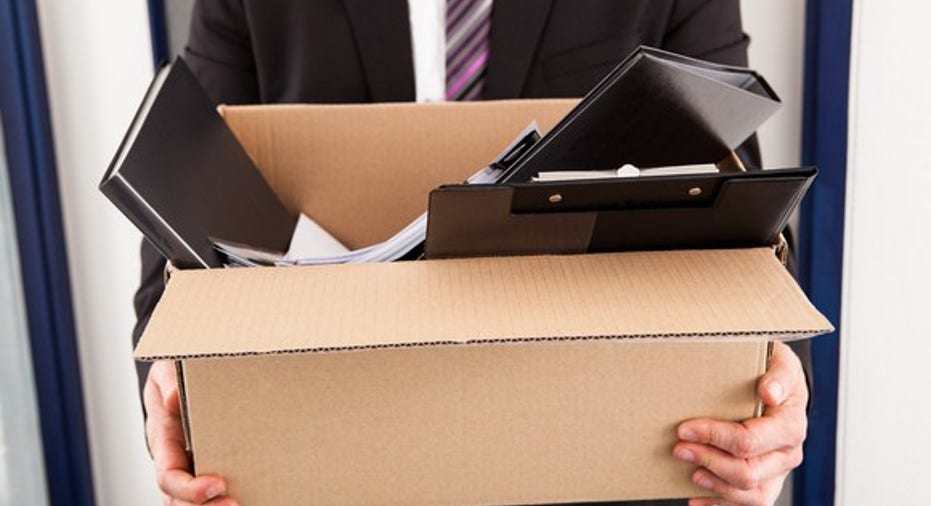 Immunomedics (NASDAQ: IMMU),Sears Holdings (NASDAQ: SHLD), and Community Health Systems (NYSE: CYH) could benefit from a change at the top, according to Motley Fool contributors.
All three companies are struggling to overcome obstacles that may be holding down their stock price, and it may takenew management to get shares back on track.
Battling over a promising breast cancer drug
Todd Campbell (Immunomedics):A highly contentious showdown for the control of Immunomedics suggests that it may be time for founder and board member David Goldenberg and his wife, CEO Cynthia Sullivan, to head for the exit.
Image source: Getty Images.
Immunomedics inked a deal to license commercial rights to its lead product candidate, IMMU-132, last month, but the deal drew the ire of venBio, an activist hedge fund that's been advocating for significant change in the C-suite, and that owns about 10% of the company.
Earlier this month, venBio won the appointment of four of its nominees to Immunomedics' board, paving the way for a management shake-up, and perhaps a dismantling of the IMMU-132 agreement.
As a refresher, Immunomedics has been around since 1982, but it doesn't have any commercial-stage drugs on the market yet. The company's most promising candidate is IMMU-132, a medicine in phase 2 testing that's being studied for use in triple-negative breast cancer patients. The drug delivers a toxic chemotherapy payload to cancer cells by binding to receptors expressed primarily by them, and because these patients have few treatment options, it's thought that IMMU-132 can secure an FDA approval prior to undergoing phase 3 studies.
According to venBio, IMMU-132 is the company's "crown jewel," and based on that assessment, it's little wonder they want to fetch top dollar for it, or launch it on their own. A study that was commissioned by Immunomedics estimates the drug's peak sales potential to be as high as $3 billion, and with a market outlook like that, it's easy to understand why current management and venBio locked horns. Now that venBio has won its proxy fight, management's best move might be to leave. If they do, shares could climb on optimism that IMMU-132 will have a bigger impact on the company's financials.
Too little, too late
Rich Duprey (Sears Holdings): He may own the company, and he's finally put forward some ideas that might help the ailing retailer at last, but it's long past time for Eddie Lampert at Sears Holdings to go.
Although he once described himself as a protege of Warren Buffett, the chairman and CEO of Sears has failed to prove his mettle with the retailer, in large part because he tried to meld two damaged businesses -- Sears and Kmart -- into one, and simply got one big, broken company. He compounded the error by neglecting the stores he owned, saying customers didn't care about fixtures and decor, and then relied upon one-time infusions of cash to keep the operation afloat. He's still doing that today by continuously loaning Sears money with short-term borrowings from his ESL Investments hedge fund.
He's also proceeded to strip anything of value from the company, spinning off retail concepts like Orchard Supply, Sears Hometown & Outlet Stores, and Lands' End. Most recently he sold the Craftsman tool brand to Stanley Black & Decker.
Yet that's where the notion that it's too little, too late comes in. Lampert's deal with Stanley for Craftsman was actually rather innovative, and though it does set up the possibility that Sears will end up competing against itself for sales (why go to a Sears store for Craftsman tools when you can buy them elsewhere?), it showed a bit of creative thinking because the deal gave Sears a percentage of sales that Stanley makes, as well as the right to manufacture and sell Craftsman tools itself.
Lampert has since followed that up with another breakthrough idea to have gas grill maker Permasteel manufacture Kenmore grills for sale in other retail outlets. Again, Sears may end up competing against itself, but the arrangement does show management is finally thinking about how best to leverage the brands it owns. Similarly, the company has launched a DieHard-brand auto center.
Unfortunately, Sears may have fallen so far that none of these moves will help resurrect the retailer. They could have been used years ago when it would've mattered, but at this late stage, they likely won't help. And for having brought Sears Holdings to this low station, Eddie Lampert needs to go.
Retire this hospital system's debt -- and its CEO
Keith Speights(Community Health Systems): I must admit that the companies that I most thought should kick their CEOs to the curb over the last year have already done so. (Thanks, Valeant and Teva!) However, I think there is one other company that should seriously consider a change at the top: Community Health Systems.
Shares of the hospital operator are down nearly 30% over the last 12 months. For a while, the stock was in much worse shape than that. Not all hospital stocks experienced such turmoil, by the way. Shares of HCA Holdings are up around 20% during the same period.
In my view, the blame falls squarely on the shoulders of Community Health Systems CEO Wayne Smith. Smith has enjoyed a great career and helped build the company from a small rural organization to a large national hospital operator.However, he also helped amass Community Health's $15.3 billion of debt.
That debt load is causing serious issues for the company. Community Health has been in divestiture mode, selling off properties to generate cash to pay down the debt. Smith oversaw a period of too-greedy and too-fast growth for which the company -- and its shareholders -- now have to pay the price.Because of past mistakes by its management, Community Health is now experiencing declining revenue and greater net losses.https://www.sec.gov/Archives/edgar/data/1108109/000119312517050460/d309772d10k.htm
The company's general counsel retires at the end of March. Community Health's CFO announced in February his plans to retire on May 16. I think it's time for Smith to join their ranks and turn the helm over to someone who can lead the company for years to come.
10 stocks we like better than Community Health SystemsWhen investing geniuses David and Tom Gardner have a stock tip, it can pay to listen. After all, the newsletter they have run for over a decade, Motley Fool Stock Advisor, has tripled the market.*
David and Tom just revealed what they believe are the 10 best stocks for investors to buy right now... and Community Health Systems wasn't one of them! That's right -- they think these 10 stocks are even better buys.
Click here to learn about these picks!
*Stock Advisor returns as of February 6, 2017
Keith Speights has no position in any stocks mentioned. Rich Duprey has no position in any stocks mentioned. Todd Campbell has no position in any stocks mentioned.His clients may have positions in the companies mentioned.The Motley Fool owns shares of and recommends Valeant Pharmaceuticals. The Motley Fool recommends Teva Pharmaceutical Industries. The Motley Fool has a disclosure policy.