3 Companies That Doubled in 2016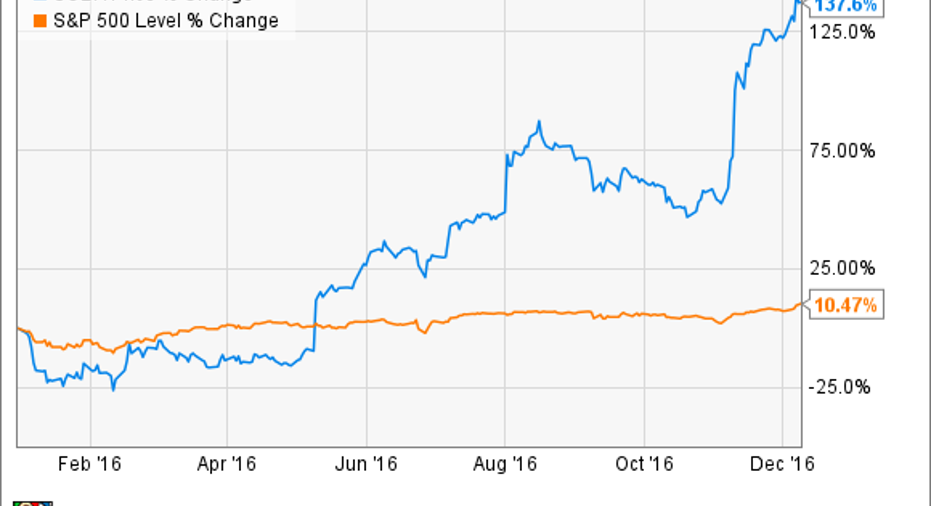 Image source: Getty Images.
2016 has been an eventful year for investors.
The year started off with a sharp market correction. The rebound was interrupted by the Brexit vote and election-related worries. After all of that turbulence, here we are in mid-December with a 10% year-to-date gain in the S&P 500 index.
Many investors absolutely crushed even these attractive marketwide returns, though. Let me show you how optical networking specialist Finisar (NASDAQ: FNSR), nationwide telecom Sprint (NYSE: S), and maker of fizzy-drink gadgets SodaStream International (NASDAQ: SODA) more than doubled in 2016.
Finisar had a tough year in 2015. The company's bread-and-butter optical transceiver products met heavy competition, starting a price war in high-volume market segments. Revenue growth stalled out, and share prices took a 25% haircut.
However, Finisar was already ramping up production of next-generation products needed for an even faster set of long-distance fiber connection equipment. In 2016, telecoms started thinking about the next round of infrastructure upgrades and placing equipment orders to match these needs. This bandwagon is actually just getting started, but Finisar is already enjoying the ride.
At this point, Finisar investors can look back at five straight earnings surprises and a return to high-octane sales growth. In the chart above, you can see stock prices jumping sky-high on two of these earnings reports. The company is on a roll, and the optical networking industry as a whole is looking forward to several macro-level growth drivers over the next couple of years.
The Sprint surge started in Juneas majority owner Softbank appeared ready to start investing more into its American network. In July, the company jumped 25% higher overnight on a respectable first-quarter report paired with optimistic guidance. And the train keeps rolling, because a merger with fellow second-tier network T-Mobile US (NASDAQ: TMUS) looks more likely than ever -- especially in the light of Donald Trump's expected deregulation policies.
To be clear, Sprint is still operating in full-on turnaround mode. It's still one of the four biggest American wireless networks, but the other three are growing much faster than Sprint. The company could use a big marketing push or infrastructure investment from the Softbank mothership in order to catch up to the competition. A merger exit, hand-in-hand with T-Mobile, would be another welcome move. Together, the two smaller networks would wield unprecedented economies of scale and pose a serious threat to the big boys.
2016 has been kind to Sprint, but the company still has a lot of work left to do. As for the T-Mobile merger option, don't expect any real development of that idea until Trump takes office and actually starts defining his policy on the FCC -- and on mergers in general.
Continuing on the theme of turn-around stories, SodaStream also found a second wind this year.
After a couple of lean years, SodaStream launched new products and put its weight behind a health-conscious sparkling water focus. After cutting costs and turning the U.S. revenue trend back up again, the second-quarter report in May showed signs of life. Share prices soared 24% higher the next day and haven't looked back since.
Marketing campaigns are getting feisty again, bashing bottled-water enthusiasts in TV commercials with serious star power. SodaStream's sales growth has shown some staying power.
Will this health-focused identity give SodaStream the lasting market presence that its previous soft-drink focus never provided? Hard to say, but at least management is open to change as the market conditions require. That's a good start.
10 stocks we like better than SodaStream When investing geniuses David and Tom Gardner have a stock tip, it can pay to listen. After all, the newsletter they have run for over a decade, Motley Fool Stock Advisor, has tripled the market.*
David and Tom just revealed what they believe are the 10 best stocks for investors to buy right now...and SodaStream wasn't one of them! That's right -- they think these 10 stocks are even better buys.
Click here to learn about these picks!
*Stock Advisor returns as of Nov. 7, 2016.
Anders Bylund owns shares of T-Mobile US. The Motley Fool owns shares of SodaStream. The Motley Fool also recommends T-Mobile US. Try any of our Foolish newsletter services free for 30 days.
We Fools may not all hold the same opinions, but we all believe that considering a diverse range of insights makes us better investors. The Motley Fool has a disclosure policy.