3 Cheap Tech Stocks to Buy Right Now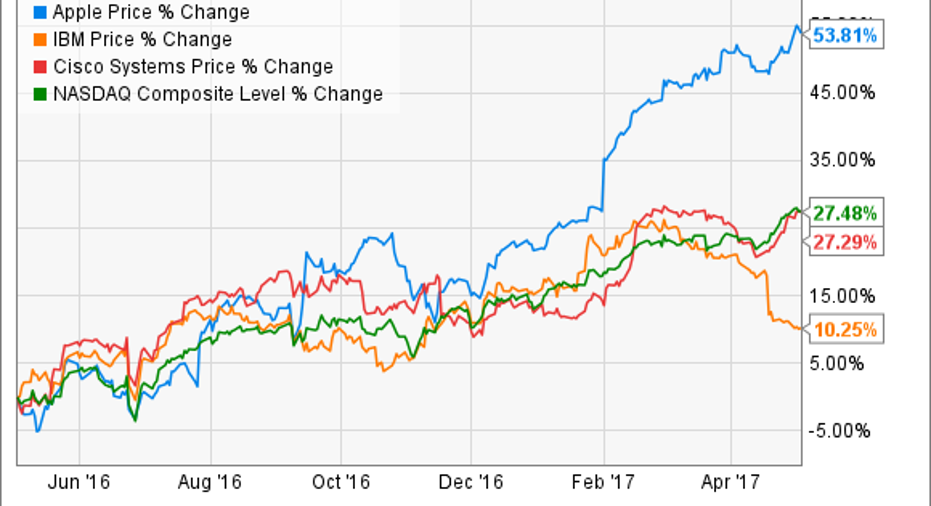 With the post-crisis bull market entering its eighth year, finding value stocks to buy is becoming increasingly difficult, especially among traditionally expensive technology stocks.
However, potential bargains exist in certain pockets of the technology sector. To that end, let's examine the investing thesis for value stocks such as International Business Machines (NYSE: IBM), Cisco Systems (NASDAQ: CSCO), and Apple (NASDAQ: AAPL).
International Business Machines
If you're in search of a fire sale, look no further than enterprise tech giant IBM. As a result of multi-year revenue declines, Big Blue's stock trades at 13 times its last 12 months' (LTM) EPS and 11 times next year's estimated EPS. In contrast, the S&P 500trades at 25 times earnings.Similarly, IBM's 3.5% dividend yield stands well above the S&P 500's 1.9%.
However, the rock-bottom valuation also reflects investor sentiment over the ongoing pivot of IBM's business model. CEO Ginni Rometty has been moving IBM away from using hardware sales to drive software and consulting services and moving the company toward becoming a cloud and analytics business. IBM has made commendable progress on this front: Next-gen growth businesses accounted for 42% of Big Blue's sales over the past 12 months.
Image source: IBM
However, the fact that sales have declined for 20 straight quarters suggests that IBM's business pivot will only replace business it's currently losing, rather than meaningfully expanding its financial footprint -- hence the no-growth valuation. But if IBM can indeed return to growth mode in the medium to longer term, investors could do well by purchasing this cheap stock today.
Cisco Systems
Routing kingpin Cisco Systems doesn't sell at quite the discount to the market IBM does, but its still-cheap valuation makes it, too, a candidate for value investors interested in the tech sector. Cisco stock trades at 17 times LTM earnings and 13 times forward estimates, and as withIBM, this discount to the market reflects Cisco's issues maintaining its growth. Its sales are expected to contract 1.8% this year,for instance. Also like IBM, Cisco shareholders are paid to wait, being offered a nice 3.4% dividend yield. The company recently raised its dividend 11.5%, which maintains its streak of annual dividend increases since it initiated cash distributions in 2011.
Image source: Getty Images.
Cisco also sees a compelling growth opportunity in the Internet of Things. The company believes the number of connected devices, which will rely on the types of hardware Cisco makes to communicate, will explode from 18 billion now to 400 billion by 2027.Should this heady growth estimate prove even remotely accurate, Cisco ought to experience a significant uptick in demand for its routers, which makes this tech giant an intriguing stock for investors seeking both income and earnings growth over the long term.
Apple
Finally, tech giant Apple remains a value stock even amid its soaring stock price. Its shares have rallied 53% over the past 12 months -- the only stock to outperform the Nasdaq Composite in the past year -- yet its shares still remain undervalued.
Apple's massive cash hoard that masks the company's true business value. The Mac maker carried $158.3 billion in net cash and investments -- that is, total cash and investments after deducting all debt and commercial paper -- on its balance sheet as of its May 2earnings report.
Deducting that $158.3 billion from Apple's current $768.8 billion market cap implies a $610.5 billion value for the core business. Divided by the $45.7 billion in net income Apple has produced over the past four quarters, Apple's business alone trades at a real value of 13.3 times trailing earnings.
The company has plenty going for it. It's set to launch a fully redesigned iPhone later this fall to commemorate the device's 10thanniversary. As an estimated 31% of iPhones will be over two years old at that point,we could see another massive upgrade cycle, similar to that of the iPhone 6.
Between its value and growth potential, Apple is one of the more attractive cheap tech stocks on the market today.
10 stocks we like better than AppleWhen investing geniuses David and Tom Gardner have a stock tip, it can pay to listen. After all, the newsletter they have run for over a decade, Motley Fool Stock Advisor, has tripled the market.*
David and Tom just revealed what they believe are the 10 best stocks for investors to buy right now... and Apple wasn't one of them! That's right -- they think these 10 stocks are even better buys.
Click here to learn about these picks!
*Stock Advisor returns as of May 1, 2017
Andrew Tonner owns shares of Apple. The Motley Fool owns shares of and recommends Apple. The Motley Fool recommends Cisco Systems. The Motley Fool has a disclosure policy.