3 Charts That Explain Cintas Stock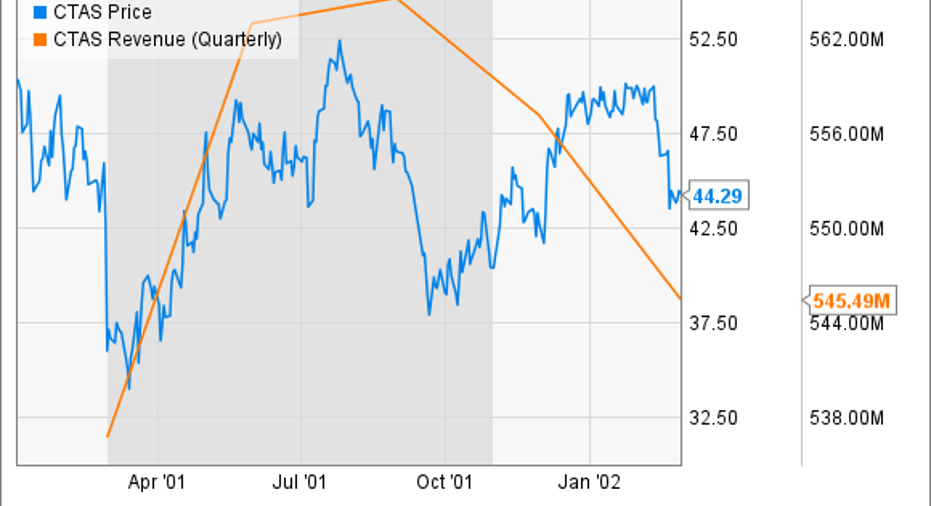 Image source: Cintas corporation corporate website
Cintas Corporation's business isn't hard to understand. That's a good thing, but you still need to be aware of some of the key business drivers. Here are three big issues you'll want to understand and three (plus) graphics to help you get a quick grip on their impact.
1. Rentals are king, but ...The first thing you need to know about Cintas is that its biggest business is providing rental uniforms, and ancillary services, to business customers. That's basically three-quarters of the company's top line, by far the biggest piece of the following pie chart. So, if you are interested in Cintas, this is the driving force.
The rental business is the big slice.
However, this isn't the only thing Cintas does. Another 10% or so of the business is selling uniforms directly to business customers. That's kind of an easy add-on, since the company is already making uniforms. The other piece of the puzzle, at about 13% of revenues and represented by orange in the preceding chart, is the company's safety and first aid business. That's a newer business than uniforms, but it dovetails nicely since Cintas can sell these services to the same customers who use its uniform service.
This should allow Cintas to keep growth up, since safety and first aid expands relationships with existing customers -- in other words, there's already a list of sales leads. Moreover, as it adds products and services to a customer relationship, it should get harder and harder for the customer to switch to new providers. So watch the rental business foundation to make sure it's doing OK, don't worry too much about direct sales, and pay close attention to safety and first aid to see if growth is holding up.
2. A good callThe thing about the safety and first aid business is that it's doing pretty well compared with the rental business. The following table shows the gross margins of Cintas' three main business segments.
Cintas' new business looks as good as the old one.
The line on the far left is the uniform rental operation, which sports gross margins of 44.6%. The middle line is uniform sales, and it has less compelling gross margins of 28.5%, but remember it's more of an add-on business, since the company is already making uniforms. It's not exactly free money, but it would be business that competitors would soak up if Cintas didn't do it.
The last line, in orange to stand out, is safety and first aid. Gross margins are about 44.1%, basically in line with uniform rentals. In fact, in fiscal 2014 and 2013, gross margins in safety and first aid were actually a little higher than uniform rental gross margins. So this is a good business for Cintas.
However, it's worth noting that Cintas recently jettisoned its document management services businesses, which had even more impressive gross margins but wasn't living up to growth expectations. To put some numbers on that, between fiscal 2012 and 2014, document management services' revenue expanded just 5% or so, compared with a 23% increase in revenues at safety and first aid. For reference, Uniform Rental revenues grew 10% or so over that span. No wonder why safety and first aid made the cut -- and why you'll want to keep an eye on this division just to make sure things don't cool off.
3. Economic issuesSo you can easily see the core of the business and where the growth is likely to come from, but there's one other issue you need to keep in the back of your mind: the economy. Everything Cintas does deals directly with servicing business customers. Getting even more specific, its key products are directly related to employees. So you'll want to pay attention to both economic growth and employment levels. If there's a drop in either number, you could see Cintas' sales take a dip.
Want proof? Take a look at the hit Cintas' top line took during the deep 2007-to-2009 recession. The gray bar in the following chart is the recession, and the orange line is revenues. Ouch. More important, notice what happened to the stock price (the blue line).
But this isn't an isolated experience. Take a look at what happened in the recession before that one -- a far less severe downturn. Notice the big share price drop once revenues started to slow. Similar pain was felt during the longer 2007-to-2009 downturn, but the trend is what's more important. Recessions aren't something Cintas shareholders should be looking forward to -- unless you want to add more shares. In fact, if you're watching the company, you might want to wait for the next recession before making a commitment.
The takeawaySome companies are so complicated you need a Ph.D. to figure out what they do and how they do it. Cintas isn't like that. It's pretty simple. So simple, in fact, you only need three charts (and a bonus one) to get a handle on the big picture. But there's a lot of knowledge in understanding the levers behind these graphics. And now that you can see them, you'll be able to make a more informed decision about Cintas.
The article 3 Charts That Explain Cintas Stock originally appeared on Fool.com.
Reuben Brewer has no position in any stocks mentioned. The Motley Fool recommends Cintas. Try any of our Foolish newsletter services free for 30 days. We Fools may not all hold the same opinions, but we all believe that considering a diverse range of insights makes us better investors. The Motley Fool has a disclosure policy.
Copyright 1995 - 2016 The Motley Fool, LLC. All rights reserved. The Motley Fool has a disclosure policy.