3 Charts That Explain Celldex Therapeutics Stock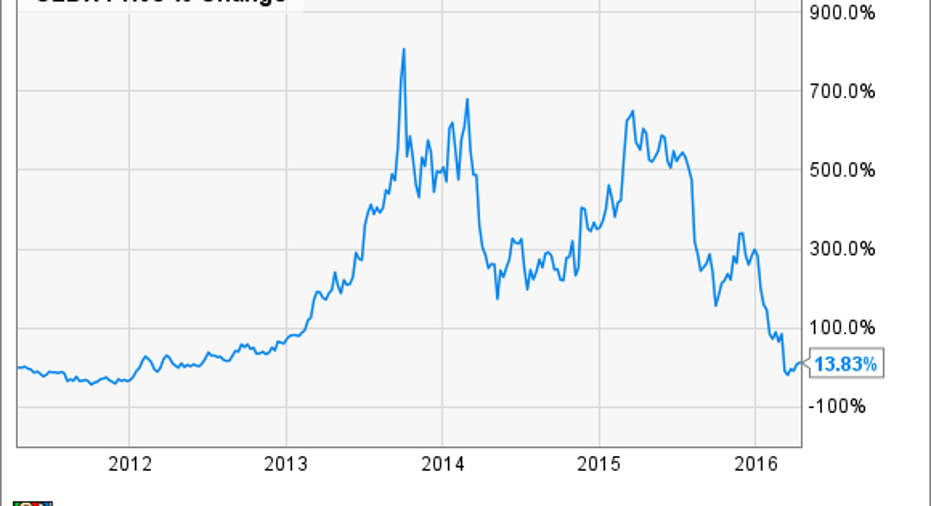 Image Source: Celldex Therapeutics
Many considered it one of the most promising biotechs around. Celldex Therapeutics appeared to be on the cusp of a major breakthrough in brain cancer immunotherapy, with its market cap reflecting high expectations. Now, though, those expectations have been shattered. Here are three charts that explain where Celldex Therapeutics stock is -- and where it might be going.
1.Momentum lostEvery stock has its ups and downs. But a look at the history of Celldex's shares over the last five years shows exactly how much momentum this once high-flying stock has lost.
While Celldex got caught up in the overall biotech meltdown during the second half of 2015, the stock was still a big winner for investors who had held on for several years. Then came the stunning news on March 7: The phase 3 clinical trial for Rintegain treating newly diagnosed EGFRvIII-positive glioblastoma (a rare but aggressive brain cancer) would be discontinued.
Rintega had been the driving force behind Celldex's rise. Theimmunotherapy targets the tumor-specific oncogene EGFRvIII. Expression of EGFRvIII correlates with increased chances of producing tumors in mice, as well as poor long term survival among glioblastoma patients.
Earlier clinical studies of Rintega were encouraging.However, the phase 3 study that Celldex assumed would lead to regulatory approval for the immunotherapy showed no statistically significant difference between patients using Rintega and those using a placebo. The clinical study was shut down -- and seemingly so were Celldex's once-bright prospects.
2.Potential still remainsCelldex's stock chart shows the momentum gained and subsequently lost due to Rintega's clinical failure. The next chart, though, shows why the biotech still has potential for success.
Image Source: Celldex Therapeutics
Rintega's collapse was catastrophic for Celldex, but it didn't mean the company was finished. Celldex also has four other promising pipeline candidates: glembatumumab vedotin (often referred to as glemba),varlilumab (also known as varli), CDX-1401, and CDX-301.
Glemba is the focus of four different phase 2 clinical studies. Themonoclonal antibody-drug conjugatetargets glycoprotein NMB, a protein that is overexpressed by several types of tumors. Celldex's best hope at this point stems from the registrational trial of glemba as a treatment for triple negative breast cancer. Final data collection for the primary outcome of progression-free survival is expected to be completed in November 2016, while Celldex anticipates the full study wrapping up in 2018.
Varli has a longer path to approval. Themonoclonal antibodybinds to a molecule called CD27, which is found on some immune cells. While Varli is part of four clinical studies, three of those trials are in phase 1.
The study that is farthest along is being sponsored by Celldex and partner Bristol-Myers Squibb . Varli is being tested in combination with Bristol's Opdivo in treating several forms of solid tumors. Final data collection for the primary outcome measure of objective response rate is expected to be completed by the end of 2017.
This team-up with Bristol-Myers Squibb is good for Celldex. Opdivo has become Bristol's brightest rising star, with sales of $475 million in its first full year on the market. If the current study leads to a phase 3 study that also goes well, hitching its wagon to Opdivo's success should be advantageous for Celldex. Also, Bristol is helping to fund the study, and would likely continue to do so in a late-stage study.
CDX-1401 is also in two clinical studies. A phase 2 study of the drug in combination with CDX-301, sponsored by the National Cancer Institute, targets treatment of metastatic melanoma. Final data collection for this study should wrap up this month. CDX-1401 is also in a phase 1 study.
A couple of other studies are in progress for CDX-301 as well. The farthest along is a phase 2 study of the drug in combination withplerixafor in hematopoietic stem cell transplants. Celldex announced positive results from the study in February.
3.Cash positionWhile it's great that Celldex has other prospects beyond Rintega, these clinical studies require plenty of money. That leads us to the third chart that explains what's going on with Celldex stock: A look at the company's cash position, including cash, cash equivalents, and short-term investments.
Data Source: Yahoo Finance!
This picture is one of the best things Celldex has going for it right now. The biotech sat on a cash stockpile of nearly $290 million at the end of 2015. And while Celldex will continue to burn through cash, the company appears to be in good shape to fund operations through the next few years.
Without this strong cash position, Celldex would be faced with taking on debt or issuing additional shares. Many clinical-stage biotechs opt for the latter approach to raise money. However, public offerings dilute existing shares -- driving down the stock price. Celldex shareholders shouldn't have to worry about this for quite a while.
Looking aheadWhat does the future hold for Celldex? The saga of Rintega shows us that it's impossible to predict with any certainty. However, the company could see its fortunes rise yet again.
Celldex boasts a strong pipeline for a clinical-stage biotech. And the company's cash position puts it in better shape than many of its peers. If the registrational trial for glemba goes well, it won't be surprising to see Celldex regain a lot of its lost momentum. Having a potential pathway to success that isn't too far off is a lot better than having none at all.
The article 3 Charts That Explain Celldex Therapeutics Stock originally appeared on Fool.com.
Keith Speights has no position in any stocks mentioned. The Motley Fool recommends Celldex Therapeutics. Try any of our Foolish newsletter services free for 30 days. We Fools may not all hold the same opinions, but we all believe that considering a diverse range of insights makes us better investors. The Motley Fool has a disclosure policy.
Copyright 1995 - 2016 The Motley Fool, LLC. All rights reserved. The Motley Fool has a disclosure policy.