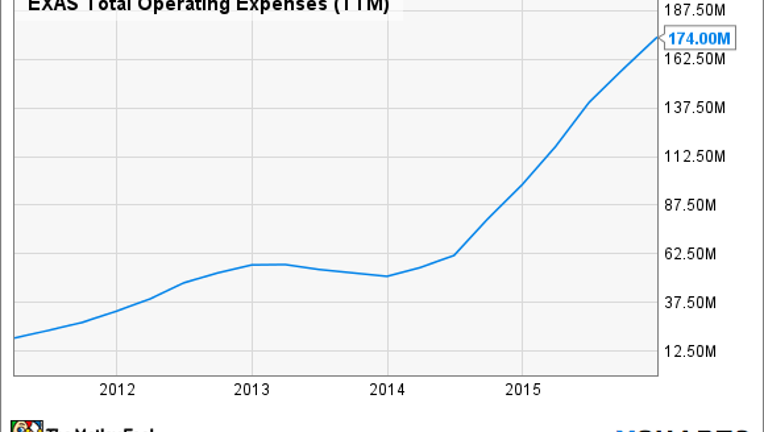 SOURCE: EXACT SCIENCES.
After reporting significant sales growth because of rising use of its colon cancer screening test, Exact Sciences offered up guidance for 2016 suggesting that its sales could more than double.
Usually, a forecast for surging sales sends share prices soaring, but Exact Sciences share price fell in the days immediately following management's bullish guidance and that may indicate that this company remains too risky for many investors. Here are three charts that help explain why.
No. 1: Licking woundsAfter enduring a significant rout in the past year, investors can't be blamed for being a bit gun shy. Exact Sciences' shares have fallen to below $7 from a high of $30 last summer.
EXAS 1 Year Price Returns (Daily) data by YCharts
That haircut has taken billions of dollars in market cap directly out of shareholders' pockets, and while it may be tempting to view shares at current levels as a bargain, investors probably felt similarly when shares were hitting $15 and $10, too.
Because shareholders have been hit hard, it will take more than reassurances from the C-suite that demand for Cologuard is climbing. Instead, management needs to start talking more about a timeline to profitability.
No. 2: Soaring expensesCologuard may reshape colon cancer screening for the better, but getting prescribers comfortable with this new approach isn't cheap.
Last year, Exact Sciences spending on things like administrative personnel, sales, and marketing soared to $174 million from $98 million in 2014. Spending is accelerating too. In the fourth quarter, total operating expenses were $47.2 million, or an annualized $189 million.
EXAS Total Operating Expenses (TTM) data by YCharts
No. 3: Pesky mathSoaring expenses becomes a deal-breaker for investors when they start modeling for profit and losses.
Last year, Exact Sciences spending to establish a foothold for Cologuard resulted in a whopping $157.8 million net loss, or a loss of $1.71 per share. In Q4, the company's $40 million loss suggests that the trajectory of losses isn't improving yet, either.
This year, Exact Sciences thinks that it will complete 240,000 Cologuard tests, up 130% year-over-year, and that revenue from those tests will range between $90 million and $100 million. That's undeniably a big increase from the $39.4 million in revenue generated in 2015, but it's still far shy of the company's expenses and that doesn't bode well for future profit.
EXAS Net Income (TTM) data by YCharts
Tying it togetherColon cancer is slow growing, and it's thought to be one of the most preventable forms of cancer, yet more than 600,000 deaths occur globally every year because of it. Despite the American Cancer Society recommending everyone over 50 undergo colorectal screening, nearly half of the 80 million Americans above that age have yet to be screened, and that's resulted in nearly two-thirds of all colorectal cancer diagnoses in the later stages of the disease, when its toughest to treat.
Clearly, if Cologuard can improve upon these numbers it could revolutionize the indication. However, until management offers up insight into when it thinks it can slow its spending and shift its focus to profitability, losses are likely for the foreseeable future. In fact, in the company's annual 10-K SEC filing, management indicated that "our losses will continue for at least the next several years." That's not what investors want to hear right now and probably why shares have made little ground since the company's EPS report.
The article 3 Charts Show Why Exact Sciences May Still Be Too Risky originally appeared on Fool.com.
Todd Campbell has no position in any stocks mentioned. Todd owns E.B. Capital Markets, LLC. E.B. Capital's clients may have positions in the companies mentioned. The Motley Fool has no position in any of the stocks mentioned. Try any of our Foolish newsletter services free for 30 days. We Fools may not all hold the same opinions, but we all believe that considering a diverse range of insights makes us better investors. The Motley Fool has a disclosure policy.
Copyright 1995 - 2016 The Motley Fool, LLC. All rights reserved. The Motley Fool has a disclosure policy.