3 Charts Show Why Abiomed Could Get Bought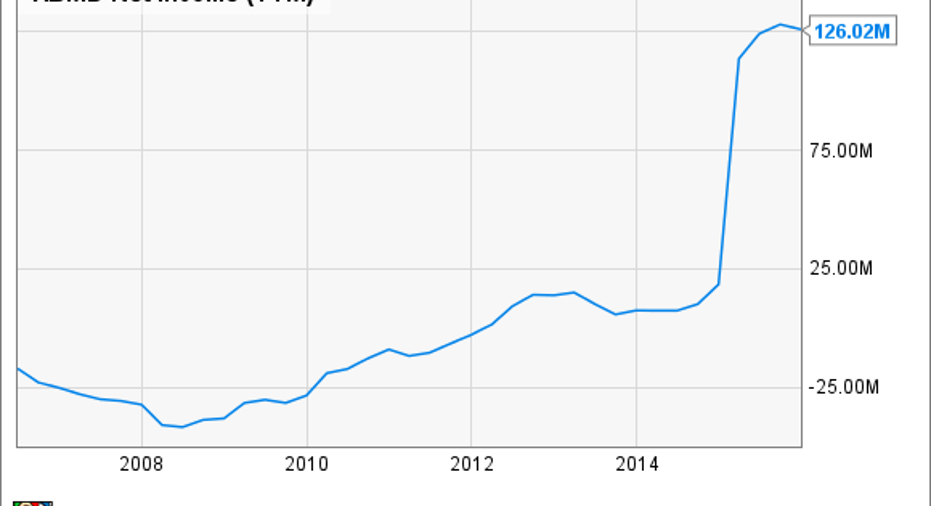 SOURCE: ABIOMED.
Abiomed is a fast-growing maker of heart pumps, and following St. Jude Medical's recent acquisition of competitor Thoratec for $3.4 billion, it wouldn't be a stretch to think a suitor might come knocking on its door, too.
Although no one knows if anyone might be interested in buying Abiomed, here are three charts that show why it might be appealing.
Quickening salesAbiomed makes pumps that are used to keep hearts thumping during or after heart surgery. The company makes its money selling five products, led by its Impella 2.5, a temporary heart pump that can move 2.5 liters of blood per minute and that's been used in patients since 2008.
The use of temporary heart pumps like Impella has grown significantly in the past five years as Abiomed has steadily increased its penetration into the roughly 1,700 heart hospitals in the United States. Exiting last quarter, Abiomed reports an installed base of 1,020 customer sites for the Impella 2.5. More recently launched members of the Impella line-up are similarly gaining traction, with the Impella CP now in 788 sites and the Impella RP, which rolled out last year, in 71 sites.
Expansion into more customer sites is resulting in rapidly accelerating revenue, and an acquirer looking to make a splash in this market would undoubtedly be attracted to that unwavering momentum.
ABMD Revenue (TTM) data by YCharts
Propelling profitGrowing sales is great, but growing profit is even better, at least as far as investors are concerned. Fortunately, Abiomed is leveraging its rapid sales against its operating costs to deliver increasingly more money to the bottom line.
Abiomed's operating profit margin, which measures the proportion of money left over after variable expenses are subtracted from revenue, has been climbing steadily, and as a result, management recently upped its operating margin target to 17% for fiscal 2016, up from prior estimates of between 15% and 17%.
Last quarter, its operating margin exceeded 20%, and given that a large acquirer could probably flesh out even greater cost savings, a buyer could view Abiomed as an acquisition that will deliver a quick return on investment.
ABMD Net Income (TTM) data by YCharts
Solid financialsNo one wants to buy a company that's teetering on uncertain financial footing, and in the case of Abiomed, management deserves kudos for keeping a lid on debt as it pads its cash stockpile.
The company's $53 million cash war chest and limited liabilities translates into an enviable 7.48 current ratio, and that suggests Abiomed's a financially healthy company with a balance sheet that won't scare an acquirer away.
ABMD Cash and Equivalents (Quarterly) data by YCharts
Looking forwardTop- and bottom-line growth and a rock-solid balance sheet make this an intriguing acquisition target, but any acquirer is going to have to hold its nose when making a bid, because Abiomed is far from a cheap stock. Industry watchers think Abiomed could deliver forward EPS of $1.13 in 2017, up 41% from this year, but even with that rapid growth, shares are still trading at an eye-popping price-to-earnings ratio of 84.
Abiomed's valuation becomes an even bigger barrier to a deal when we recognize that any acquirer would probably have to pay a solid premium to the company's current $4 billion market cap to get investors to agree to sell.
St. Jude Medical paid a 35% premium to land Thoratec, and that was to buy a company that could conceivably deliver a $1 billion worth of sales opportunity to it next year. Given that Abiomed generates less revenue than Thoratec and its market cap is already much higher than the Thoratec purchase price, Abiomed's shares may simply be too richly priced to attract a suitor, and for that reason, investors ought to focus on the companies growth opportunity as a standalone company, rather than invest in it because of any potential M&A.
The article 3 Charts Show Why Abiomed Could Get Bought originally appeared on Fool.com.
Todd Campbell has no position in any stocks mentioned. Todd owns E.B. Capital Markets, LLC. E.B. Capital's clients may have positions in the companies mentioned. The Motley Fool has no position in any of the stocks mentioned. Try any of our Foolish newsletter services free for 30 days. We Fools may not all hold the same opinions, but we all believe that considering a diverse range of insights makes us better investors. The Motley Fool has a disclosure policy.
Copyright 1995 - 2016 The Motley Fool, LLC. All rights reserved. The Motley Fool has a disclosure policy.