3 Charts Every Bristol-Myers Squibb Shareholder Needs to See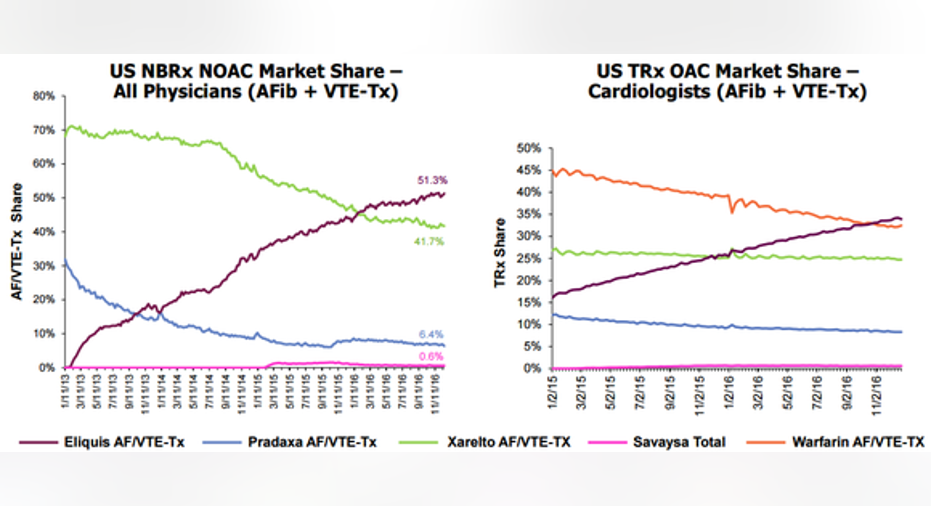 Bristol-Myers Squibb (NYSE: BMY) shareholders were understandably disappointed in August when results from a late-stage study of Opdivo as a first-line lung cancer treatment were announced. Opdivo's failure in that study knocked more than 30% off Bristol-Myers Squibb's market cap, although it has rebounded somewhat since then.
On Tuesday, CEO Giovanni Caforio spoke at the J.P. MorganHealthcare Conference. For shareholders wanting reassurance that the company was still on the right track, Caforio provided plenty of reasons to be confident about the future. Here are three charts from Caforio's presentation that every Bristol-Myers Squibb shareholder needs to see.
Image source: Getty Images.
Some perspective
It's easy to forget just how successful Opdivo has been in light of the poor results from the first-line lung cancer study. Caforio mentioned that that the drug has received approval for 10 indications in just two years. The significance of that achievement might not register at first, but consider that Roche's (NASDAQOTH: RHHBY) pioneering cancer drug Avastin has only nine approved indications -- but it took 11 years to get all of them.
Of course, gaining approval for indications is one thing. Turning those approvals into commercial success is another. On that front, Opdivo (and BMS's immuno-oncology program in general) has performed quite nicely. Take a look at the following sales trends from 2016.
Image source: Bristol-Myers Squibb.
There's no doubt that Merck (NYSE: MRK) will gain ground this year with Keytruda. The same is true for Roche with Tecentriq. Caforio acknowledged in his comments at the J.P. Morgan conference that there would definitely be challenges in the lung cancer market in 2017.
As more patients are tested forexpression of programmed death-ligand 1 (PD-L1), sales for Keytruda and Tecentriq will grow at Opdivo's expense. Merck and Roche will likely open up a lead over Bristol-Myers Squibb at least in the short term.
Combos are key
Caforio was quick to point out, though, that the real opportunity in treating lung cancer is with combination therapies rather than monotherapies. BMS saw this with melanoma, with combo regimens quickly becoming the standard of care. Caforio expects history to repeat itself with the lung cancer market.
That brings us to the second chart that Bristol-Myers Squibb shareholders will want to see. The drugmaker is on the way to becoming a "combos-R-us" for oncology with Opdivo.
Image source: Bristol-Myers Squibb.
This chart shows 14 data readouts over the next 24 months for 10 different types of cancer. And these are all late-stage studies. Positive results could lead to possible regulatory approval. That's what Bristol-Myers Squibb is banking on.
More than Opdivo
Opdivo seems to get all of the attention these days, but remember that Bristol-Myers Squibb has another enormously successful drug with significant growth potential. Sales for Eliquis came in just under $2.4 billion in the first nine months of 2016 -- only slightly behind Opdivo. That figure nearly doubled sales for the anticoagulant in the prior-year period.
Caforio talked briefly about how Eliquis continues to gain market share. The following chart (actually two charts in one) shows just how much market share the drug is winning.
Image source: Bristol-Myers Squibb.
A little explanation of these charts is in order. "NBRx" on the chart on the left refers to new-to-brand prescriptions, which count prescriptions for patients who have never been on the brand before. "NOAC" stands for new oral anti-coagulant, while "AFib + VTE-Tx" refers to the atrial fibrillation and venous thromboembolism (VTE) prescription drug market."TRx" on the right chart y-axis legend simply means total prescription share.
These charts show that Eliquis rapidly surpassed Pradaxa and Savaysa in market share among all prescribing physicians. It took a little longer to do so for Xarelto. As of late 2016, Eliquis had gained more market share than any of these drugs as well as topping longtime anti-coagulant therapy Warfarin. The bottom line is that Eliquis is and should continue to be a big winner for BMS.
Looking ahead
Caforio said that Bristol-Myers Squibb's pipeline is as strong or perhaps even stronger than it's ever been. He wasn't only referring to the many late-stage programs like the Opdivo combo studies.BMS has several phase 1 and phase 2 studies in therapeutic areas with opportunities for significant growth, including cardiovascular diseases, immunoscience, and fibrotic diseases.
While threats from Merck and Roche might dominate discussions about Bristol-Myers Squibb in 2017, it's important to know that the company's long-term prospects remain quite good. Giovanni Caforio's charts from the J.P. Morgan conference help show why.
10 stocks we like better than Bristol-Myers Squibb When investing geniuses David and Tom Gardner have a stock tip, it can pay to listen. After all, the newsletter they have run for over a decade, Motley Fool Stock Advisor, has tripled the market.*
David and Tom just revealed what they believe are the 10 best stocks for investors to buy right now... and Bristol-Myers Squibb wasn't one of them! That's right -- they think these 10 stocks are even better buys.
Click here to learn about these picks!
*Stock Advisor returns as of January 4, 2017
Keith Speights has no position in any stocks mentioned. The Motley Fool has no position in any of the stocks mentioned. The Motley Fool has a disclosure policy.