3 CEOs in the Hot Seat in 2016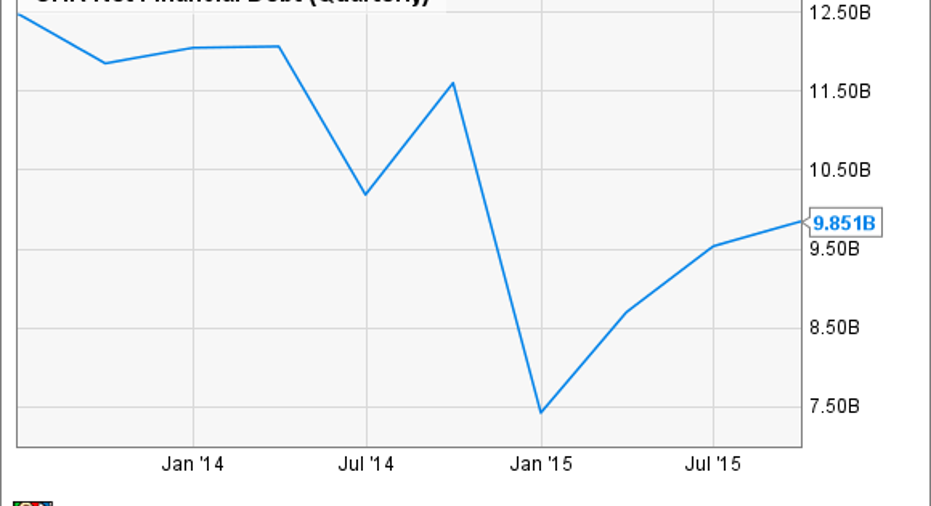 Year 2016 is just getting started, but not everyone is getting a fresh beginning. Companies like Twitter , Chesapeake Energy , and IBM are facing challenging times, and our contributors believe their CEOs will be in the hot seat in the new year.
Andres Cardenal: Shares of Twitter are down by a breathtaking 57% from their highs of the last year. The company is actually reporting solid revenue growth -- sales grew 58% year over year during the third quarter -- but most of this increase was due to rising monetization, as growth in the user base remains disappointing. Twitter ended the third quarter with 307 million users when excluding SMS Fast Followers, a modest increase of only 8%.
CEO Jack Dorsey acknowledges that the company needs to do better when it comes to users. In his own words:
Twitter is working on multiple areas to attract more users and jump-start growth. The company is making the overall user experience simpler and easier to enjoy, adding more video content to the platform, and offering curated content via initiatives such as Moments. In addition, Twitter is launching new marketing campaigns focused on communicating its value to both existing and potential users. The main idea is that more people should be able to understand why and how they should use Twitter.
Dorsey and his management team need to show results in this crucial area during 2016. If they succeed at doing so, then Twitter stock offers massive upside potentialfrom current levels.
Matt DiLallo: In a recent interview with TheWall Street Journal, Chesapeake EnergyCEO Doug Lawler said, "if I'm not adding value for the shareholders, I fully expect Carl [Icahn] to fire me ... That's the reason I came here." Well, with the company's stock price down nearly 80% since the start of the year, it may be time for Lawler it start getting worried.
Lawler's main misstep was overspending cash flow to chase growth. That's quite the opposite of what he was brought in by Icahn to do, which was to put an end to the company's free-spending ways. Instead, he followed the path of his predecessor, and worse yet, he chose to push production growth into an environment that was oversaturated with oil and gas.
In doing so, he burned through the bulk of Chesapeake's cash, leading to a rapid return to a lofty debt level.
CHK Net Financial Debt (Quarterly) data by YCharts.
In drilling for growth, Lawler said that the company was only doing so because it could still make a compelling economic return on those wells. However, that return was based on oil and natural gas prices that were projected to rise in the future, which has yet to happen:
WTI Crude Oil Spot Price data by YCharts.
In misjudging the commodity market, Lawler deteriorated the company's financial position. Because Lawler pushed the company closer to its financial breaking point, by his own admission, that has put him in the hot seat.
Brian Feroldi:One CEO I think is in the hot seat in 2016 is Virgina "Ginni" Rometty ofIBM. Since she took over in January 2012, its shares have trailed the S&P 500 by 88 percentage points:
Rometty inherited a huge challenge when she became CEO, as her predecessors were slow to adapt to changes in the industry. Rometty has made big movesin an effort to get the company back on track, including selling off low-margin businesses, reducing its headcount, and pushing into analytics and cloud computing. She also decided in 2014 to abandon her predecessor's 2015 earnings forecast of $20 a share, dropping it instead to just north of $15 per share.
None of these moves have done much to impress investors thus far; and with IBM's stock currently trading at less than 10 times its trailing earnings, the market doesn't seem to have much faith that any of her changes will pay off, either.
Warren Buffett has said that he's a big fan of Rometty, which is a huge boost of support from IBM's largest shareholder, but unless she can jump start growth at the tech giant, it wouldn't surprise me to see shareholders advocate for a change.
The article 3 CEOs in the Hot Seat in 2016 originally appeared on Fool.com.
Andres Cardenal owns shares of International Business Machines. The Motley Fool owns shares of and recommends Twitter. Try any of our Foolish newsletter services free for 30 days. We Fools may not all hold the same opinions, but we all believe that considering a diverse range of insights makes us better investors. The Motley Fool has a disclosure policy.
Copyright 1995 - 2016 The Motley Fool, LLC. All rights reserved. The Motley Fool has a disclosure policy.