3 Biotechs With Tremendously Promising Pipelines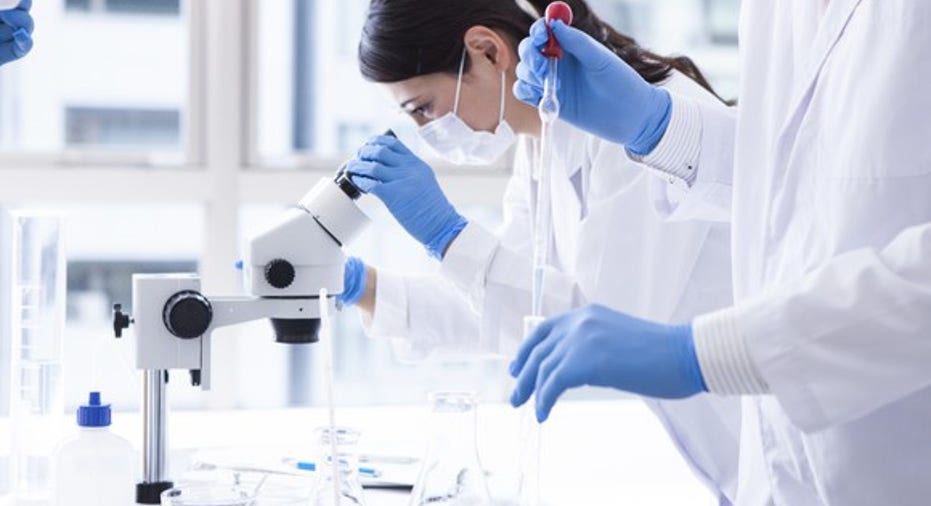 Research and development is the lifeblood of biotech companies. The potential for new drugs also serves as a primary factor driving biotech stocks higher and higher. That's been the case for Celgene (NASDAQ: CELG), Ionis Pharmaceuticals (NASDAQ: IONS), and Ligand Pharmaceuticals (NASDAQ: LGND).
These three biotechs boast some of the most promising pipelines around. Here's what sets Celgene, Ionis, and Ligand apart from the pack.
Image source: Getty Images.
Celgene: Strong candidates in multiple therapeutic areas
Celgene's pipeline includes 15 late-stage programs plus two awaiting regulatory approval. Several of those studies are evaluating drugs already on the market in treating additional indications. However, Celgene also claims some new candidates with huge potential.
The big biotech has partnered with Acceleron Pharma on luspatercept. Analysts predict that the drug, which targets blood disorders beta-thalassemia and myelodysplastic syndromes (MDS), could reach peak annual sales of around $2 billion if approved.
Celgene has even greater prospects with its autoimmune disease candidates. GED-0301 is in a late-stage clinical study for treating Crohn's disease and a mid-stage study for treating ulcerative colitis. Wall Street thinks the drug should achieve peak annual sales between $2 billion and $3 billion.
Ozanimod is being evaluated in two late-stage clinical studies: one for treating relapsing multiple sclerosis and the other for treating ulcerative colitis. The experimental drug is also in a mid-stage study targeting treatment of Crohn's disease. Celgene believes ozanimod could generate peak sales between $4 billion and $6 billion if approved for all three indications.
Ionis: Possible game-changers on the way
Ionis is a lot smaller than Celgene, so it makes sense that the company wouldn't have as many pipeline candidates. But what the biotech does have could be game-changers.
Three of Ionis' candidates are in late-stage clinical trials. Volanesorsen is being evaluated for treatment offamilial chylomicronemia syndrome (FCS) and familial partial lipodystrophy (FPL). Both are rare genetic disorders. FCS, in particular, has no approved treatment in the U.S.
GlaxoSmithKline partnered with Ionis onIONIS-TTR Rx. The antisense drug is in a late-stage study for treatment of familial amyloid polyneuropathy (FAP), a rare disease caused byproblematic formation and accumulation of transthyretin (TTR) amyloid deposits in various tissues and organs. A late-stage study of the experimental drug is expected to wrap up in the first half of this year.
Ionis is working with another partner,Achaogen, in developing plazomicin. The candidate is in a late-stage study targeting treatment of multidrug-resistant gram-negative bacterial infections.
In addition, Ionis' pipeline includes 13 mid-stage programs. These programs target diverse indications, from cancer and cardiovascular diseases to rare diseases.
Ligand: Plenty of bang for the buck
Ligand is the smallest of these three biotechs, with a market cap of over $2 billion. Thanks to its unique business model, though, the company boasts one of the bigger pipelines around. Ligand has seven late-stage candidates and 20 mid-stage candidates.
How does such a small biotech build such a large pipeline? Ligand markets technology that helps other biopharmaceutical companies develop drugs more effectively. Captisol, Ligand's most prominent platform, is a proprietary cyclodextrin that improvessolubility, stability, bioavailability, and dosing of active pharmaceutical ingredients (APIs).
Ligand's partners read like a "who's who list" of the biopharmaceutical world. Over 90 companies either partner with Ligand or license its technologies. That list includes, by the way, Celgene and GlaxoSmithKline, one of Ionis' key partners.
One of the most promising late-stage candidates for Ligand is SAGE-547. The experimental drug is in two late-stage studies conducted by Sage Therapeutics, one targeting treatment of super-refractory status epilepticus and another targeting treatment of postpartum depression.
Best pipeline
Which of these biotechs has the best pipeline? My pick would be Celgene.
Both Ionis and Ligand claim impressive pipelines. However, both must split profits with larger partners. Although Celgene has several partnerships also and won't reap all of the rewards if its pipeline candidates succeed, the big biotech is in a better position to make more money from its pipeline than either Ionis or Ligand.
10 stocks we like better than CelgeneWhen investing geniuses David and Tom Gardner have a stock tip, it can pay to listen. After all, the newsletter they have run for over a decade, Motley Fool Stock Advisor, has tripled the market.*
David and Tom just revealed what they believe are the 10 best stocks for investors to buy right now... and Celgene wasn't one of them! That's right -- they think these 10 stocks are even better buys.
Click here to learn about these picks!
*Stock Advisor returns as of February 6, 2017
Keith Speights owns shares of Celgene. The Motley Fool owns shares of and recommends Celgene and Ionis Pharmaceuticals. The Motley Fool has a disclosure policy.